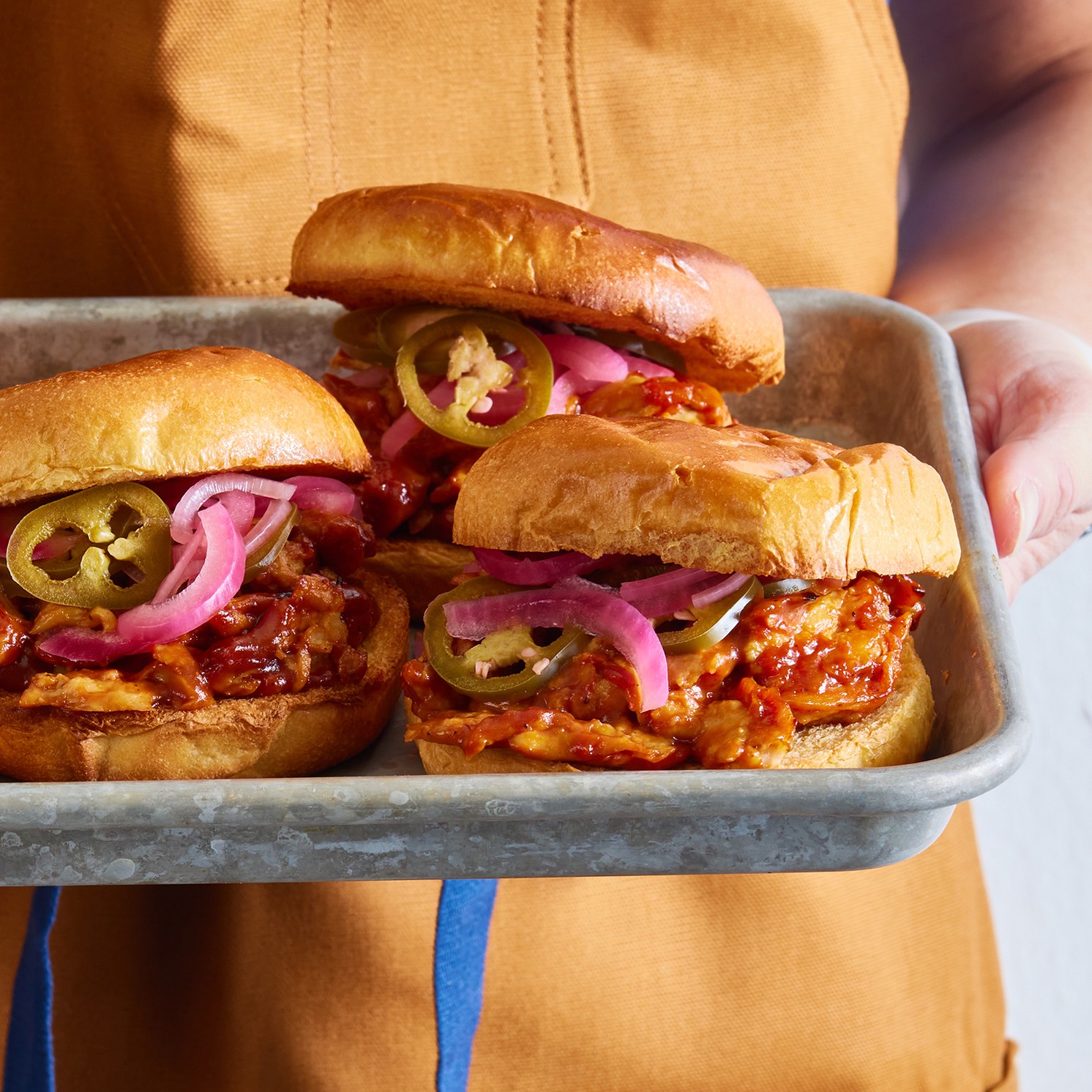 BBQ Classic Cutlet Sandwiches
Our Classic Cutlet is sautéed, shredded, tossed in your favorite BBQ sauce, and then nestled upon a brioche bun with some zingy pickled red onion and jalapenos
Ingredients 
2 Tbsp olive oil 
4 Meati™ Classic Cutlets, thawed
Kosher salt, to taste 
Ground black pepper, to taste  
1 c Sprouts Mustard BBQ sauce 
4 brioche buns lightly toasted (Hamburger buns or other style work fine as well) 
For the Pickled Red Onion and Jalapeno Topping 
1 medium red onion sliced into thin rings 
1 large jalapeno, sliced into thin rings 
¾ c apple cider vinegar or distilled vinegar 
¾ c water 
2 tsp granulated sugar 
1 tsp kosher salt 
1 tsp whole black peppercorns 
Directions
Make the pickled red onion and jalapeno topping: Place sliced red onion and jalapenos in a heatproof 16 ounce jar and set aside. 
To a small saucepan add vinegar, water, sugar, salt, and peppercorns. 
Bring to a boil over medium-high heat. Once brine is boiling, remove from heat and slowly pour over onions and jalapenos. Seal jar with lid and place in the refrigerator for a minimum of 30 minutes. 
Cook the Classic Cutlets: To a medium nonstick pan over medium-high heat, warm the olive oil.  
Lightly salt and pepper each side of Classic Cutlets and place on pan, flipping frequently until lightly charred on the outside and internal temperature reaches 165°F, 7-8 minutes. 
Remove from heat and let cutlets rest for 5 minutes, then cut or use two forks to pull the cutlets to shred the pieces.  
Transfer pulled cutlets into oven safe dish, pour BBQ sauce over the top and toss to coat. 
Place in oven at low broil until top of Classic Cutlets have crisped-up and darkened, about 10 minutes. 
While pulled Classic Cutlets are cooking, place brioche buns face up on a cookie sheet and broil on low until lightly browned, about 2 minutes. Remove from oven and set aside. 
Assemble the sandwich: On top of the base bun add some BBQ pulled Classic Cutlet, pickled red onion and jalapenos, and then finish with the top bun. Serve warm. 
Join the Journey
Be the first to hear about exclusive offers and events.Sign up for updates here and never miss a beat.