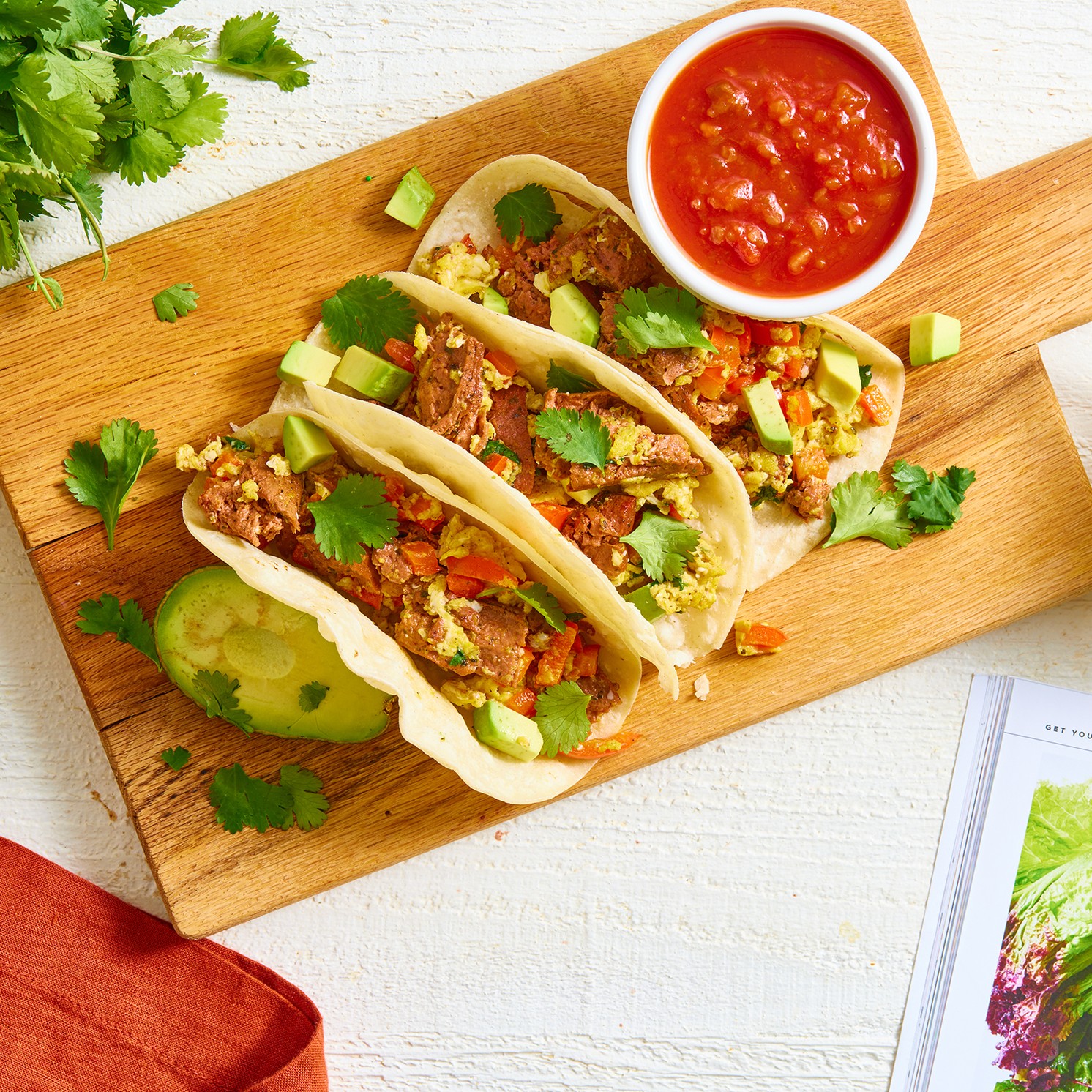 Carne Asada Breakfast Tacos
All the breakfast indulgence without guilt. Shredded Classic Steak mixed with egg, bell peppers, avocados, and spicy salsa or Pico de Gallo.
Ingredients 
2 ea Meati™ Classic Steaks, thawed
4 to 6 ea egg whisked (if going vegan replace with 1 ea container of Just Egg)
1 ea bell pepper, diced
2 ea avocados, peeled and cubed
1 c of your favorite thick and chunky salsa
½ c cilantro leaves
2 TBSP olive oil
8-12 soft tortillas (flour or corn)
Salt and pepper to taste
Directions
Add 2 tbsp olive oil to a medium nonstick pan and heat to medium heat. Add Classic Steaks. Flip often cooking to an internal temperature of 165°F (about 7-8 minutes). Remove from pan and allow to cool before shredding. Easily shreds with two forks or lightly chop.
While the pan is still hot, add diced bell pepper and sauté until tender.
Add in 4 whisked eggs and cook until well scrambled. Cook over medium to low heat. Add in ¼ c cilantro leaves, and shredded Classic Steak and mix. Add salt and pepper to taste. Turn off the heat.
Serve on a soft-shell tortilla topped with cubed avocados, salsa, and cilantro.
Join the Journey
Be the first to hear about exclusive offers and events.Sign up for updates here and never miss a beat.