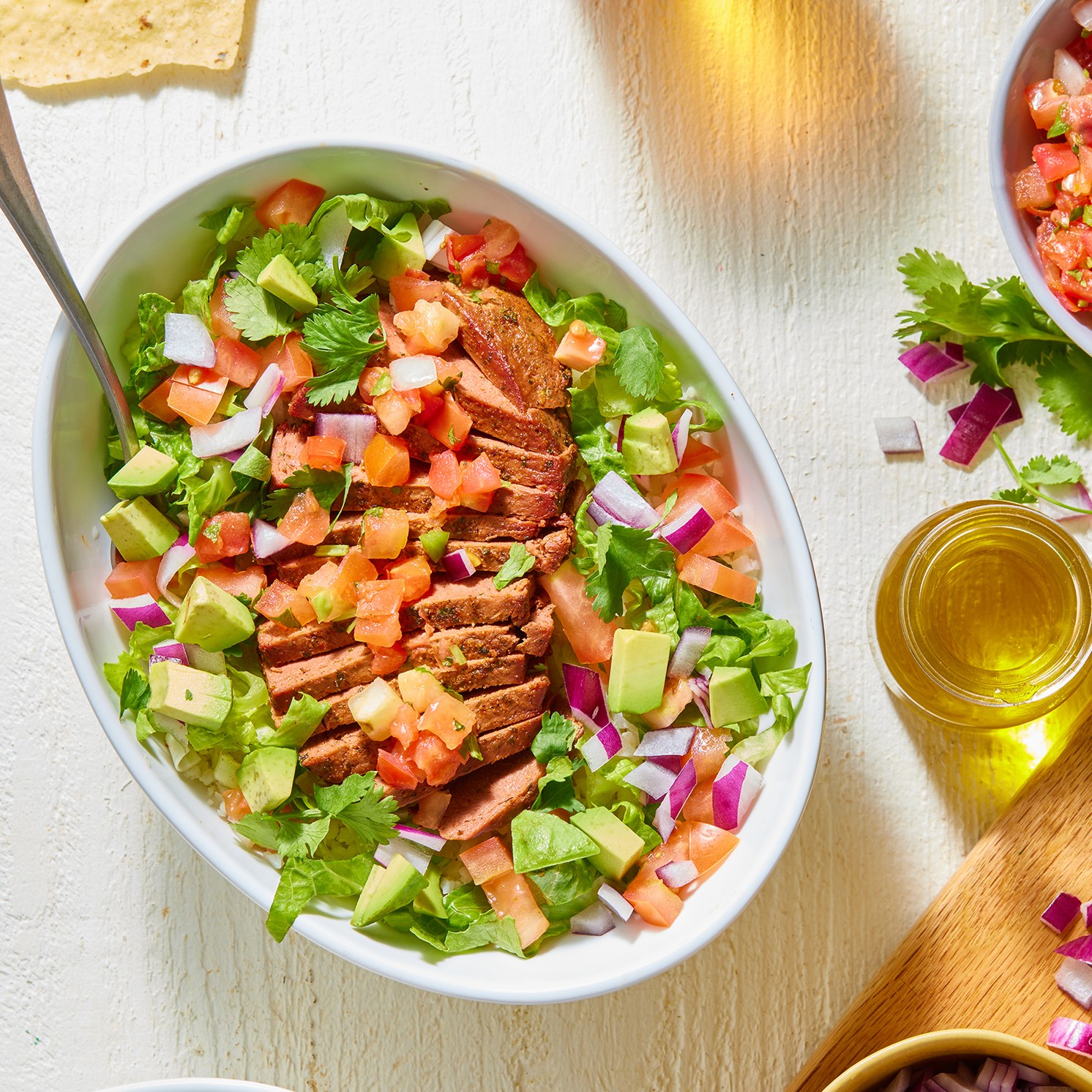 Carne Asada Burrito Bowl
Spicy charred Carne Asada on top of rice and beans, topped with fresh vegetables, avocado, and cilantro. A healthy take on a cult classic, that hits on every note.
Ingredients 
2 Meati™ Carne Asada steaks cooked and julienned into strips
2 c of cauliflower rice (cooked to the manufacturer's suggestions)
2 c shredded romaine
1 – 12oz jar of your favorite salsa
1 medium red onion, diced
2 ripe Roma tomatoes, diced
2 avocados peeled and cut into cubes
½ cup cilantro, julienned
2 TBSP olive oil
2 limes, cut into wedges
Salt & Pepper to taste
Directions
Cook the cauliflower rice to the manufacturer's suggestions. Set aside. 
While the cauliflower rice cooks, add olive oil to a medium nonstick skillet over medium heat. 
Add Carne Asada steaks to the skillet and cook for 7-8 minutes, flipping often until internal temperature reaches 165°F. Take off heat and allow to cool for 2 minutes.
Cut Carne Asada steaks into thin strips. Set aside. 
Divide cauliflower rice between four bowls. Top each with ½ cup shredded romaine, some tomatoes, avocado, red onion, ¼ cup salsa, and Carne Asada. Garnish with lime wedges and cilantro and serve.
Join the Journey
Be the first to hear about exclusive offers and events.Sign up for updates here and never miss a beat.