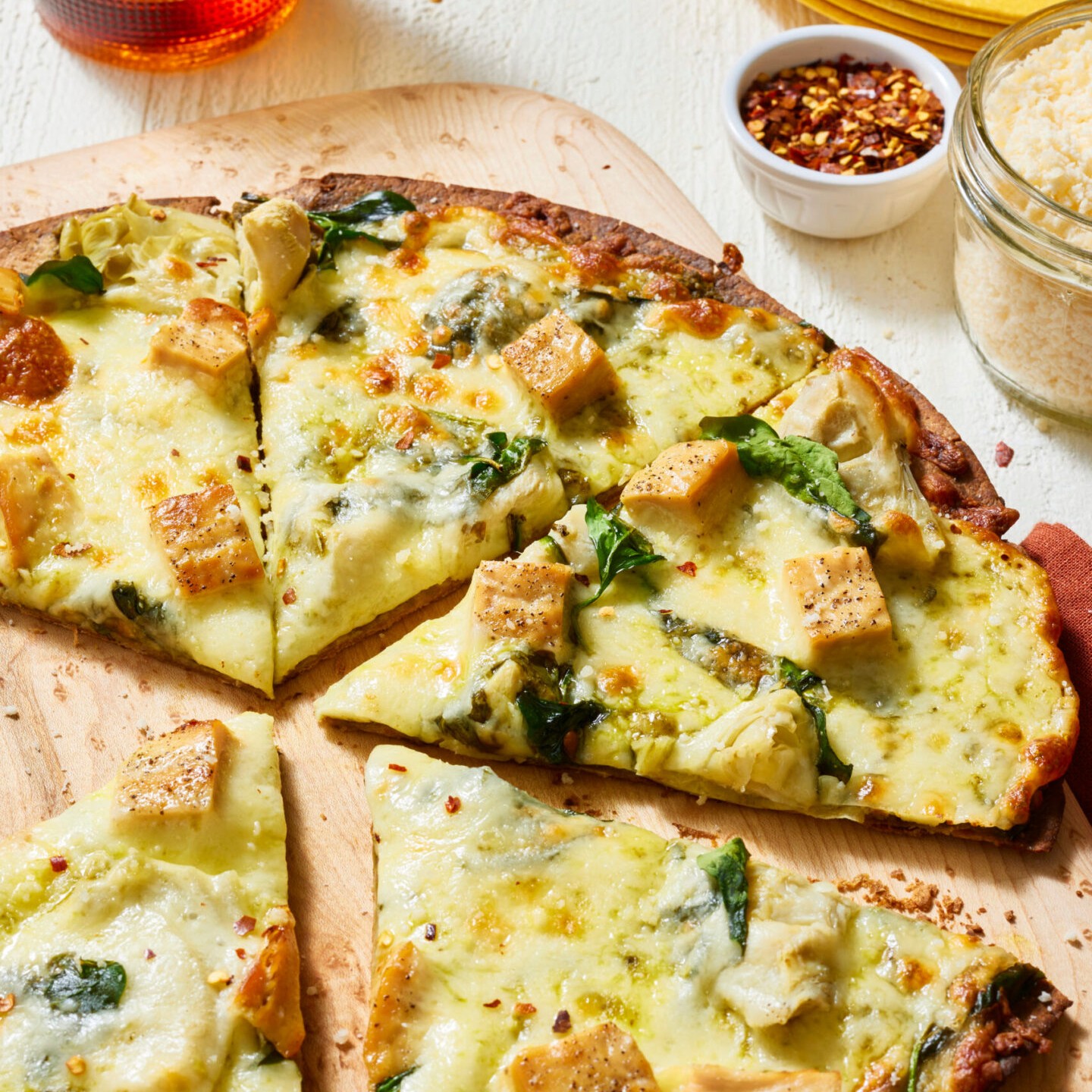 Classic Cutlet and Pesto Pizza
Everybody loves pizza night! This recipe takes the guesswork and prep out of the equation. Simple to execute, craveable, and an instant hit.
Ingredients 
1 Tbsp olive oil
2 Meati Classic Cutlets, thawed
Two 12-inch prepared pizza crusts
1 cup prepared pesto (Whole Foods 6.5 oz jar), divided
Two 6.5 oz jars artichoke quarters, drained, lightly rinsed, & divided
4 c baby spinach, divided
4 c shredded part skim Mozzarella cheese, divided
Directions
Preheat oven to 425°F. Place each pizza crust on a lightly greased 12-inch pizza pan. Set aside. 
While oven is heating, to a large nonstick pan over medium heat, warm the oil. Once hot, add Classic Cutlets to the pan and cook for 6 – 7 minutes, flipping often, until an internal temperature reaches 165°F. Let rest for 60 seconds before cutting into 1-inch cubes. Set aside. 
Evenly spread pesto along the base of each crust. 
Top each pizza with even quantities of artichokes, spinach, Mozzarella, and the cubed Classic Cutlets. 
Place in oven and cook until cheese is melted and lightly browned on top, about 15 minutes.
Pull from oven, slice, and serve.
Optional: Add chili flakes and parmesan cheese for presentation.
Join the Journey
Be the first to hear about exclusive offers and events.Sign up for updates here and never miss a beat.