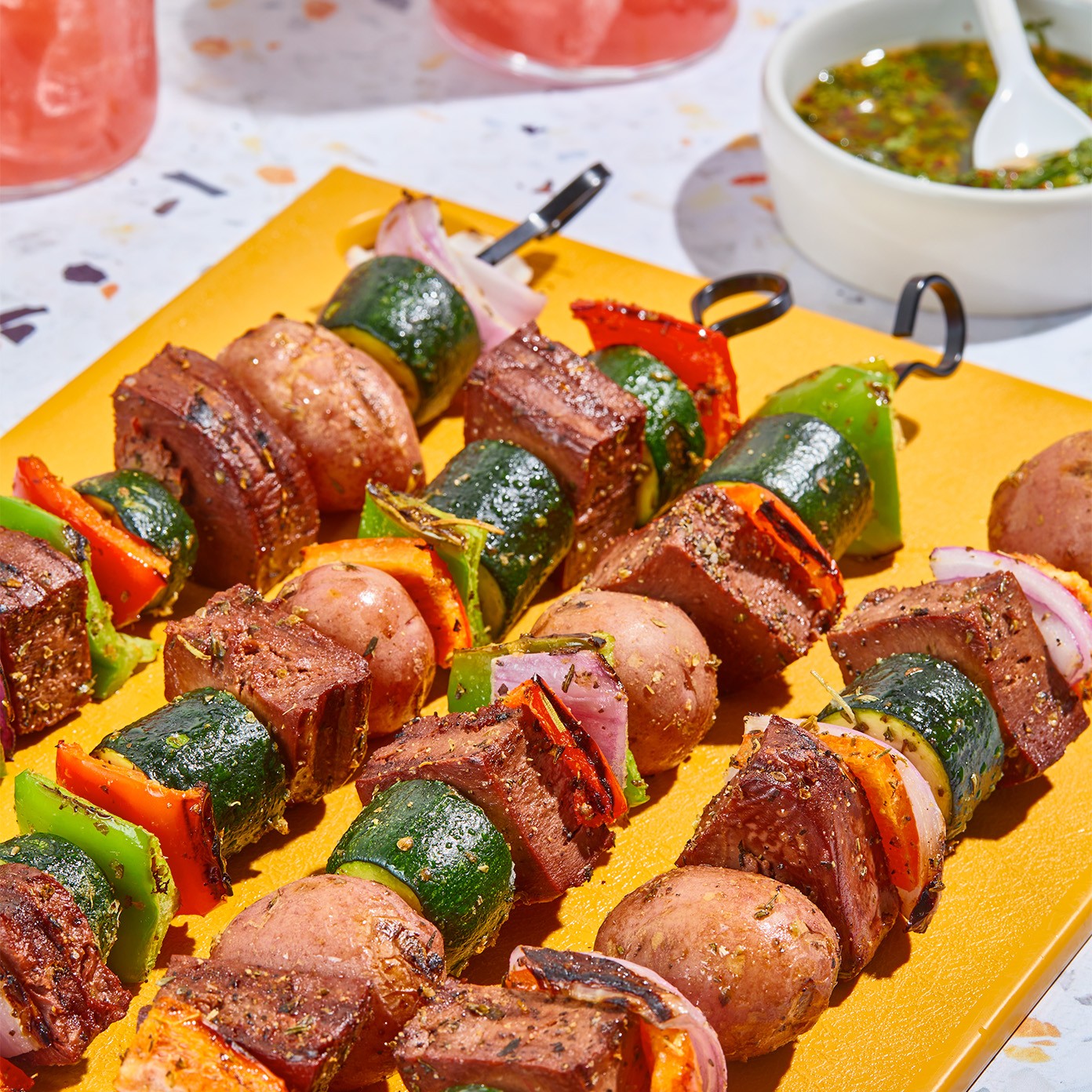 Grilled Classic Steak Kebobs
This is a perfect meal to play with flavors by incorporating your favorite, bold marinades for the vegetables and the kebobs.
For the Chimichurri
½ c loosely packed cilantro, chopped fine
½ c loosely packed parsley, chopped fine
2 TBSP red wine vinegar
2 TBSP light olive oil
2 tsp kosher salt
1 ½ teaspoons (1 large clove) garlic, minced
1 tsp crushed red pepper flakes
To a small bowl, add all ingredients and whisk until incorporated. Keep refrigerated until ready to use.
For the Kebob Vegetables
½ lb small red potatoes, boiled
2 small zucchini, cut into 1-inch rounds
2 small red bell peppers, cut into 1-inch pieces
1 small red onion, quartered & cut into cut into 1-inch pieces
2 tsp Italian dressing
1 ½ tsp garlic powder
¼ tsp kosher salt
To a medium mixing bowl add Kebob vegetables, Italian seasoning, garlic powder, and salt. Toss to combine and set aside.
For the Classic Steaks
3 Meati Classic Steaks, thawed.
2 TBSP Italian dressing
4 12-inch skewers
Cut Classic Steak into quarters.
Place steaks in a bowl and toss with Italian dressing.
For Assembly & Grilling
Preheat grill to medium heat.
Build kebobs, alternating the vegetables with the Classic Steak pieces.
Place kebobs on the preheated grill and cook for 10-15 minutes, rotating every few minutes, until internal temperature reaches 165°F.
Remove from grill and allow to rest for 30 seconds prior to serving or cutting.
Spoon chimichurri on a platter and arrange Classic Steak kebobs on top. Serve with your favorite summer side dish like pasta salad or fragrant rice.
Join the Journey
Be the first to hear about exclusive offers and events.Sign up for updates here and never miss a beat.