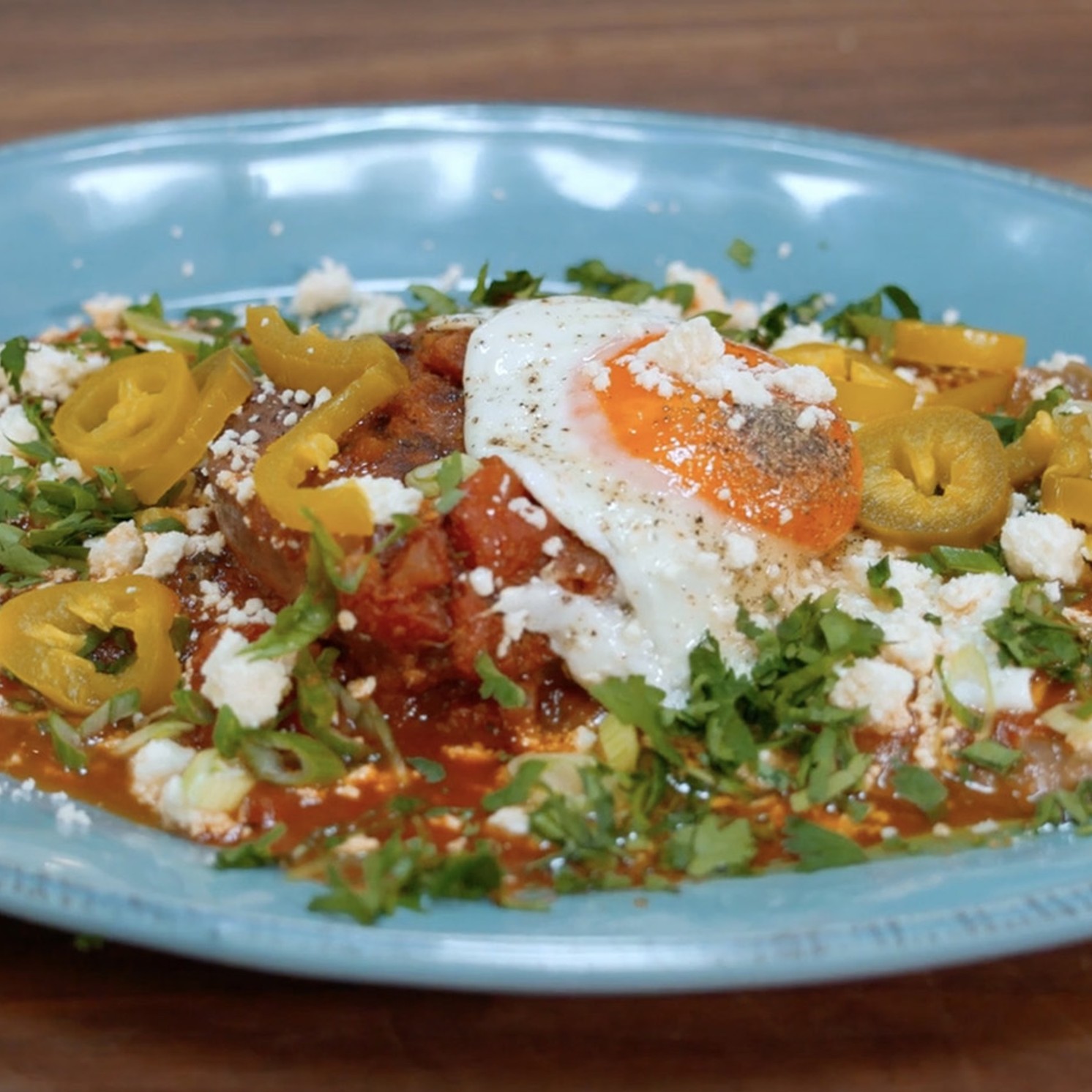 Huevos Rancheros: Classic Steak and Eggs
We love a savory breakfast and this deliciously spiced Huevos Rancheros featuring our Classic Steak is sure to wake up your tastebuds.
Ranchero Sauce:
2 Tbsp olive oil
1/2 white onion, finely chopped or grated
Salt and pepper
1 tsp each cumin, coriander, and oregano
1 Tbsp chili powder
4 cloves garlic, chopped or crushed
1 can (14-oz.) crushed fire roasted tomatoes
1 can (8-oz.) tomato sauce
1 cup vegetable stock or broth
Heat oil in a skillet over medium to medium-high heat. Add onions, season with salt and pepper, let soften a couple of minutes and then add cumin, coriander, oregano, chili powder and garlic. Stir a minute or 2, add crushed tomatoes, tomato sauce, and broth or stock. Let simmer out to thicken a bit.
Beans and to Serve:
½ cup water
½ small onion, grated or finely chopped   
1 large clove garlic, grated  
1 small serrano or jalapeno pepper, seeded and finely chopped
1 can vegetarian refried beans
2 teaspoon cayenne pepper sauce
4 Classic Steaks, thawed
Salt and coarse black pepper
Non aerosol olive oil or vegetable oil spray  
8 corn tortillas
Butter or ghee
4 large Araucana or other organic eggs
2 cups crumbled queso fresco, half a disc
Pickled sliced jalapeno peppers, mild or hot
Cilantro, finely chopped
2 scallions, thinly sliced
Place water, onions, garlic and chili into a skillet and simmer to reduce water to 2-3 tablespoons. Add beans, stir and combine, and add hot sauce to taste. 
Season Meati Classic Steaks with salt and pepper. 
Heat a nonstick skillet over medium to medium-high heat. Spray pan with oil. Add steaks and brown and crisp, about 8 minutes, turning once. Let rest for 5 minutes. 
While steaks rest, crisp and warm tortillas in the same skillet. 
In a second medium skillet, melt butter or ghee and heat over medium heat, Add 2 eggs with about an inch or two between the whites. Cover the pan and cook the eggs soft to hard, as preferred, and repeat.
Place two tortillas on a plate and top with beans and sliced steak. Spoon over some ranchero sauce, an egg, sprinkle with cheese crumbles and garnishes of choice.
Join the Journey
Be the first to hear about exclusive offers and events.Sign up for updates here and never miss a beat.