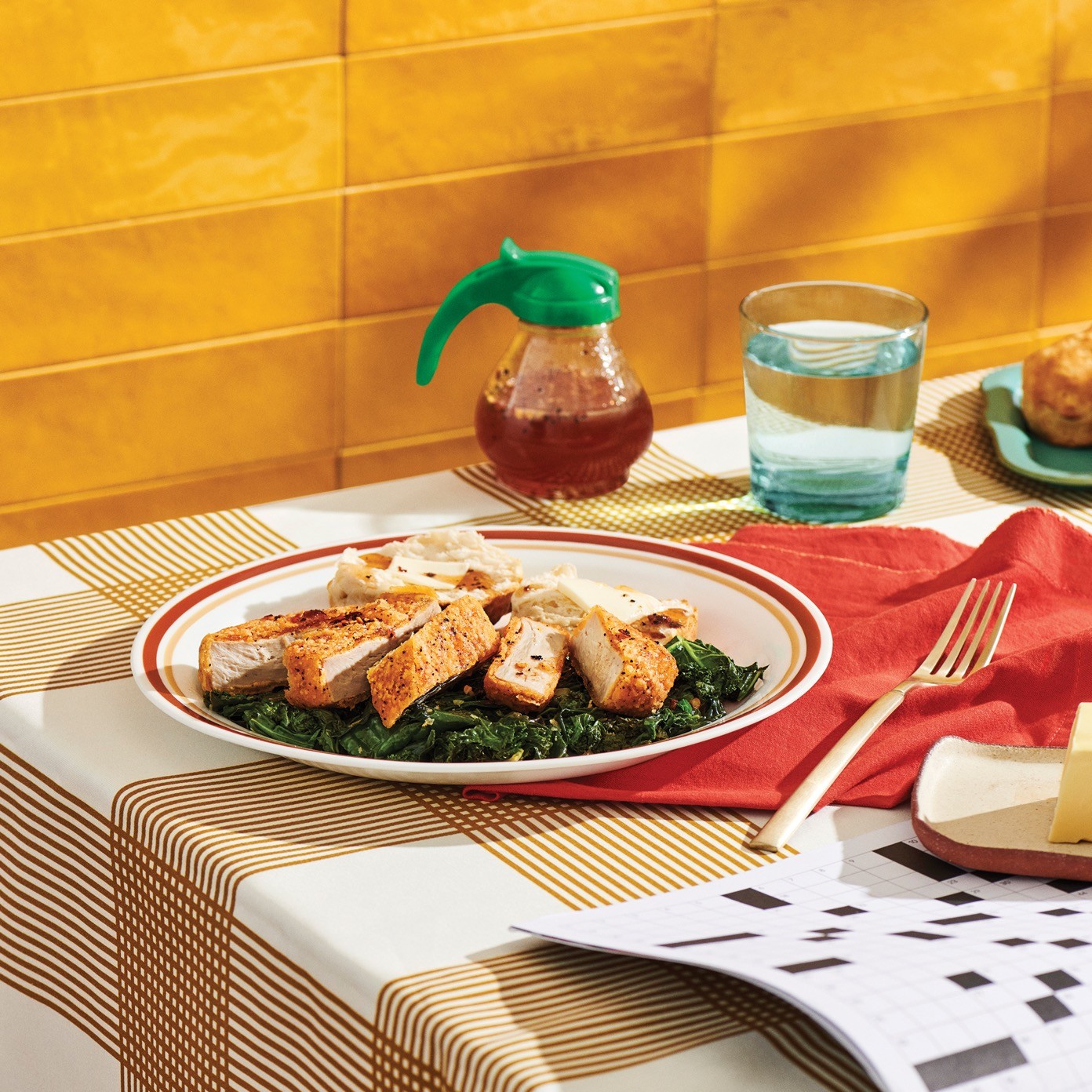 Crispy Cutlet Sunday Dinner
Crispy Cutlets served with buttermilk biscuits, vinegar braised kale, and a red chile honey
For the red chile honey (4 servings)
½ c local honey
¼ c cider vinegar
¼ tsp dark chile powder
¼ tsp cumin
1/8 tsp crushed red pepper
¼ tsp ground black pepper
1/8 tsp sea salt
In a small pot, add honey, salt, and all spices. Bring to a simmer. Add cider vinegar and bring back to a simmer. Turn off and allow to cool to room temperature.
For air fried Meati™ Crispy Cutlet
Turn air fryer on and set it to 400 degrees with high fan
Place Crispy Cutlets into the fryer basket and close the drawer
Cook for 10-11 minutes turn to an internal temperature of 165 degrees. Check on the product frequently to make sure the edges aren't burning
Remove from the basket and serve immediately
For the vinegar braised kale
2 c kale, cleaned and cut into 1-inch strips
1 TBSP high heat oil
2 tsp garlic cloves, sliced
Pinch of salt
Pinch of ground black pepper
¼ c cider vinegar
Pre heat a pan to medium heat. Add 1 tbsp olive oil. Add sliced garlic and toast slightly. Add kale, salt, and black pepper, and toss, wilting a bit. Deglaze with cider vinegar. Stir, toss, and cook down to almost dry. Make sure the kale is evenly wilted.
For the build
1 each Meati™ crispy cutlet.
2 each organic, store-bought buttermilk biscuits
1 TBSP butter
1 each portion of the vinegar braised kale
½ portion of the red chile honey
For assembly
Cook the Crispy Cutlet per the instructions above
Cook the vinegar braised greens per the instructions above
Bake the buttermilk biscuits to the manufacturer's instructions.
Once the biscuits are cooked, split each one in half and place a ½ TBSP of butter in each. Close the lid and allow to melt.
Place both biscuits in the upper corner of the plate
Lay the vinegar braised kale off to the corner of the biscuits
Lay the Crispy Cutlet over the top and between both the biscuits and the kale
Generously drizzle the red chile honey over the top of it all
Enjoy!
Join the Journey
Be the first to hear about exclusive offers and events.Sign up for updates here and never miss a beat.