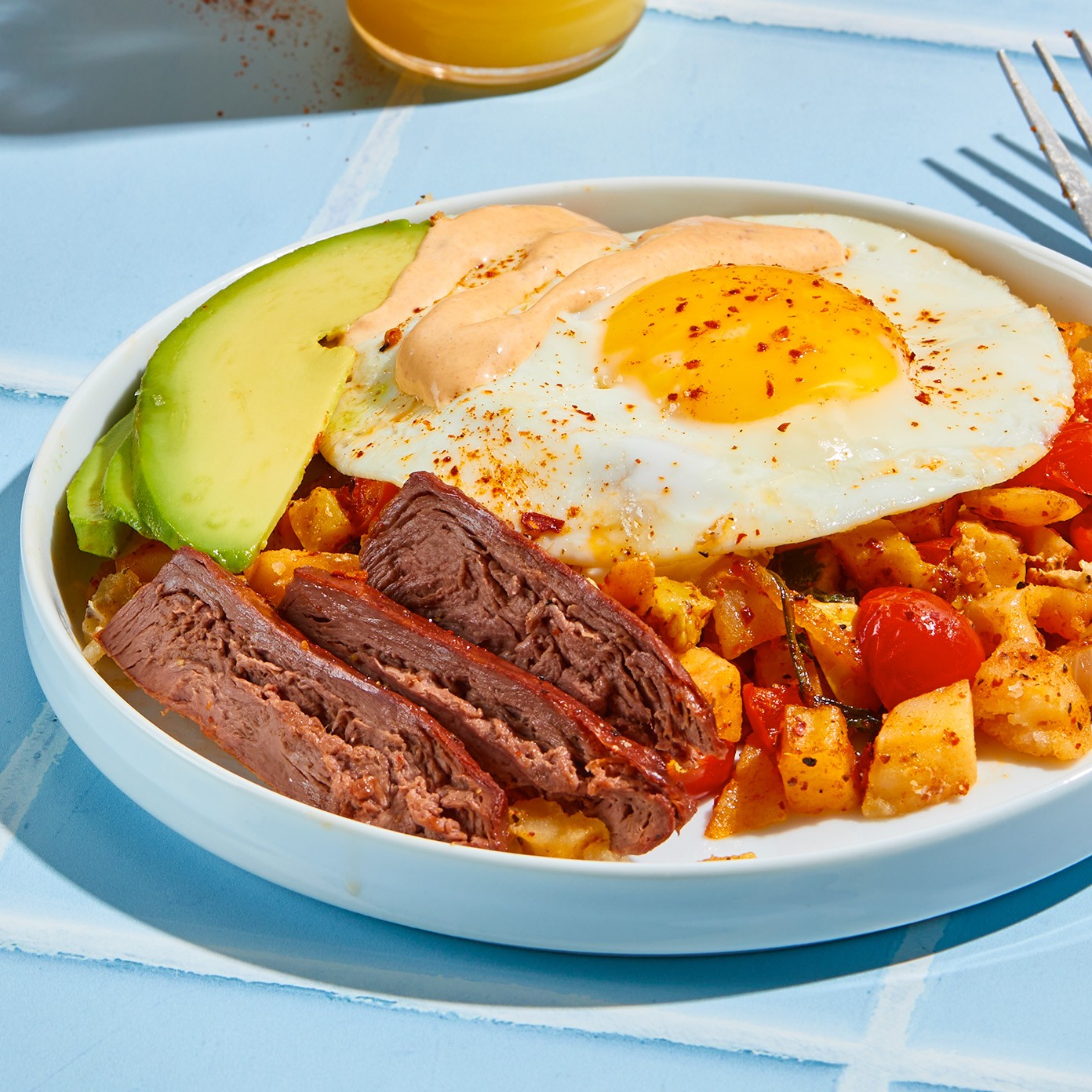 Classic Steak & Eggs
This recipe uses caramelized onions as a flavor enhancer.
For the Chipotle Aioli
1 c mayonnaise
1-2 chipotle peppers in adobo
1 TBSP lemon juice (½ lemon)
⅛ tsp kosher salt
⅛ tsp ground black pepper
To a blender, add all ingredients and process until smooth. Keep refrigerated until ready to use.
For the Hash
3 TBSP unsalted butter
2 c yellow onions, sliced thin
2 c spinach, loosely packed
1 heaping cup (1 small) red or green bell pepper, diced
1 c yellow squash or zucchini, diced
4 c frozen diced potatoes
1 c cherry tomatoes, halved
3 large eggs
2 TBSP, Trader Joe's Georgian seasoning
1 ½ tsp kosher salt
1 tsp ground black pepper
1 avocado, pitted & cut into thin slices, for garnish
Preheat oven to 350°F.
To a 10-inch or 12-inch cast iron skillet, melt butter over medium heat until frothy.
Add onions to skillet and sauté onions over medium-low heat until they have caramelized and softened, 15-20 minutes.
Add spinach, bell pepper, and squash to skillet. Increase to medium heat and cook for another 8 minutes, then add the frozen diced potatoes.
Season with Georgian seasoning, salt, and pepper.
Cook the hash for another 8 minutes, covered.
Tuck cherry tomatoes into hash. Top with whole eggs and sprinkle a bit more Georgian seasoning over top.
Place in oven and cook until the tomatoes have burst open and eggs are at preferred doneness, about 10 minutes.
For the Classic Steak
2 Classic Steaks
Kosher salt, to taste
Ground black pepper, to taste
2 Tbsp vegetable oil
Heat a 12-inch nonstick pan over medium heat.
Lightly season each side of the Meati™ Steaks with salt and pepper.
Add oil to the hot pan.
Place Steak in the pan. Cook for 6.5-7.5 minutes, turning every minute, until internal temperature reaches 165°F.
Remove from pan and allow cutlet to rest for 30 seconds.
For Serving
Slice the Classic Steak and arrange it on top of the cooked hash and eggs family style or on individual plates.
Garnish with chipotle aioli and avocado.
Join the Journey
Be the first to hear about exclusive offers and events.Sign up for updates here and never miss a beat.