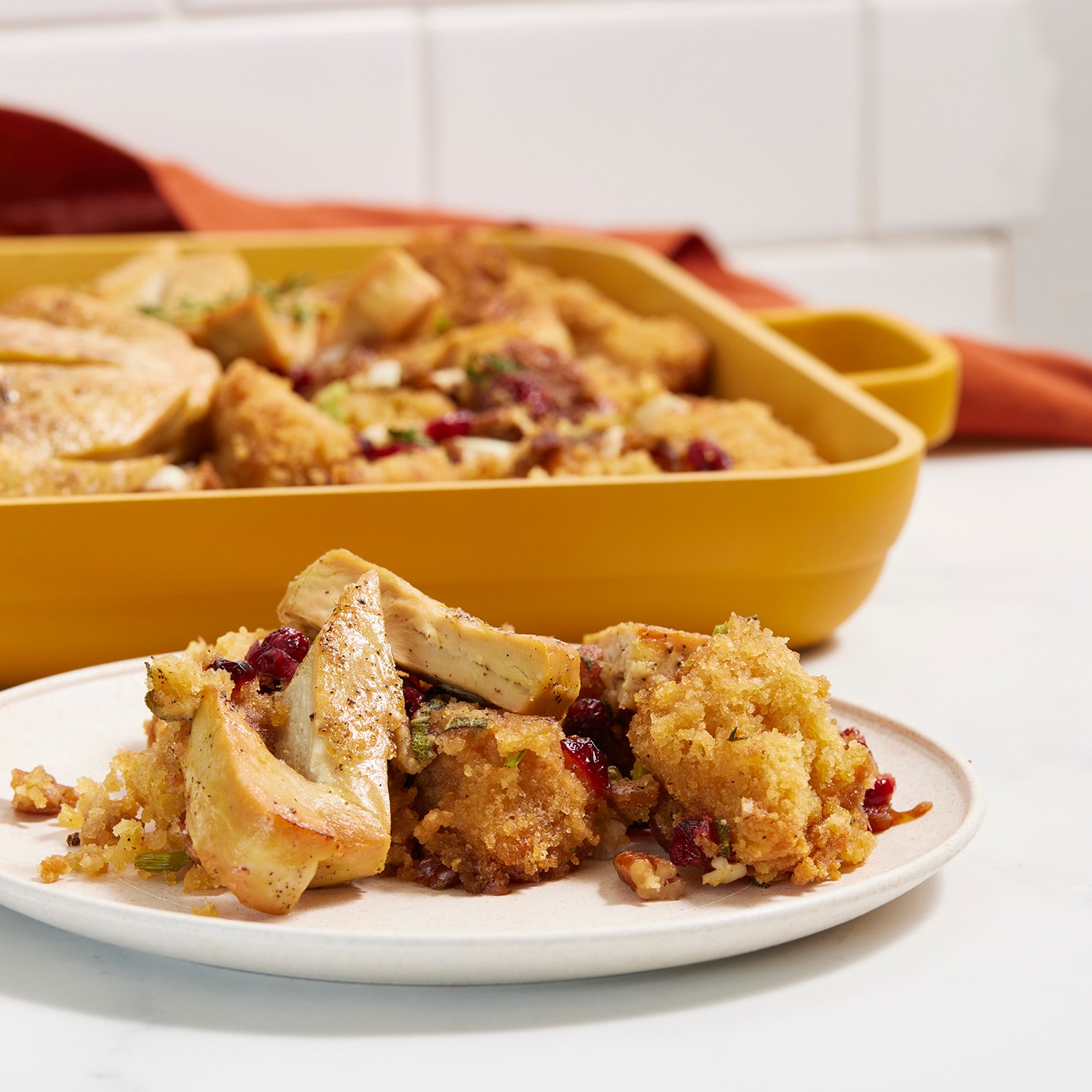 Sheet Pan Classic Cutlet and Cornbread Stuffing
A quick and easy holiday meal that everyone will love. Perfect for a few guests, or to have leftovers in the fridge ready to go.
Ingredients 
4 each Meati™ Classic Cutlets, thawed
8 c large diced corn bread
1 each large yellow onion, medium diced
1 c dried cranberries
1 c dried apricots, julienned
5 cloves of garlic, sliced thin
¼ c chiffonade fresh sage
¼ tsp chopped fresh thyme
3 ribs celery, small diced
1 ½ c pecan pieces
1 stick of unsalted butter, melted 
1 c water
¼ tsp ground black pepper
½ tsp kosher salt
Directions
1. Preheat over to 400 degrees.
2. Combine all ingredients in a large bowl, except for the Classic Cutlets, butter, and water.
3. Toss all items to mix well, slowly drizzling in melted butter and water.
4. Pour contents onto a half-sheet tray.
5. With a spatula, spread the stuffing mixture evenly out on the sheet tray.
6. Place 2 TBSP of canola oil in a skillet and turn on high heat.
6. Season both sides of all 4 cutlets with black pepper and kosher salt, and sear on both sides to just brown the outside.
7. Remove cutlets from the heat and slice in ¼ inch slices on the bias.
8. Fan all cutlets on top of the stuffing mixture and place the entire sheet pan in the oven.
9. Bake for about 30 minutes, until the stuffing starts to brown on the edges.
Join the Journey
Be the first to hear about exclusive offers and events.Sign up for updates here and never miss a beat.