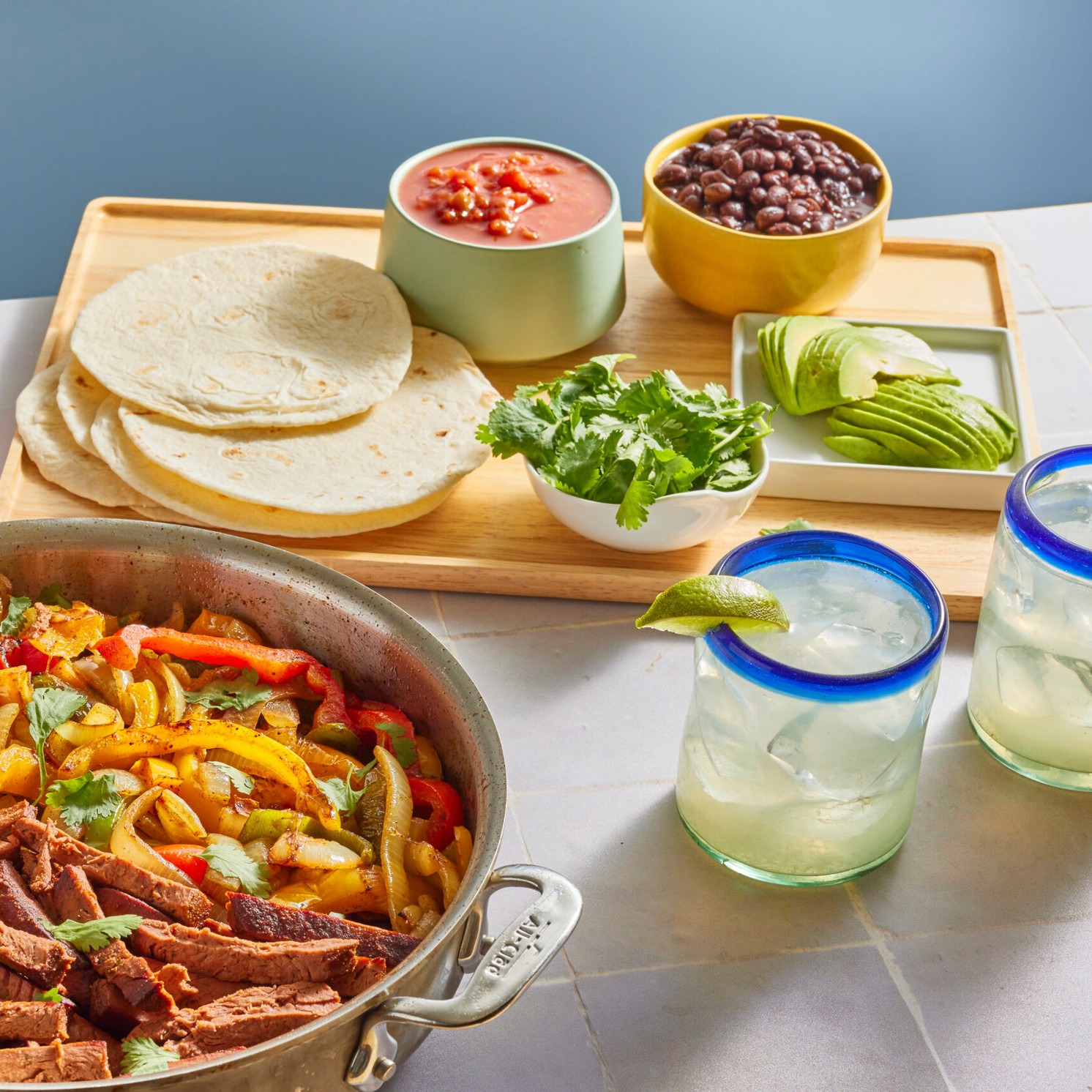 Carne Asada Steak Fajitas
Serve with steamed rice and beans to round out the meal. Great served with a variety of sauces such as guacamole, sour cream, and hot sauce.
Ingredients 
For the Carne Asada Steak Fajitas
4 Carne Asada Steaks, thawed
3 TBSP canola oil, divided
3 large mixed-color bell peppers, julienned
2 medium yellow onions, julienned
4 garlic cloves, sliced thin
1 ripe avocado, sliced thin
½ bunch fresh cilantro, chopped
For Serving
3 limes, each cut into 6 wedges
2 packages 6-inch flour tortillas, warmed
2 c salsa of choice
½ tsp kosher salt
¼ tsp ground black pepper
Directions
To a large cast iron skillet over medium-low heat, add 1 ½ Tablespoons canola oil.
Add the Carne Asada and cook for 7-8 minutes, flipping frequently, until an internal temperature of 165°F.
Pull Carne Asada and let rest for 2 minutes. Thinly slice the steaks and place on a plate. Cover with foil and set aside. 
Add the remaining 1 ½ TBSP oil to the skillet. Turn heat to high.
Add the peppers, onions, salt and pepper and garlic. Cook to caramelize evenly, stirring frequently, about 10 minutes.
Once caramelized, push vegetables to one side of the skillet. Place Carne Asada on the other side. Top both with chopped cilantro.
Place tortillas, lime wedges, and sliced avocado on a side plate.
Pour your favorite salsa in a small bowl and serve.
Join the Journey
Be the first to hear about exclusive offers and events.Sign up for updates here and never miss a beat.