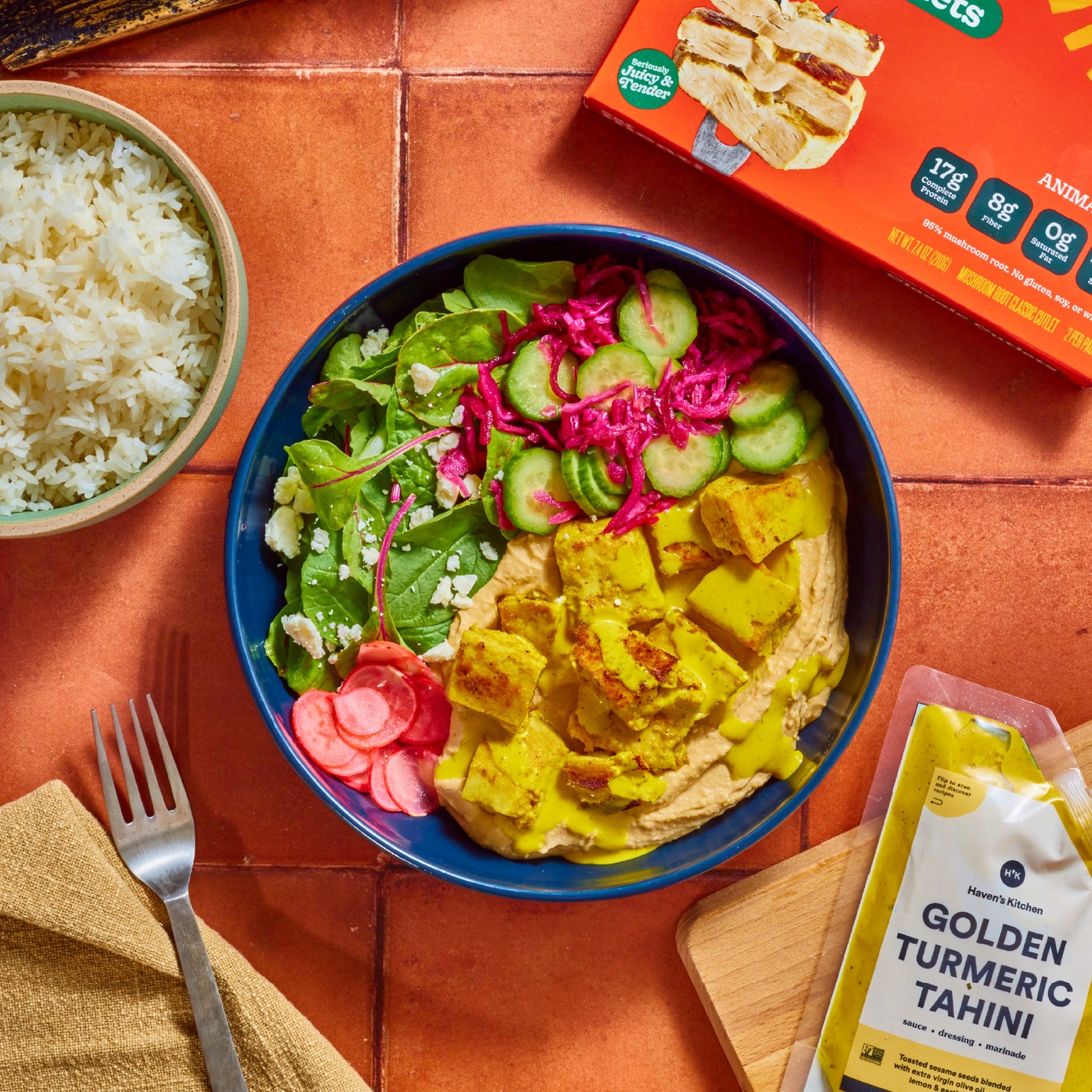 Golden Tahini Classic Cutlet Hummus Bowl with Pickled Veggies
A light, yet filling meal bolstered with a garlicky hummus spread that complements the earthiness of the tahini sauce.
Ingredients 
4 Classic Cutlets, thawed and diced
1 pouch Haven's Kitchen Golden Turmeric Tahini sauce
5 Tbsp olive oil
2 cans garbanzo beans
¾ cup tahini paste
6 cloves garlic
6 Tbsp lemon juice
6 Tbsp cold water
½ tsp cumin
1 tsp Kosher salt
For Serving: (optional)

4 pita pockets, cut into wedges
3 cups lettuce mix
Pickled carrots and / or green beans
¾ cups feta cheese, crumbled
1 cup sliced cucumbers
1 cup cherry tomatoes, halved
4 Tbsp chopped parsley
Directions
Season Classic Cutlets with a light coating of oil, salt and pepper. Drizzle four tbsp of Haven's Kitchen Golden Turmeric Tahini Sauce over the Classic Cutlets. Coat and let marinate for 10 minutes.
Make the Lemony Hummus by combining the garbanzo beans, tahini paste, garlic, lemon juice, cold water, olive oil, cumin and salt in a food processor. Blend until smooth. Add cold water by the tablespoon for a thinner sauce. Set aside.
In a medium-sized skillet, heat the oil and cook the diced cutlets for 4 minutes or until golden brown and cooked through to 165F.
To assemble, add a scoop of hummus into the bowl and add dressed lettuce greens, vegetables, feta cheese and finish with a drizzle of Haven's Kitchen Golden Turmeric Tahini Sauce, parsley and a squeeze of lemon juice.
Join the Journey
Be the first to hear about exclusive offers and events.Sign up for updates here and never miss a beat.