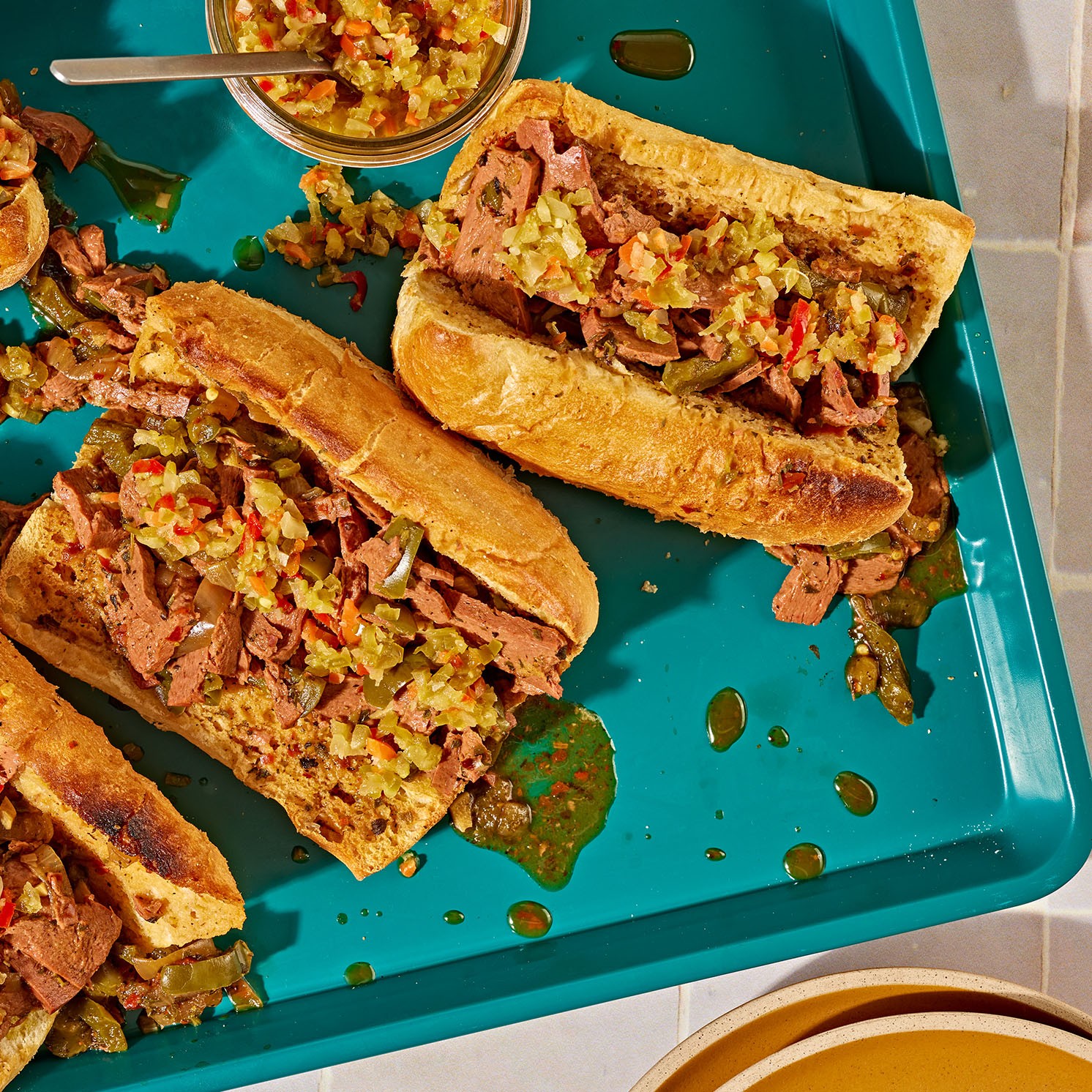 meati™ Animal-Free Italian Beef Sandwich
Thinly sliced Classic Steak simmered with spiced veggies then piled onto French rolls and topped with giardiniera.
Ingredients 
4 Meati Classic Steak Cutlets, thawed 
8 c water 
4 c green bell peppers, cut into ¼-inch strips 
3 c white onions, cut into ¼-inch strips 
½ c Roasted Vegetable Base 
2 heaping Tbsp garlic, minced 
1 ½ Tbsp red chili flakes 
2 Tbsp dried oregano 
1 ½ tsp ground black pepper 
4 bay leaves
4 Turano French Rolls, toasted 
Marconi Giardiniera Relish, for serving 
Directions 
Very thinly slice the Meati Steak Cutlets and set aside. 
To a medium pot over medium-high heat, add the water, bell peppers, onions, roasted vegetable base, garlic, chili flakes, oregano, black pepper, and bay leaves. Bring to a boil, then reduce to a simmer and let cook until peppers are soft and liquid has reduced, about 30 minutes. 
Add the sliced Meati Cutlets and continue to simmer until the internal temperature reaches 165°F, about 15 minutes. 
Dip the inside of the Turano Roll in the liquid, place the Italian Meati inside the roll, top with giardiniera relish, and serve. 
Notes 
Make sure to dip the sandwiches and serve immediately once the Italian beef is ready. 
Join the Journey
Be the first to hear about exclusive offers and events.Sign up for updates here and never miss a beat.