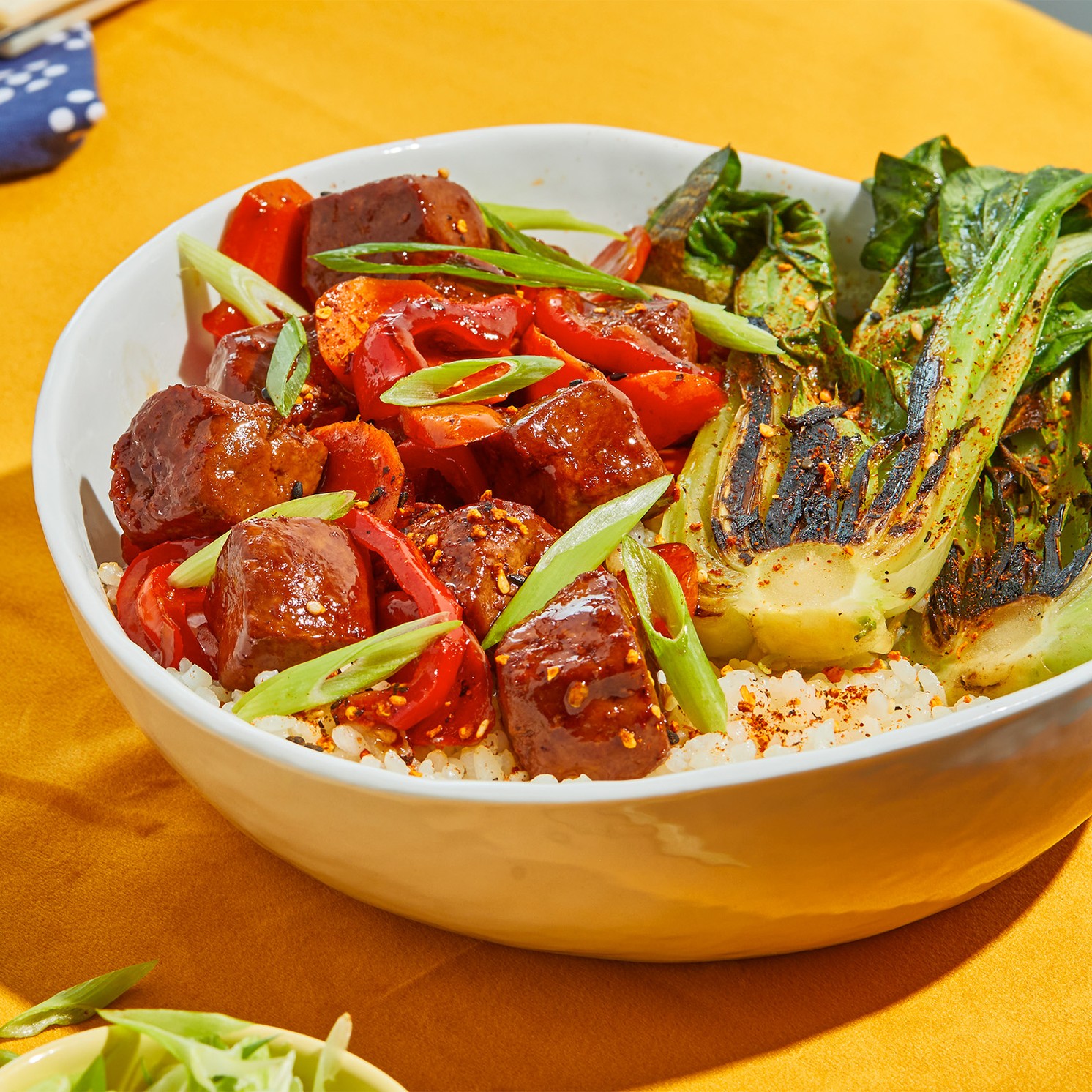 Classic Steak Teriyaki Bowl
If you're short on time, simply replace the homemade teriyaki sauce with your favorite, store bought low-sugar teriyaki sauce!  
For the Teriyaki Sauce
1 TBSP arrowroot starch
½ c coconut aminos
¼ c raw honey or maple syrup
¼ c rice vinegar
1 TBSP sesame oil
1 TBSP (3 cloves) garlic, minced
1 TBSP fresh ginger, peeled & minced
½ tsp crushed red pepper flakes 
To a small mixing bowl add ¼ cup of warm water and arrowroot starch. Whisk until smooth. Add remaining ingredients to bowl and whisk until smooth. Set aside. 
For the Stir Fry
1 c short grain rice
2 Tbsp vegetable oil, divided
16 ounces medium cubes Meati Classic Steak, thawed.
4 baby bok choy, halved lengthwise
1 red bell pepper, thinly sliced
2 medium carrots, peeled & cut into thin rounds 
Cook rice according to package directions. Set aside. 
In a large non-stick skillet or wok over medium-high heat, warm one tablespoon of the oil. Once shimmering, add the Classic Steak in a single layer and let it cook for a minute or until browned. 
Stir and cook the steaks for another 2-4 minutes or until browned and an internal temperature reads 165°F. Transfer to a plate and set aside.
Add remaining tablespoon of oil to skillet or wok over medium-high heat and add the bok choy. Let cook for 2 minutes, then add the red bell pepper and carrots. 
Cook the veggies, constantly stirring until just fork-tender, another 2 minutes. 
Add the cooked Classic Steak to the pan, along with the teriyaki sauce. 
Stir to coat the steak and veggies in the sauce. Let cook, constantly stirring until sauce thickens, about 2 minutes. 
For Assembly
1 large green onion, sliced thin
2 tsp Togarashi seasoning 
Divide cooked rice between bowls, followed by the teriyaki stir fry. Garnish with green onions and Togarashi seasoning. Serve warm. 
Join the Journey
Be the first to hear about exclusive offers and events.Sign up for updates here and never miss a beat.