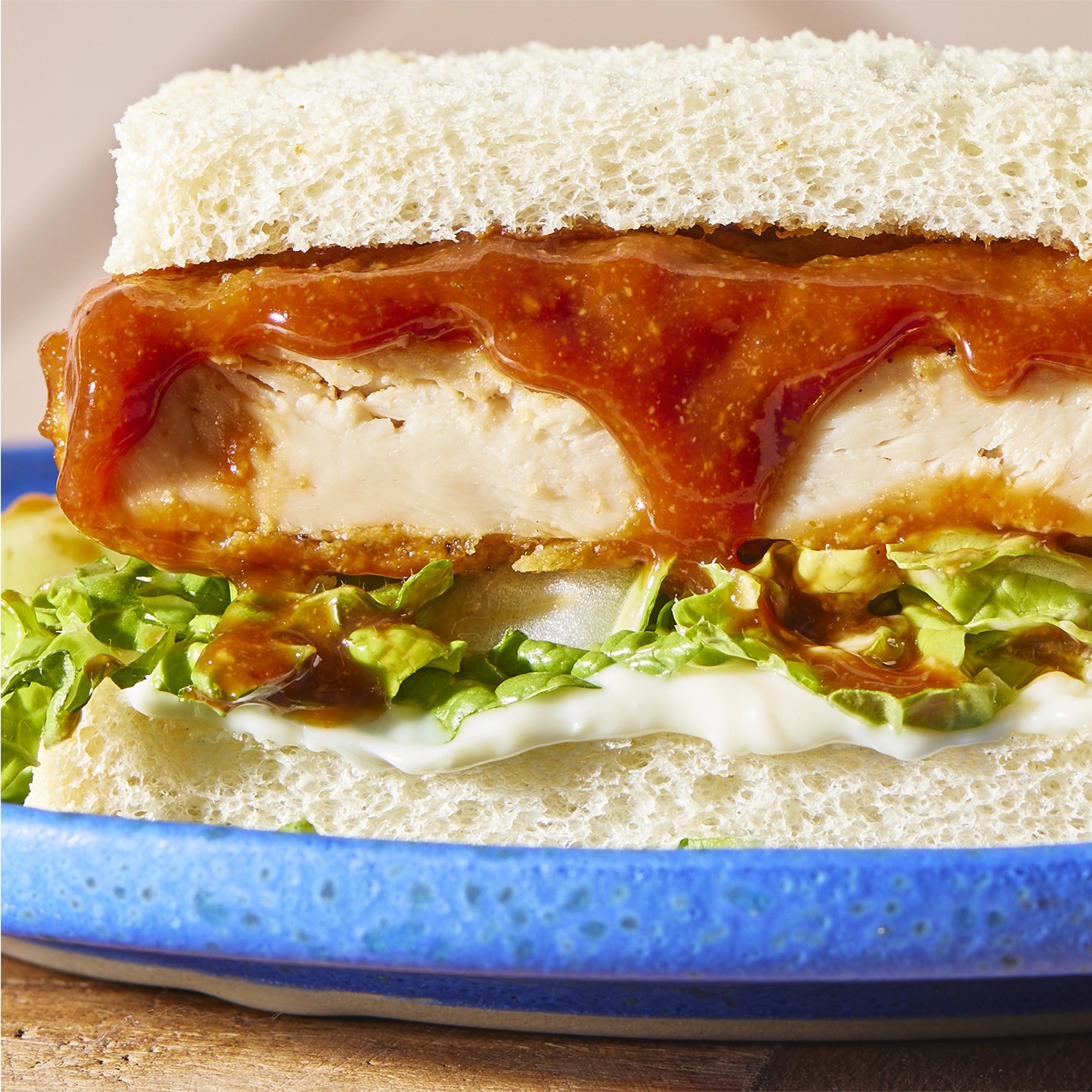 Crispy Cutlet Katsu
A Japanese-inspired Katsu Crispy Cutlet sandwich with crunchy shredded cabbage, pickled veggies, and an umami-rich Tonkatsu sauce.
Serve with rice seasoned with lime zest, chives or scallions, and finely chopped cilantro.
4 Meati Crispy Cutlets, frozen
Salt and white pepper
1 teaspoon granulated garlic
1 teaspoon granulated onion
1 teaspoon ground ginger  
Preheat oven to 375 F.
Lightly coat Crispy Cutlets with cooking spray, then season with salt and pepper. Combine garlic, onion, and ginger in a small bowl and then season the cutlets evenly on both sides. 
Bake Crispy Cutlets on a parchment lined baking sheet, about 35 minutes, until golden brown,, crisp and cooked through. Let rest 5 minutes and then cut corner to corner and toss with katsu sauce.
Tonkatsu Sauce: 
1/2 cup ketchup
2 Tablespoons Worcestershire sauce
2 Tablespoons Mirin
2 Tablespoons yellow or Dijon mustard
2 Tablespoons light soy sauce
1 Tablespoon dark soy sauce
1 Tablespoon sugar  
Stir together while the Crispy Cutlets are baking.
To Serve:
Milk bread or white bread, crusts removed
Kewpie, mayo, or vegan mayo  
Napa cabbage, very thinly sliced or shredded
Pickled mixed vegetables, such as giardiniera or similar 
Spread a piece of bread with a thin layer of mayo. Add some sliced Napa cabbage and top with sauced Crispy Cutlets. Serve with lime rice alongside and some pickled vegetables.
Join the Journey
Be the first to hear about exclusive offers and events.Sign up for updates here and never miss a beat.