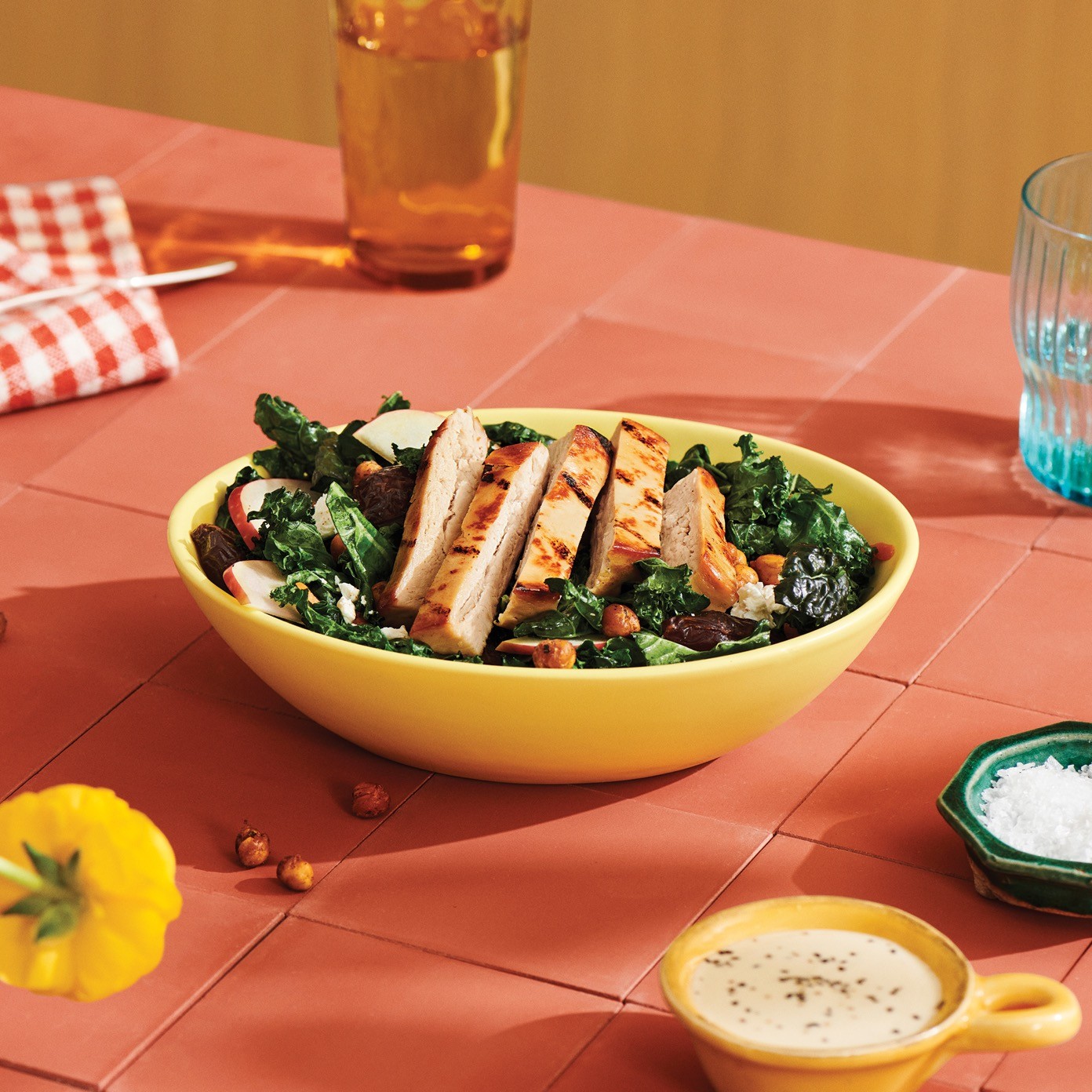 Grilled Classic Cutlet Kale Salad
Grilled Meati™ Classic Cutlet and charred kale salad, medjool dates, sliced apple, toasted almonds, harissa roasted chickpeas, grated carrot, feta cheese, and a lemon-tahini dressing
For the lemon tahini dressing
2 tbsp tahini
5 tbsp lemon juice
1 tbsp honey
½ tsp ground black pepper
½ tsp salt
2 garlic cloves, minced
3 tbsp olive oil
Combine tahini, lemon juice, honey, black pepper, salt, and minced garlic in a bowl. Slowly whisk olive oil in. Use immediately.
Needed for the salad
Toss 1 can chickpeas with 3 tbsp of olive oil and 4 tsp of harissa spice. Pre-heat the broiler to high. Broil on high for 10 minutes, until just toasted
Clean and pick 8 c kale, shred into medium-large chunks, toss with 1 tbsp olive oil and ½ tsp each sea salt and black pepper. Pre heat broiler to high. Place kale underneath and cook until edges just char and the kale starts to soften (about 3 minutes)
Slice 1 apple into thin slices, about an 1/8 of an inch thick
Cut ½ c of Medjool dates, cut into quarters
Wash and peel 5 medium carrots, shred on a box grater using ½ c per serving
Rough chop ½ c of toasted almonds
Crumble a ½ c of feta cheese
For the grilled Meati™ Classic Cutlet
Preheat grill to medium heat
Lightly season each side of all 4 Meati™ Classic Cutlets with salt, pepper, and a small amount of oil
Place cutlet on the hot grill
Cook cutlet for 9-10 minutes, rotating every 2 minutes, until an internal temperature of 165 degrees
Remove from grill and allow cutlet to rest for 30 seconds prior to serving or cutting
For assembly
Toss the charred kale, shredded carrot, and sliced apple with the lemon tahini dressing, lightly season with salt and pepper
Divide dressed kale, carrot, and apple evenly onto 4 plates
Garnish each salad with quartered dates, toasted almonds, and harissa chickpeas
Slice each Meati™ cutlet into ¼ inch slices, on the bias. Fan each cutlet out on top of the salad.
Top each of the salads with crumbled feta cheese
Enjoy!
Join the Journey
Be the first to hear about exclusive offers and events. Sign up for updates here and never miss a beat.