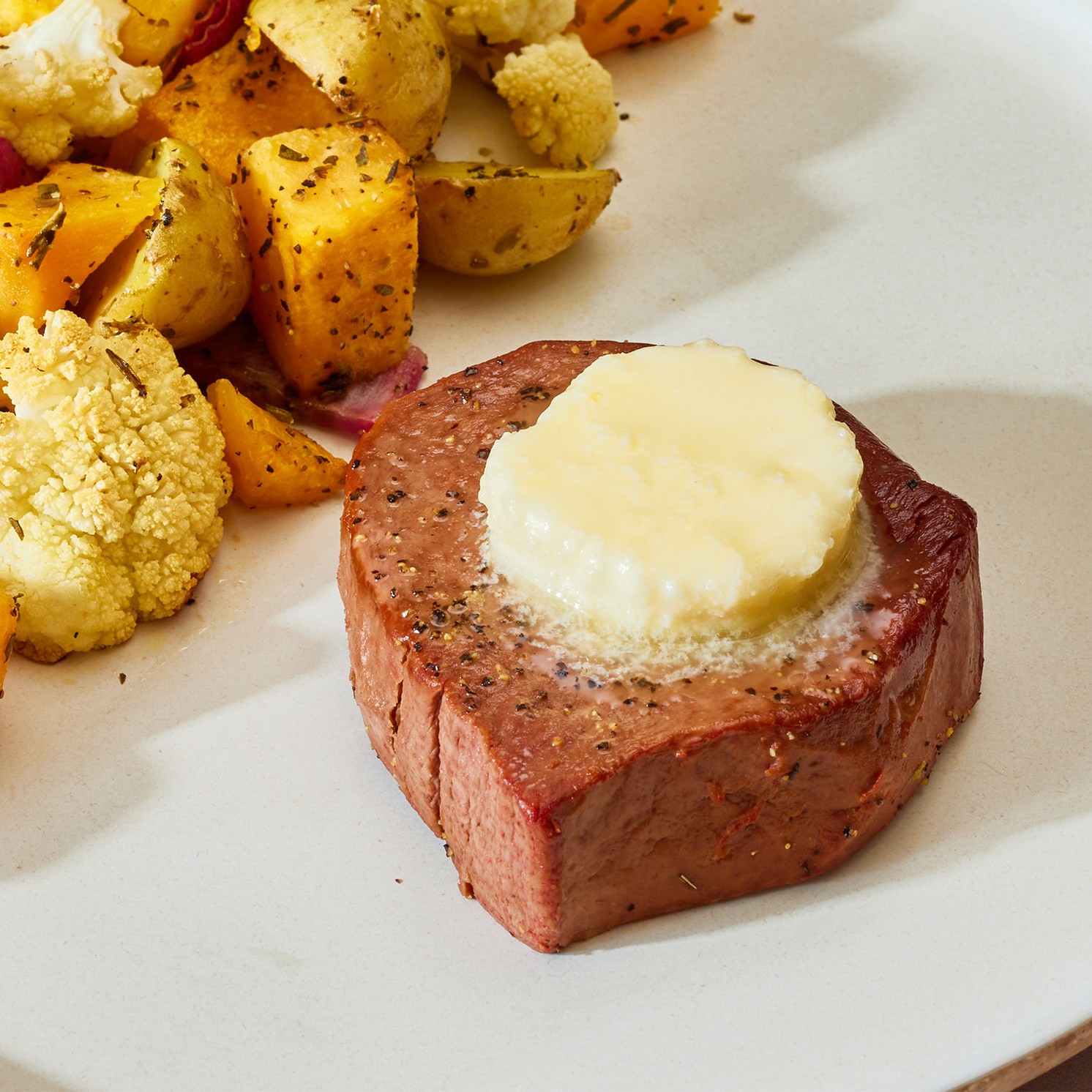 Sheetpan Classic Cutlet / Classic Steak with Parmesan Butter
Either Classic Steak or Classic Cutlet can be used in this recipe for a one-to-one substitution. Or use both!
For the Parmesan Butter 
½ c (1 stick) unsalted butter, room temperature 
2 TBSP Parmesan cheese, grated 
1 tsp lemon juice 
To a small mixing bowl, add all ingredients and mix until fully incorporated. Store the parmesan butter in a small mason jar or use plastic wrap to roll it into a small log. Keep refrigerated until ready to use.
For the Roasted Vegetables & Meati™ Cutlets 
4 c butternut squash, peeled & cut into 1-inch cubes 
1 c (1 small) red onion, cut into 1-inch dice 
4 c cauliflower, cut into bite-sized florets 
2 c small roasting potatoes, halved lengthwise 
3 TBSP olive oil 
¼ cup lemon juice (about 1 lemon) 
1 TBSP dried Italian seasoning or favorite seasoning of choice 
½ TBSP fresh thyme leaves 
½ TBSP fresh rosemary, finely chopped 
½ TBSP kosher salt 
1 tsp freshly cracked black pepper 
4 Meati Classic Steaks or Meati Classic Cutlets, thawed.
Preferred oil, salt, & ground black pepper, to taste 
Preheat oven to 375°F. Line a baking sheet with parchment paper and set aside. 
To a large mixing bowl add all ingredients except for the Meati cutlets. Toss to combine.
Evenly spread vegetables on a baking sheet. Place in the oven and bake for 20 minutes. 
In the meantime, season the Meati cutlets with salt, pepper, and a little oil.  
Add the cutlets to the vegetables and roast until they have reached an internal temperature of 165°F and the vegetables are fork tender, 10-15 minutes.
For Assembly 
Portion the cutlets on dinner plates with a serving of vegetables. Add parmesan butter and enjoy! 
Join the Journey
Be the first to hear about exclusive offers and events.Sign up for updates here and never miss a beat.