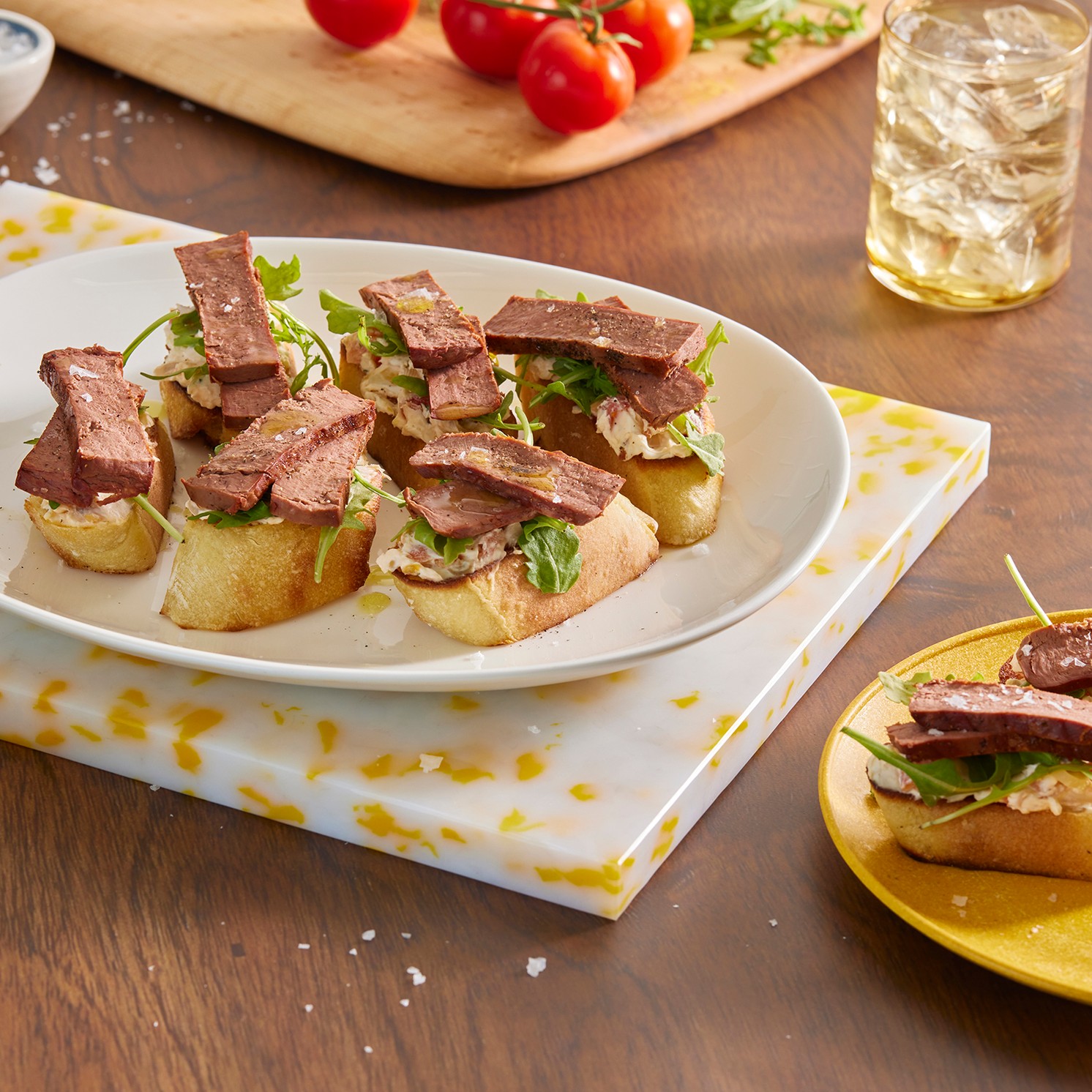 Grilled Classic Steak & Tomato Bruschetta
Grilled Classic Steak layered on top of a bed of arugula and cream cheese mixture. A great starter for holiday gatherings.
Ingredients 
2 Meati™ Classic Steaks (chopped) 
12 slices of baguette, crostini, or bread of choice  
8 oz cream cheese (room temperature) 
1 cup tomatoes (diced)  
1 cup Arugula  
1 shallot (sliced thinly) 
2 garlic gloves (sliced thinly) 
½ TBSP Fresh thyme (chopped) 
4 TBSP unsalted butter 
Salt & Pepper  
Directions
For grilled Classic Steak- Preheat grill to medium heat. Lightly season each side of the Classic Steak with salt, pepper, and a small amount of oil.
Place Classic Cutlet on the hot grill. Cook cutlet for 9-10 minutes, flipping often, until an internal temperature of 165 degrees. Remove from grill and allow cutlet to rest for 60 seconds prior to cutting. 
In a small saucepan, heat 2 tbsp of butter on medium-low heat then add the shallots and garlic, stir until coated. Brown until caramelized then set aside. 
In a medium bowl, mix the cream cheese, diced tomatoes, chopped thyme, sauteed shallots and garlic. Mix well.  
Sauté 2 tbsp butter in skillet. Add bread slices, in one layer. Pan fry on both sides until a golden-brown color. Remove and set aside.  
Using your golden-brown bread slices, layer with arugula, spread cream cheese mixture, and place Classic Steak on top. Enjoy!
Join the Journey
Be the first to hear about exclusive offers and events. Sign up for updates here and never miss a beat.