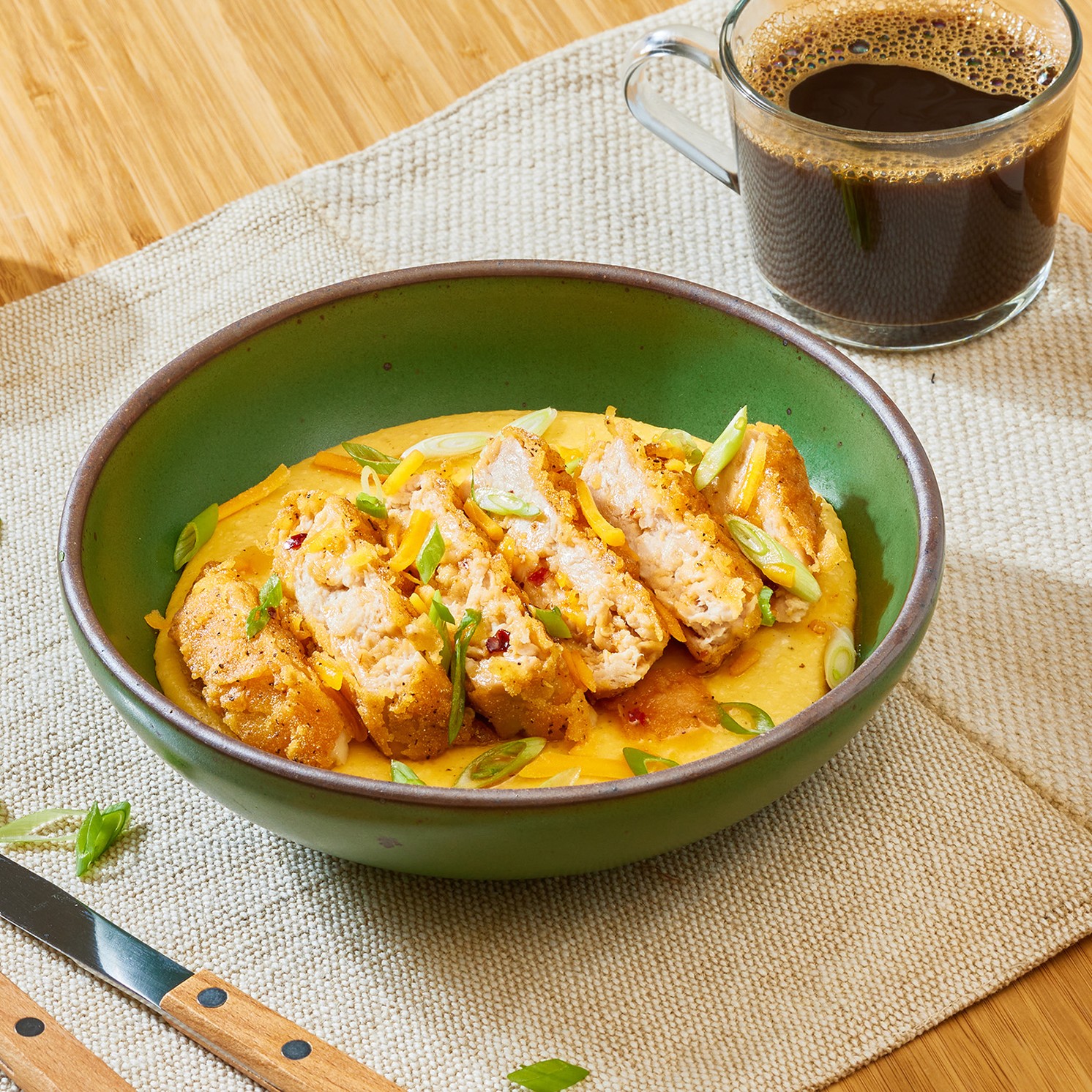 Grits & Crispy Cutlet Breakfast
This meal is perfect for any weekend brunch or Sunday supper.
For The Spicy Honey Drizzle (makes 1 ½ cups) 
1 c honey
2 TBSP hot sauce (Ex: Louisiana)
2 TBSP apple cider vinegar
1 tsp crushed red pepper flakes
½ tsp kosher salt
¼ c of butter (½ stick)
To a small saucepan over medium heat, add the honey, hot sauce, apple cider vinegar, red pepper flakes, and salt. Bring to a boil.
Add butter to mixture and whisk until combined. Remove from heat and set aside.
For The Savory Grits
1 ½ cups water
½ tsp kosher salt
½ c quick cooking grits
1 ¼ c Cheddar cheese, shredded
2 TBSP unsalted butter
2 TBSP heavy cream
To a 2-quart pot over high heat add 1 ½ cups water and the salt. Bring to a rolling boil.
Slowly whisk in the grits, then reduce the heat to a simmer.
Continue cooking until the grits are thickened and the water is absorbed. Stir in cheese, butter, and heavy cream. Remove from heat.
For Air-Fried Meati™ Crispy Cutlet
1 Meati Crispy Cutlet, frozen.
Turn air fryer on and set it to 400°F with high fan.
Place Meati Crispy Cutlet into the fryer basket and close the drawer.
Cook until an internal temperature of 165°F, about 10 minutes. Check frequently to make sure the edges aren't burning.
For Assembly
1 ½ cups prepared savory grits
3 TBSP spicy honey drizzle
2 TBSP Cheddar cheese, shredded
1 Tbsp green onion, cut on a diagonal
Warm spiced honey and add 1 stick of butter and mix until fully combined.
Place savory grits into a bowl. Top with cheddar cheese, followed by the Crispy Cutlet. Drizzle spicy honey over the top and finish with green onions. Enjoy!
Join the Journey
Be the first to hear about exclusive offers and events.Sign up for updates here and never miss a beat.