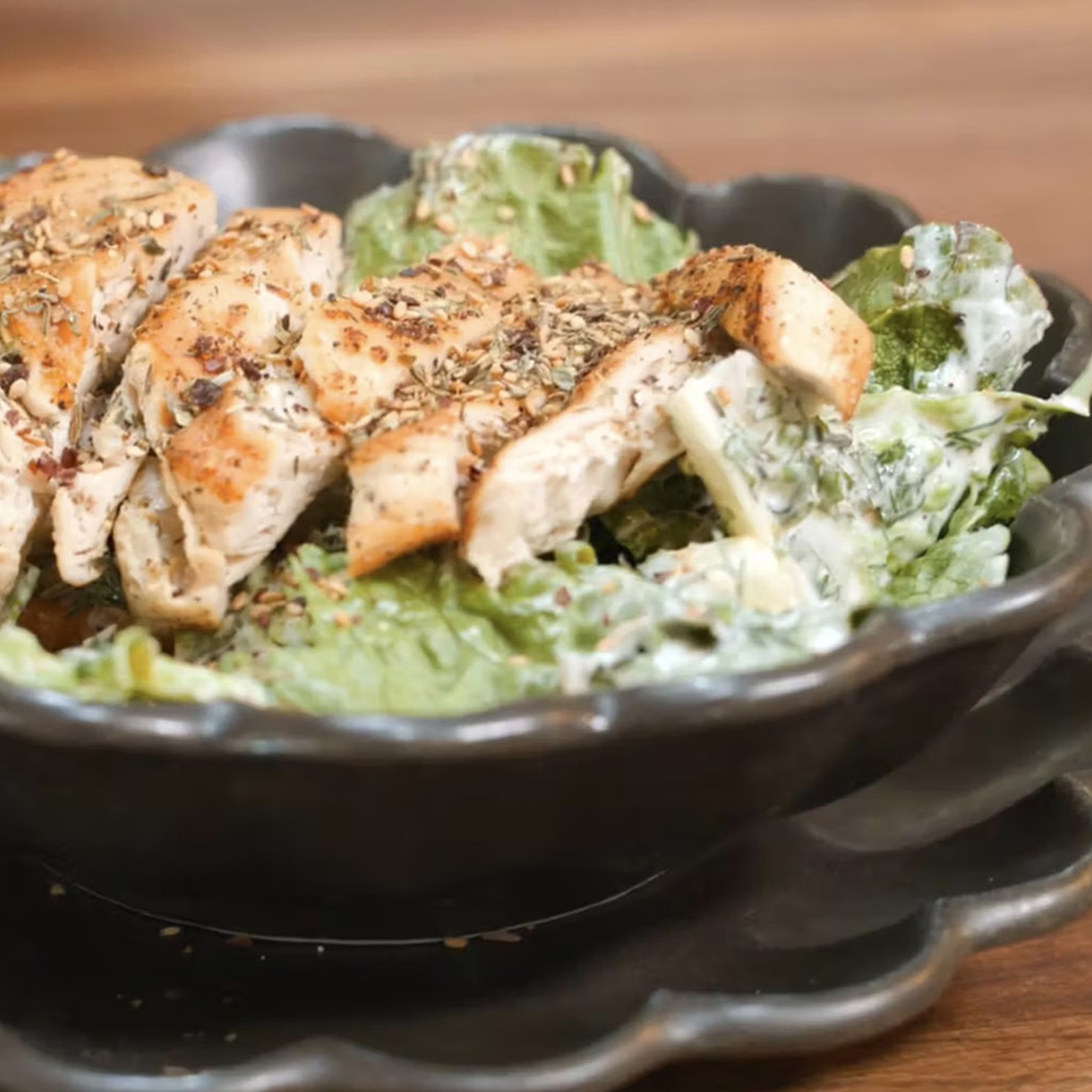 Fattoush with Tahini Ranch Dressing and Classic Cutlets
A fresh, herb-dressed salad with creamy tahini ranch and seared, lemon-y Classic Cutlet.
This salad is delicious and filling, but to add more protein, or to make it even heartier, serve with Meati Classic Cutlets doused in charred lemon.
Crispy Pita:
3 pitas, torn and separated
Non aerosol EVOO cooking spray
3 Tablespoons za'atar seasoning 
(or 2 teaspoons each cumin, coriander, sumac, granulated garlic, za'atar leaves or oregano)  
Salt
Preheat oven to 375 F. 
Arrange the pita on a baking sheet and spray with EVOO, season with za'atar or mixed spices and salt. Bake until browned and crispy.         
Dressing:
½ cup Tahini, such as La Boite
½ cup water
½ cup Greek yogurt
Juice of 1 lemon
2 Tablespoons EVOO, extra virgin olive oil
Salt and pepper
1 large clove garlic, grated
1 cup fresh mixed herbs, combined: parsley, dill, mint, chives, finely chopped  
Whisk up the Tahini, water, yogurt, juice of 1 lemon and EVOO. Season the dressing with salt and pepper and stir in the garlic and fresh herbs. Adjust salt and pepper.  
Meati Classic Cutlets and Salad:
4 Meati Classic Cutlets, thawed
1 teaspoon granulated garlic
1 teaspoon granulated onion
Salt and pepper
2 Tablespoons EVOO
Halved lemon
1 large or 5 gem Romaine lettuce, chopped
3 Roma tomatoes, chopped
3 Persian cucumbers or 1 ½ seedless English cucumber, chopped
1 red onion, chopped
3-4 radishes, thinly sliced
1 Tablespoon za'atar
Season Meati Classic Cutlets with granulated garlic and onion, salt and pepper, drizzle with EVOO and let stand for 10 minutes. Preheat a griddle or cast iron pan over medium high heat. Add the thawed Classic Cutlets to the pan along with a halved lemon (cut side down), and cook about 6-8 minutes, turning occasionally. Douse the cooked cutlets with the charred lemon and let rest 5 minutes. Slice into strips.
In a large salad bowl combine lettuce, tomatoes, cucumbers, red onions and radishes with the toasted seasoned pita and toss with dressing to coat. Top with sliced Classic Cutlets and a bit more za'atar.
Join the Journey
Be the first to hear about exclusive offers and events. Sign up for updates here and never miss a beat.