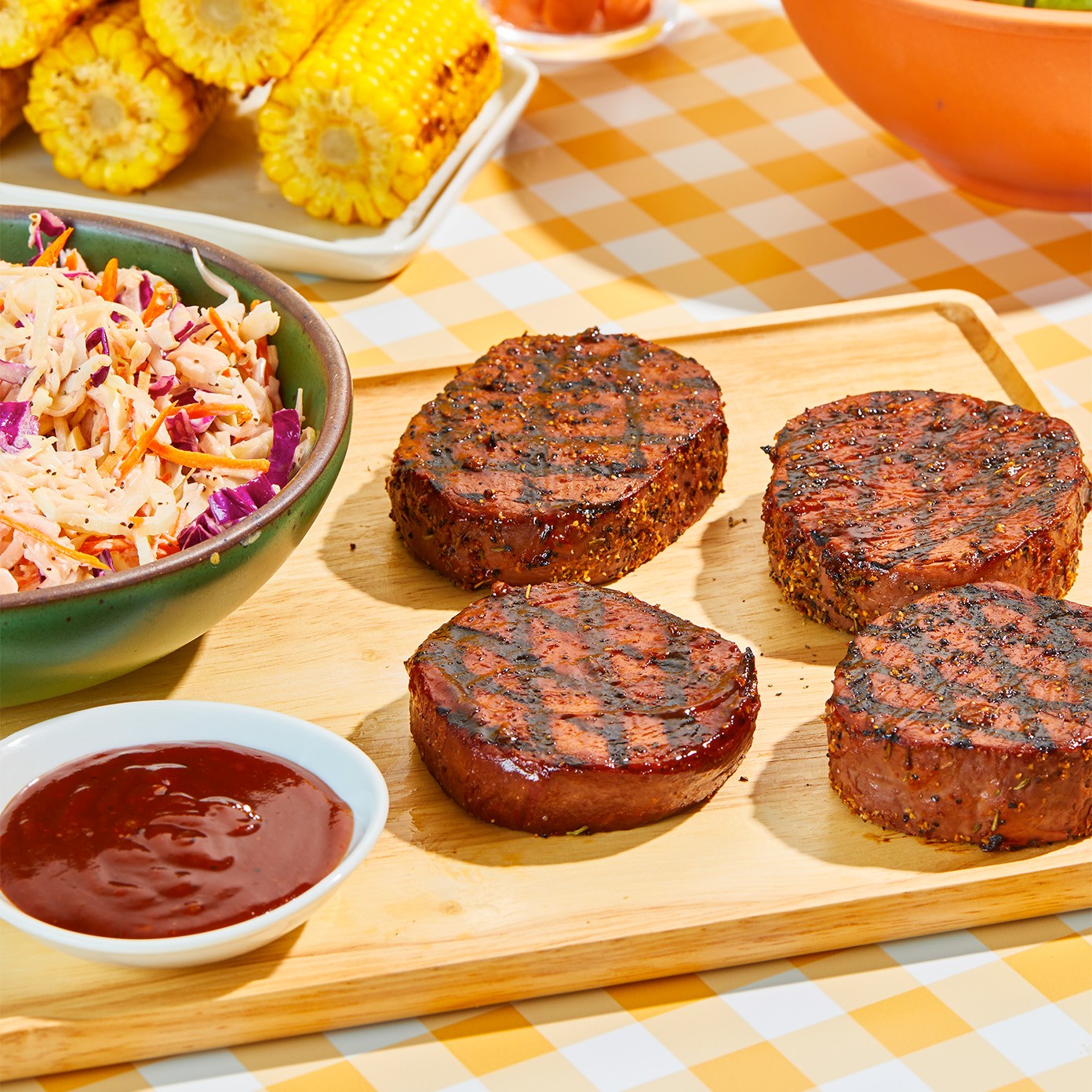 BBQ Classic Steak
Any flavor of BBQ sauce works here from sticky-sweet, ketchup-based Kansas City style sauce to Carolina mustard "pucker-up" sauce.
For the Coleslaw
½ c mayonnaise
¼ c apple cider vinegar
1 Tbsp granulated sugar
½ tsp celery seed
¼ tsp Kosher salt
¼ tsp ground black pepper
One 14 oz package of pre-shredded slaw mix
1 fennel bulb, cleaned and thinly sliced
For the coleslaw dressing: To a small bowl, add mayonnaise, vinegar, celery seed, sugar, salt, and black pepper. Whisk until fully incorporated.
For the slaw: Add the thinly sliced fennel to the slaw mix and mix in half of the coleslaw dressing and let stand for 15 minutes before serving.
For the BBQ Meati™ Steak
4 Meati™ Classic Steaks, thawed.
2 Tbsp preferred dry rub
1 c preferred BBQ sauce, plus more for serving
Heat grill to medium and brush the grate with oil.
Coat the Meati™ steaks in dry rub and brush with BBQ sauce before placing them on the grill.
Cook on one side for 4 minutes then flip and cook for another 4 minutes. Turn Meati™ steak as needed avoiding the hottest spots on the grill. Brush with more BBQ sauce as it cooks. Cook until the Meati™ steaks reaches an internal temperature of 165°F.
Take Meati™ steaks off the grill and brush with more BBQ sauce or serve it on the side.
For Assembly
Slice Meati™ steak into four pieces, drizzle BBQ sauce over top and serve with coleslaw, grilled corn, and fresh sliced watermelon.
Join the Journey
Be the first to hear about exclusive offers and events.Sign up for updates here and never miss a beat.