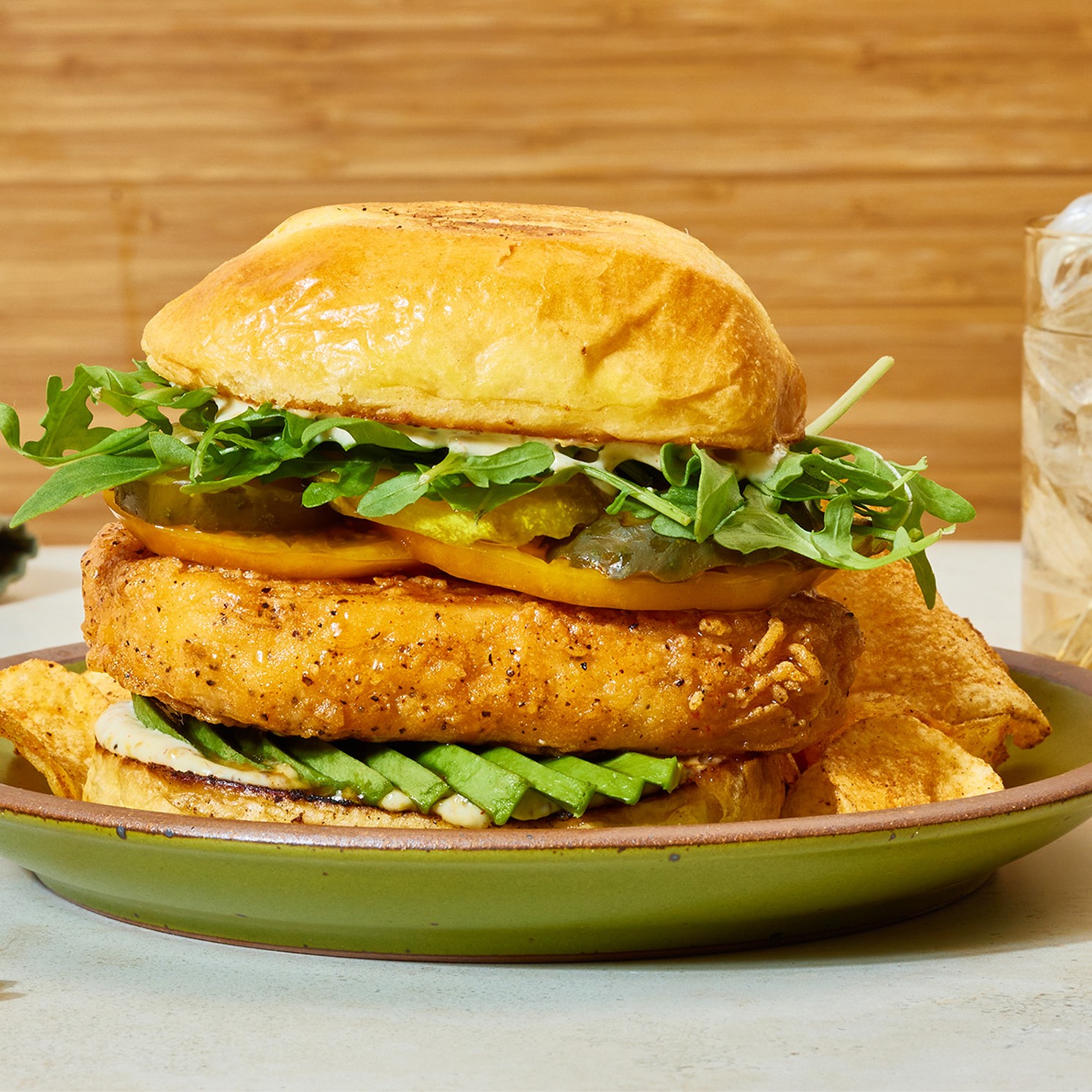 Crispy Cutlet Sandwich with Grain Mustard Mayonnaise & Cider-Honey Glaze
A sandwich that packs all the flavor.
For the Grain Mustard Mayonnaise
½ c mayonnaise 
2 TBSP whole grain mustard 
⅛ tsp ground black pepper 
⅛ tsp garlic powder 
⅛ tsp paprika  
To a small mixing bowl add all ingredients and mix well. Make sure that there are no clumps of spices. Use immediately or cover tightly and refrigerate for up to 5 days.
For the Cider-Honey Glaze 
¼ c honey  
¼ c apple cider vinegar 
¼ tsp paprika  
⅛ tsp ground black pepper  
⅛ tsp kosher salt  
To a small saucepan over medium heat, add all ingredients. Bring to a simmer, then reduce heat to low. Cook until it reduces by half, 5-10 minutes. Keep warm until ready for assembly. 
For the Air-Fried Meati™ Crispy Cutlet
1 Meati Crispy Cutlet, frozen.
Turn air fryer on and set it to 400°F with a high fan. 
Place Crispy Cutlet into the fryer basket and close the drawer. 
Cook until it reaches an internal temperature of 165°F, about 10 minutes. Check on the product frequently to make sure the edges aren't burning.  
Remove from the basket and set aside for assembly. 
For Assembly
1 brioche roll  
1 TBSP unsalted butter  
2 TBSP prepared grain mustard mayonnaise  
½ avocado, sliced thin  
2 TBSP prepared cider-honey glaze  
2 slices heirloom tomato 
5 slices sour pickles  
½ c arugula  
Warm a large sauté pan over low heat. Add butter to the pan.  
Split the brioche bun down the middle and place it cut-side down in the pan. Brown slightly, then flip to brown the tops slightly.  
Remove from the pan. Spread half of the garlic mayonnaise on the bottom roll, and half on the top.  
Add fan-sliced avocado on the bottom of the roll. 
Using a pastry brush, brush the cider glaze over the cooked crispy cutlet.  
Place the glazed crispy cutlet on top of the sliced avocado.  
Top with heirloom tomato, sour pickles, and arugula. Finish with the top roll and serve.  
Join the Journey
Be the first to hear about exclusive offers and events.Sign up for updates here and never miss a beat.