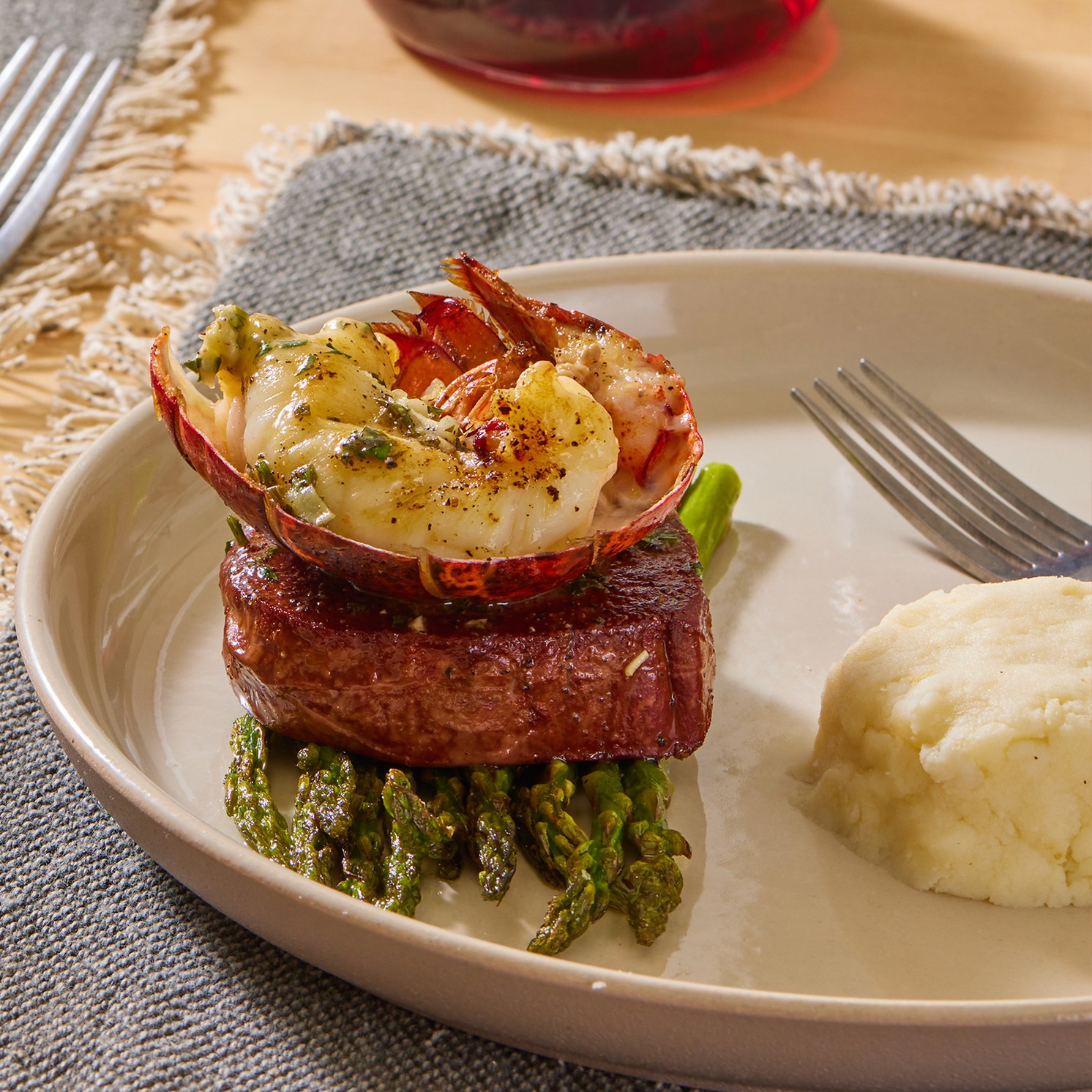 Classic Steak with Maine Lobster Tails
A Valentine's Day staple with a twist. Meati Classic Steaks and Maine lobster tails are roasted in herb & garlic butter.
Ingredients 
For the Herb & Garlic Butter
½ cup (1 stick) unsalted butter, room temperature
¼ c fresh parsley, roughly chopped
3 Tbsp (3 cloves) garlic, roughly chopped
2 Tbsp fresh chives, snipped
1 ½ Tbsp lemon juice
1 ½ tsp fresh oregano, roughly chopped
¾ tsp kosher salt 
½ tsp ground black pepper 
For the Classic Steaks & Lobster 
4 Classic Steaks, thawed  
2 Maine lobster tails, cut in half down the middle
2 Tbsp olive oil
Kosher salt, to taste
Ground black pepper, to taste 
Directions
Preheat oven to 375°F. 
Make the Herb & Garlic Butter: To a small mixing bowl add all ingredients. Using a spatula, mix until well combined and set aside.
To a large nonstick skillet over high heat, warm the olive oil. 
Generously season each side of the Meati Steaks and four halved lobster tails with salt and pepper.
Place in the hot skillet, and sear both sides of the steaks and lobster tails until caramelized. Remove from the skillet and place on a sheet pan.
Smear two teaspoons of herb-garlic butter on top of each cutlet and on top of each lobster tail.
Place in oven and bake for 8-10 minutes, until the lobster is cooked and its meat turns white. 
Remove from oven and place one halved lobster tail on top of each Meati steak, divide the remaining herb-garlic butter into fours, placing  an equal amount on top of each steak and lobster combo.
Place back in the oven to just melt the butter as a sauce, about 1 minute.
Remove from oven, plate, and serve.
Join the Journey
Be the first to hear about exclusive offers and events.Sign up for updates here and never miss a beat.