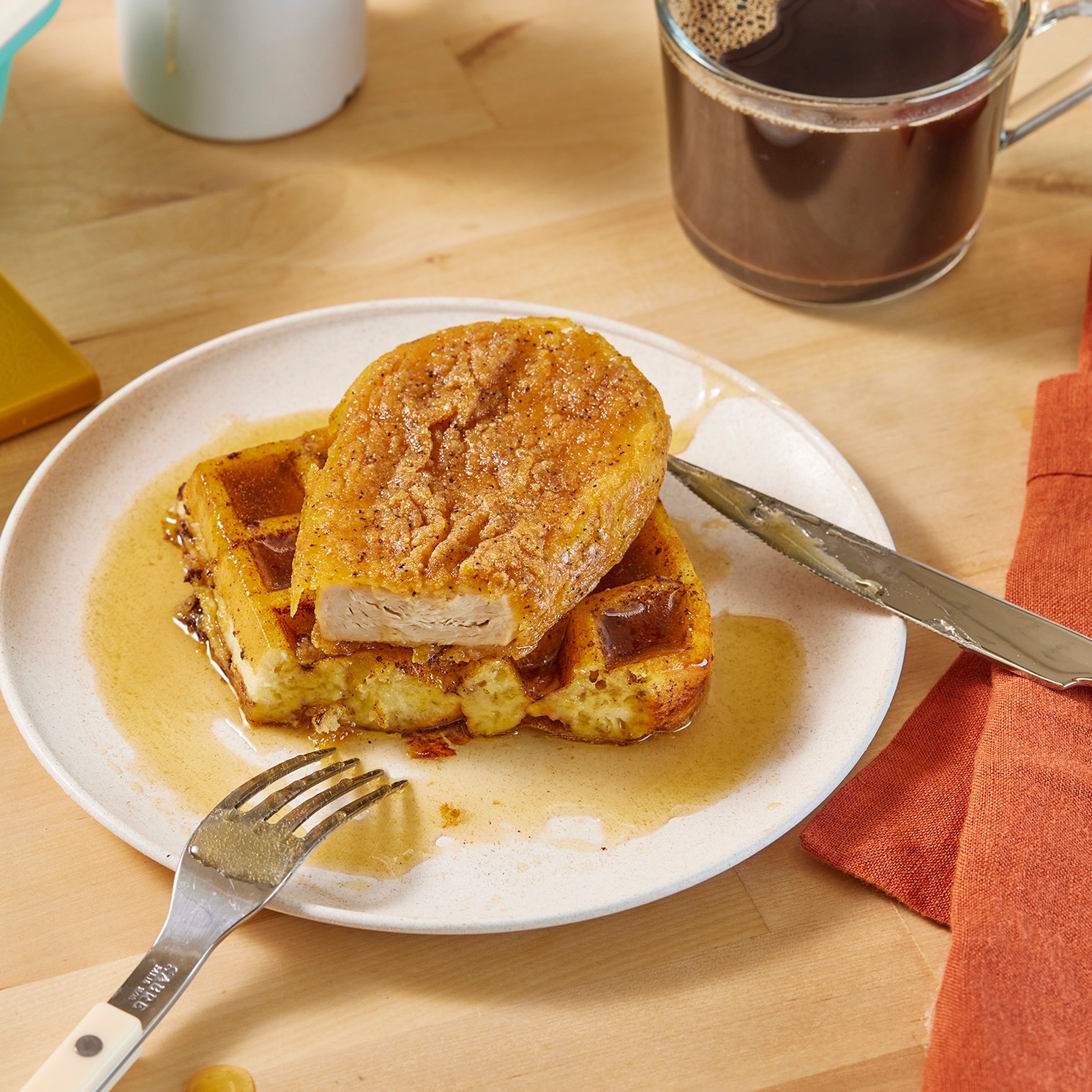 Crispy Cutlet Overnight Waffle Casserole
Overnight breakfast casserole with a fresh Crispy Cutlet and maple butter sauce.
Ingredients 
3 Meati™ Crispy Cutlets
6 eggs
6 thick frozen waffles
1 ½ cup whole milk
1 tsp vanilla
2 tsp cinnamon
¼ cup maple syrup
2 TBSP unsalted butter
Pinch of Salt
Directions
Prepare a 9×13 baking dish with non-stick cooking spray.
Using a toaster, toast 6 frozen waffles.
In a medium bowl, use a hand mixer to blend eggs, milk (or half & half), vanilla extract, cinnamon, syrup, and salt.
Dip each toasted waffle into the egg mixture and layer the waffles in the baking dish. Pour the remaining egg mixture over the waffles, cover the baking dish with foil and refrigerate for 8 hours or overnight.
When you are ready to bake the casserole, preheat the oven to 350.
Leave the casserole covered with foil and bake for 20 minutes.
Remove the foil and bake the waffle casserole for another 10-20 minutes until the waffles are fully baked (meaning they are not jiggly and there is no wet egg mixture) and the edges of the waffles are golden brown and toasted.
For air-fried Crispy Cutlet–Turn air fryer on and set it to 400. Place Crispy Cutlets into the fryer basket and close the drawer. Cook for 10-11 minutes. Check on the product frequently to make sure the edges aren't burning. Remove from the basket and rest for 1 minute before cutting.
After you remove the foil and continue baking, make the maple butter sauce: Combine the butter and maple syrup in a small saucepan over medium heat. Stir frequently until the butter is melted. Reduce heat to low and simmer the maple butter sauce until the waffle casserole has finished baking.
Cut the casserole into 6 servings, add cut Crispy Cutlet and drizzle with maple butter sauce. Enjoy!
Join the Journey
Be the first to hear about exclusive offers and events.Sign up for updates here and never miss a beat.