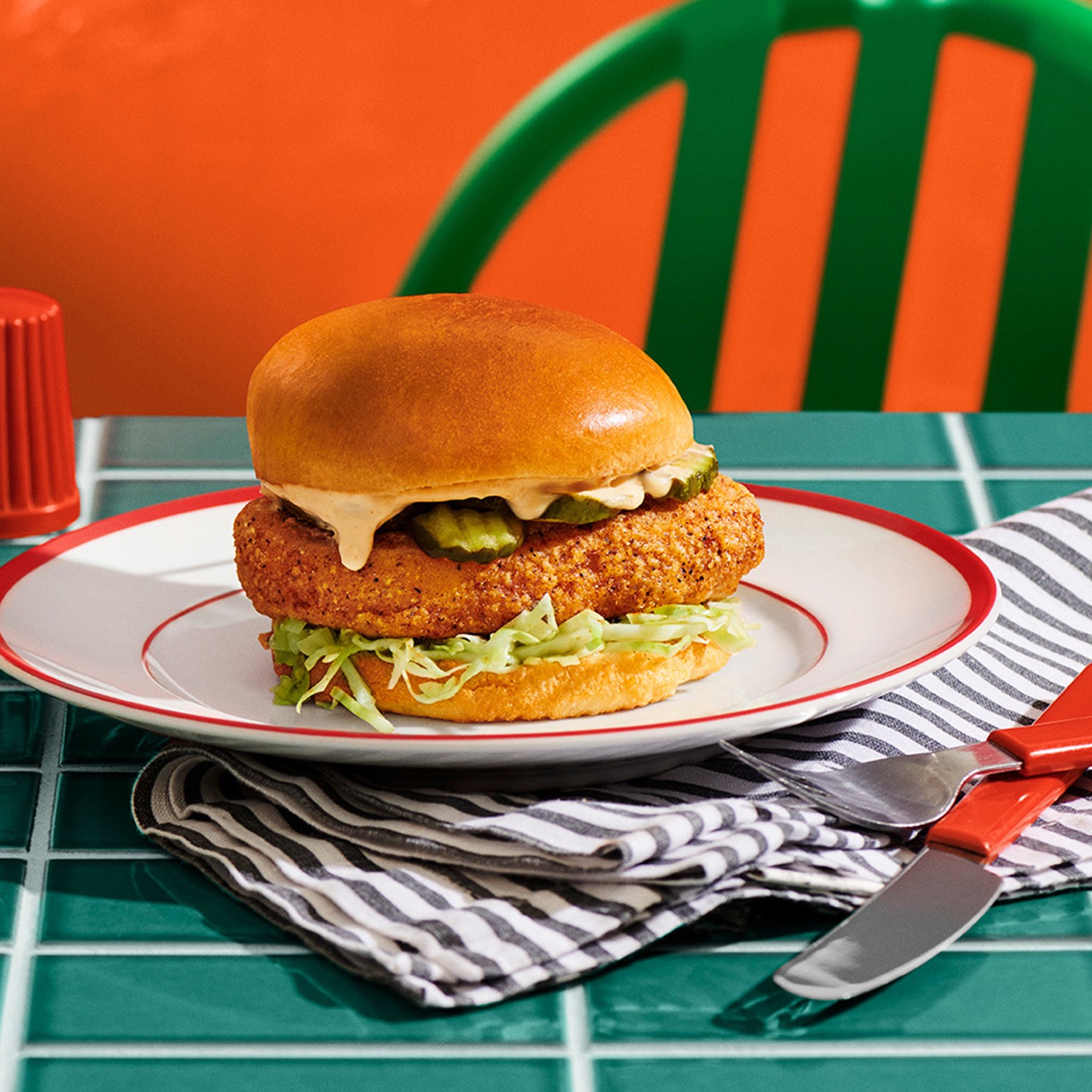 Hot Crispy Cutlet Sandwich
Meati™ hot crispy cutlet sandwich with spicy sauce, cabbage slaw, brioche bun, and bread and butter pickles
For the cabbage slaw vinaigrette (makes multiple portions)
½ c cider vinegar
2 TBSP honey
1 TBSP grain mustard
¼ tsp sea salt
½ tsp whole black peppercorns
1 tsp whole fennel seeds
½ c canola oil
Combine vinegar, honey, grain mustard, sea salt, whole black peppercorns, and fennel seeds in a blender. Puree until smooth. Slowly drizzle in oil to emulsify. Place in an airtight container and store cold.
For the hot spice mix (makes multiple portions)
.18 oz cayenne pepper
.73 oz paprika
.11 oz garlic powder
.06 oz black pepper, ground
.07 oz ground cumin
1.2 oz onion powder
.18 oz sea salt
.06 oz chile powder
.35 oz sugar
.04 oz white vinegar powder
Combine all ingredients and mix well.
For the cabbage slaw
1 cup cabbage, finely shredded
1 oz cabbage slaw vinaigrette
1/8 tsp sea salt
1/8 tsp ground black pepper
Combine all ingredients in a bowl. Mix well and use immediately.
For the spicy sauce (4 portions)
7 oz Mayonnaise
1.5 oz Ketchup
2 oz sweet relish
.25 oz Slap Yo Mamma seasoning
Combine all ingredients in a bowl. Mix well and chill.
For the build
1 each Meati Crispy Cutlet
1 TBSP hot spice mix
1 each briche bun
1 TBSP butter
2 oz spicy sauce
4 each bread & butter pickle slices
¾ oz agave syrup
½ c shredded cabbage slaw
Air fried from thawed
Turn air fryer on and set it to 400 degrees with high fan
Place Meati cutlets into the fryer basket and close the drawer
Cook for 10-11 minutes turn to an internal temperature of 165 degrees. Check on the product frequently to make sure the edges aren't burning
Remove from the basket, toss it in the spice mixture, and serve immediately
For assembly
Cook the Crispy Cutlet per the instructions above
Pre heat a large sauté pan to low heat
Add 1 TBSP of butter to the pan.
Split the brioche bun and add it, flat side down to the pan. Brown slightly, then flip to brown the top slightly.
Remove from the pan and add the cabbage slaw to the bottom portion of the bun
Place the Crispy Cutlet on top of the shredded cabbage
Drizzle agave syrup on top of the Crispy Cutlet
Pour spicy sauce on top of the Crispy Cutlet
Place all 4 pickles, evenly spaced, on top of the Crispy Cutlet
Place the lid of the bun on top
Enjoy!
Join the Journey
Be the first to hear about exclusive offers and events.Sign up for updates here and never miss a beat.