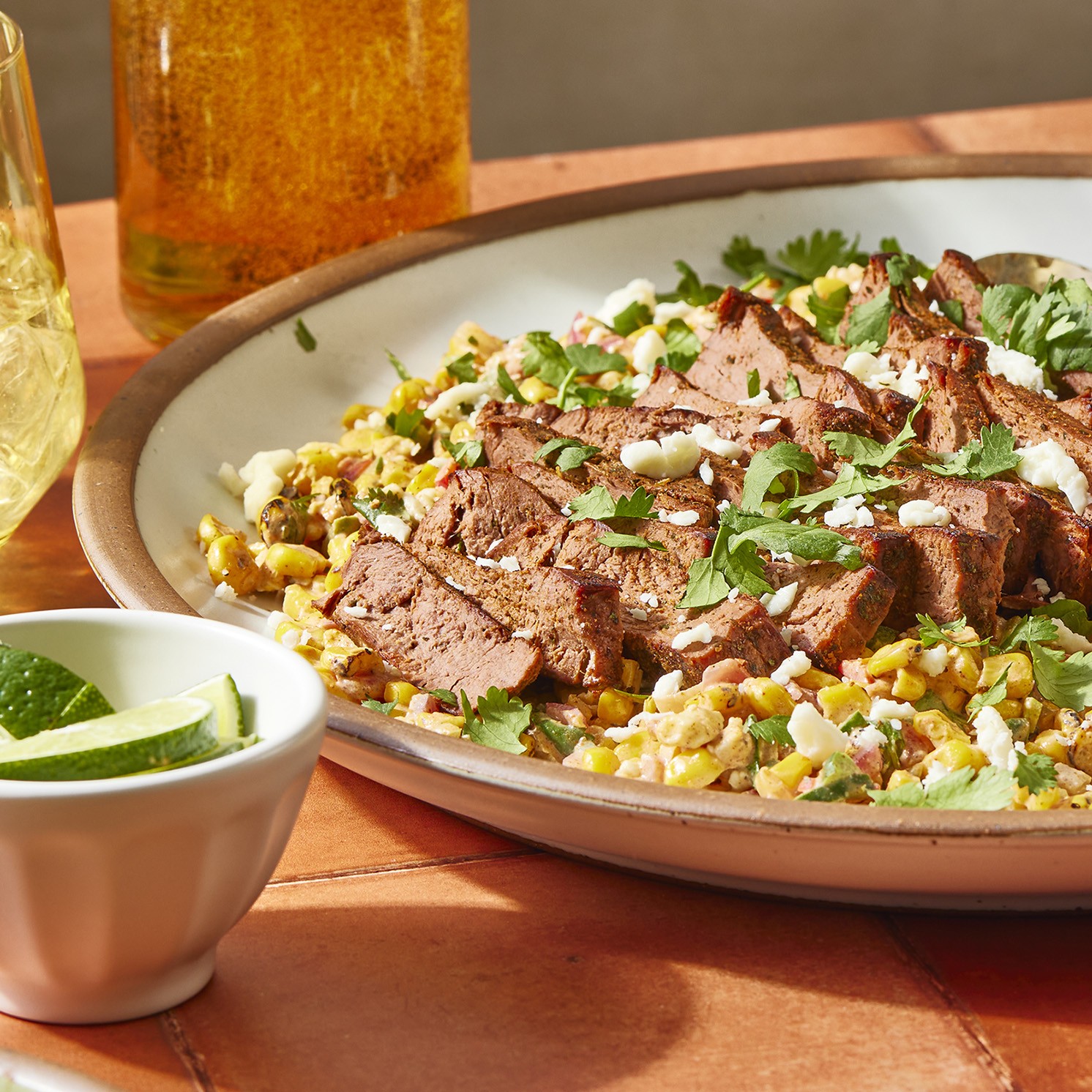 Elote Salad with Carne Asada
The creamy, tangy deliciousness of Elote, but fork-friendly, fire-roasted, and topped with zesty Carne Asada.
Ingredients
2 Tablespoons olive oil
1 bunch of spring onions, scallions or a small red onion
2 garlic cloves
4 ear of corn, charred on a grill (1 ear/person, but will feed up to 6), can also use 3 cups of defrosted fire-roasted corn
Salt and pepper, to taste
Juice of 2 limes
1/2 cup crema, whole yogurt or sour cream
¾  cup (about 3 oz.) cotija cheese, grated & divided
1 jalapeno chile, seeded and diced 
1 fresno chile, seeded and diced
1 bunch cilantro, rough chopped, plus more for garnish  
1 teaspoon smoked paprika, RR prefers La Boite
1 teaspoon chili powder, RR prefers Gephardt
1 teaspoon ground cumin, optional
Non aerosol EVOO cooking spray
4 Meati Carne Asada Steaks, thawed
Directions
Place a large nonstick skillet over medium high heat, add olive oil. Add the spring onion and let cook a few minutes then add the garlic and let cook for another minute. Add the corn to warm through. 
While the corn is warming through, in a large bowl, mix together the lime, crema, ½ cup of the cheese, chile peppers, cilantro, paprika, chili powder, and cumin. When the corn is done, fold it into the other ingredients. Add salt and pepper to your taste. 
Wipe out the skillet used to cook the corn and preheat over medium to medium-high heat. Spray with cooking spray and cook the Carne Asada Steaks until crispy and brown, about 8-10 minutes, turning once. Let stand 5 minutes, slice and place on top of the elote salad. Garnish with remaining ¼ cup cheese and some more cilantro
Join the Journey
Be the first to hear about exclusive offers and events. Sign up for updates here and never miss a beat.