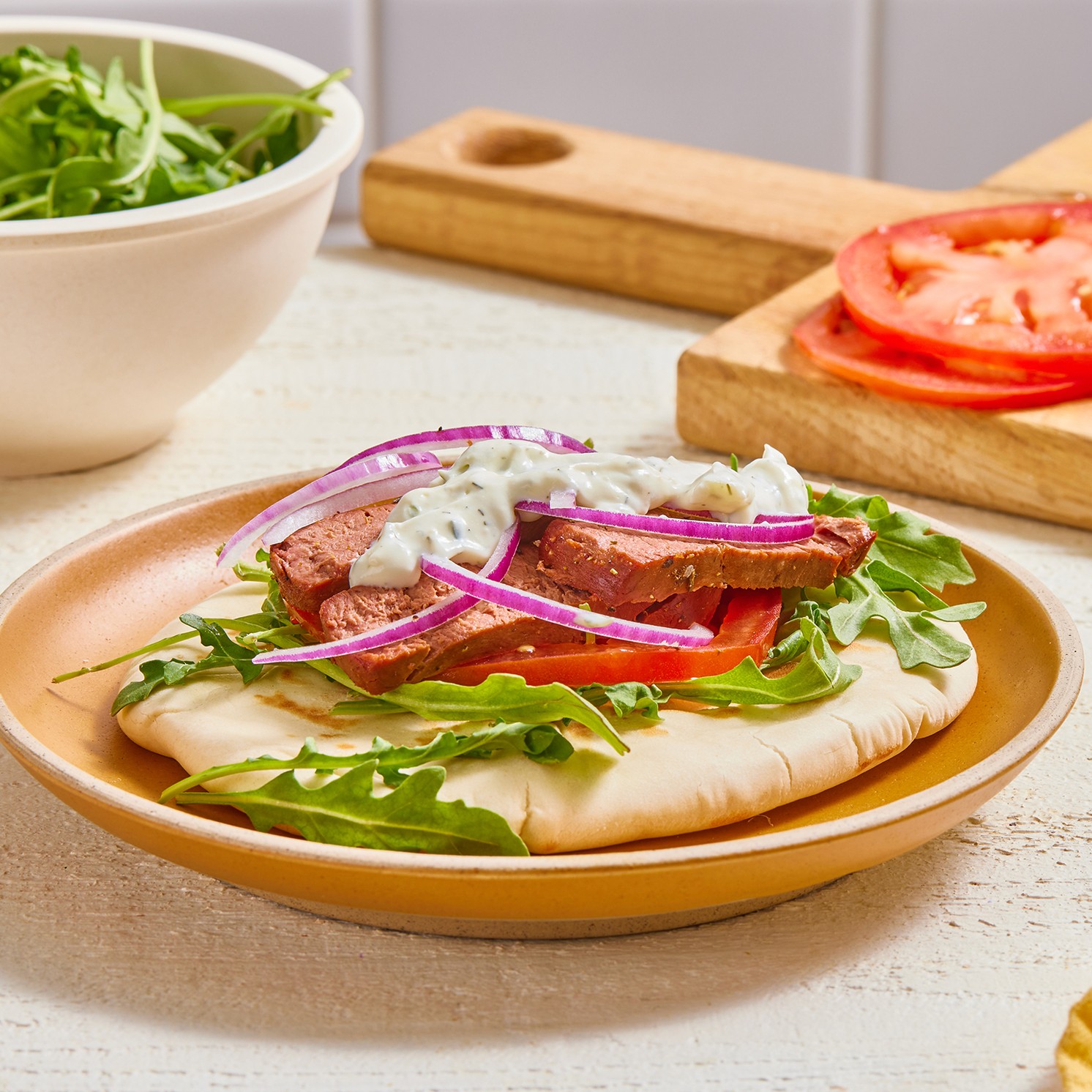 Classic Steak Gyros
Herbaceous and citrusy grilled Classic Steak, wrapped in a warm pita, filled to the brim with crunchy vegetables, and topped with tangy tzatziki.
Ingredients 
2 Classic Steaks, thawed
⅓ c olive oil
5 tsp Sprouts Mediterranean Herb Spice Mix
1 Tbsp (3 cloves) garlic, minced 
2 tsp kosher salt
For Assembly 
4  7–8-inch pita breads
1 medium red onion, sliced thin
1 large beefsteak tomato, sliced into thin rounds
2 c Sprouts arugula
1 c Sprouts Market Corner Tzatziki
Directions
To a medium mixing bowl add olive oil, Sprouts Mediterranean Herb Spice Mix, garlic, and salt. Stir to combine. 
Add Meati Steaks to bowl and generously coat them in the marinade. Let marinate for 10 minutes.
Preheat a large nonstick skillet over low heat. Place the Meati steaks in the skillet, discarding any excess marinade. Cook Steaks, turning frequently, until an internal temperature of 165°F, 6-8 minutes. 
Turn heat to medium-high heat and cook until steaks brown slightly, about 30 seconds on each side.
Pull off heat and allow Steaks to rest for 2 minutes before slicing into thin strips, allowing to shred slightly at the edges. Cover, and set aside. 
Warm pita breads in the oven or toaster oven to make pliable (about 1 minute at 350°F). 
Place a ½ c of arugula, 2 slices tomato, ¼ of the sliced red onion, half of the sliced steak, and a ¼ of tzatziki onto 1 half of each pita. Fold in half to create a pocket. 
Wrap gyros in paper or skewer with a toothpick to hold together.
Join the Journey
Be the first to hear about exclusive offers and events.Sign up for updates here and never miss a beat.