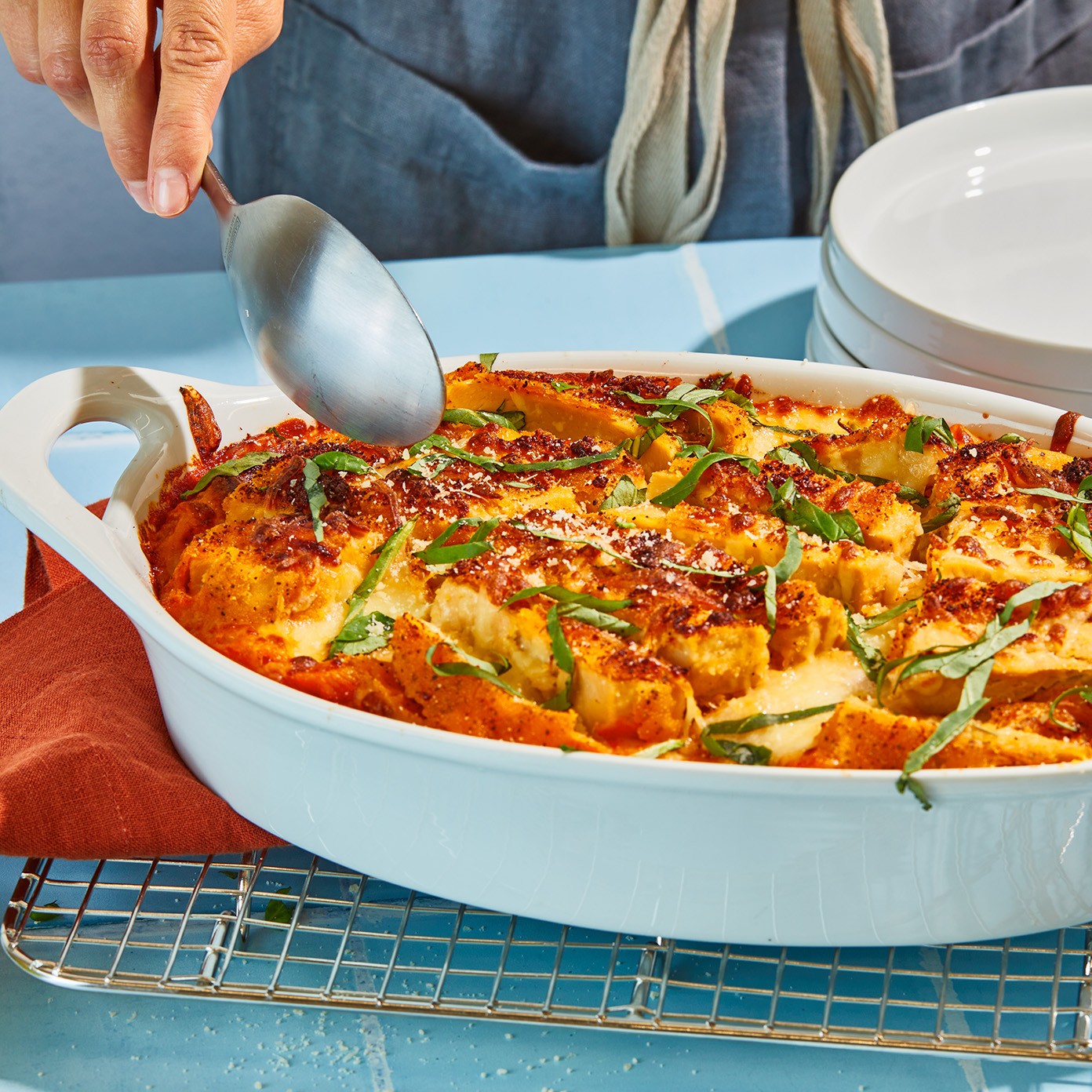 Crispy Cutlet Parmesan
This classic dish is very adaptable and can be served for an individual portion or family style.
For the Pasta and Sauce
(makes 6 cups)
3 Tbsp unsalted butter
1 Tbsp extra virgin olive oil
1 small yellow onion, diced
6 cloves garlic, minced
Two 28 oz San Marzano-style canned tomatoes, crushed
8-10 basil leaves
1 ½ tsp Kosher salt
1 ½ tsp crushed red pepper flakes
1 tsp ground black pepper
1 lb penne pasta
In a 4-qt pot, over medium heat, melt butter until frothy then add olive oil.
Add yellow onion and garlic then cook until onions are soft, 5-7 minutes.
Add canned tomatoes, basil leaves, salt, crushed red pepper, and ground black pepper.
Let simmer on medium heat and cook for 35 minutes for a quick weeknight sauce. For a richer sauce, cook for 1 hour. Taste for seasoning.
Cook pasta according to package directions.
Combine sauce and pasta and add to a 9-inch x 13-inch casserole dish. Set aside.
For the Meati™ Crispy Cutlets
4 Meati™ Crispy Cutlets, thawed & cut into strips.
1 Tbsp vegetable oil
⅛ tsp Kosher salt
10 oz low moisture Mozzarella, shredded
1 oz (¼ cup) Parmesan cheese, grated
Fresh basil leaves, for finishing
For Assembly
Preheat oven to 350°F.
Layer the casserole dish with half of the Mozzarella cheese, Meati™ Crispy cutlets, the rest of the Mozzarella cheese, then top with the Parmesan cheese.
Cover with foil and bake for 30 minutes or until the cutlets have reached an internal temperature of 165°F.
Remove foil and turn oven to broil. Bake until the top of the casserole until the mozzarella is melted and gooey, about 5 minutes. Garnish with fresh basil leaves and serve.
Time Saving Tips
Use your favorite pasta sauce instead of making it from scratch.
You can assemble the pasta and sauce in an oven-safe dish the day before then reheat the following day, covered in an oven set to 350°F. – Once the dish has reached an internal temperature of 135°F, add the cutlets and the cheeses per the instructions and cook accordingly.
Join the Journey
Be the first to hear about exclusive offers and events.Sign up for updates here and never miss a beat.