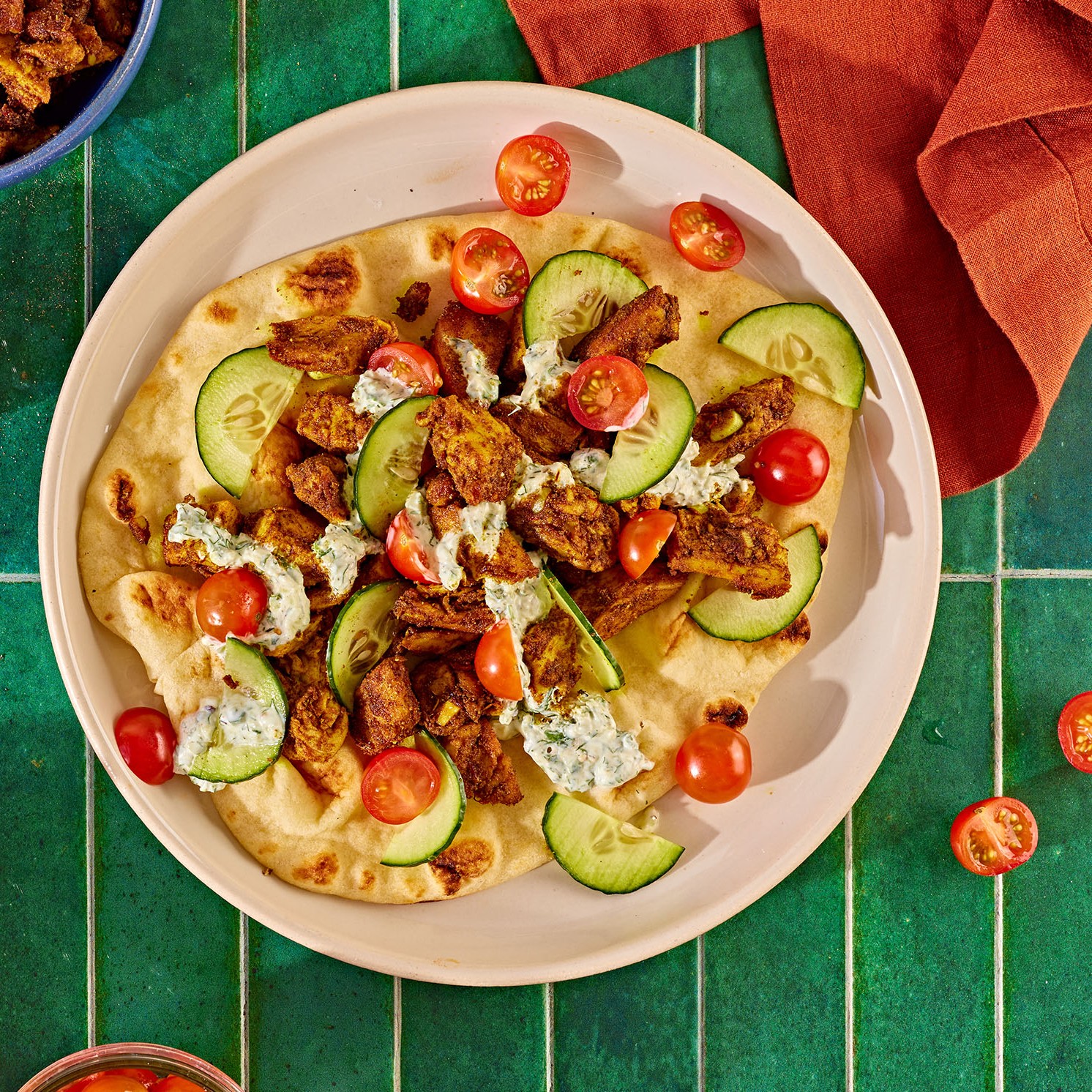 Classic Cutlet Shawarma & Tzatziki
Take your meati™ to go! Deeply spiced Classic Cutlets topped with tangy tzatziki and wrapped up with crisp, fresh veggies.
Shawarma Ingredients 
4 Meati Classic Cutlets, thawed 
¼ c curry powder (Charlie recommends Maharaja) 
2 Tbsp garlic, minced 
1 Tbsp fresh lemon juice 
2 ½ tsp Kosher salt
2 tsp ground cumin 
1 ¼ tsp ground cinnamon 
¾ tsp ground black pepper 
1 tsp cayenne pepper 
½ c olive oil 
For Serving:
1 pint cherry tomatoes, halved 
½ English cucumber, thinly sliced 
Tzatziki sauce (see recipe below)
4 pita or naan 
Shawarma Directions
Prepare the Tzatziki (see recipe below). 
Pull the Meati cutlet into bite-sized pieces. Set aside. 
To a medium mixing bowl combine the curry powder, salt, cumin, cinnamon, black pepper, cayenne pepper, lemon juice, and garlic. Stir to combine and set aside. 
Add the olive oil to the spice and lemon juice mixture. Stir to combine. 
Mix the Meati Cutlet pieces with the spice mixture and allow to sit, roughly 30 minutes.
Lightly grill the pita on both sides to soften and give it some color.
Heat a large nonstick skillet over a stove set to medium-high heat. Sauté the Meati Cutlet mixture until the color darkens and until internal temperature reaches 165°F, 10-15 minutes. 
Fill the naan or pitas with the meati mixture, top with tzatziki, cherry tomatoes, and cucumber slices, and serve.
Tzatziki Ingredients 
125 g English cucumber, seeds removed 
6 g fresh dill 
6 g fresh parsley 
6 g fresh mint leaves 
5 g fresh lime juice 
5 g apple cider vinegar 
4 g garlic, minced  
4 g Kosher salt 
2 g Lillie's Q Brisket Pepper 
1 g ground cumin 
215 g Greek yogurt
5 g mayonnaise 
Tzatziki Directions
Remove the seeds from the cucumber with a spoon and then take the weight. 
To a food processor, add the cucumber. Pulse until finely chopped, then place in a cheese cloth. Squeeze out the liquid and set aside. 
To the food processor, add the drained cucumber, fresh herbs, lime juice, apple cider vinegar, garlic, and spices. Process until smooth.
Remove mixture and place in a mixing bowl. Add the yogurt and mayonnaise and mix until combined. 
Join the Journey
Be the first to hear about exclusive offers and events. Sign up for updates here and never miss a beat.