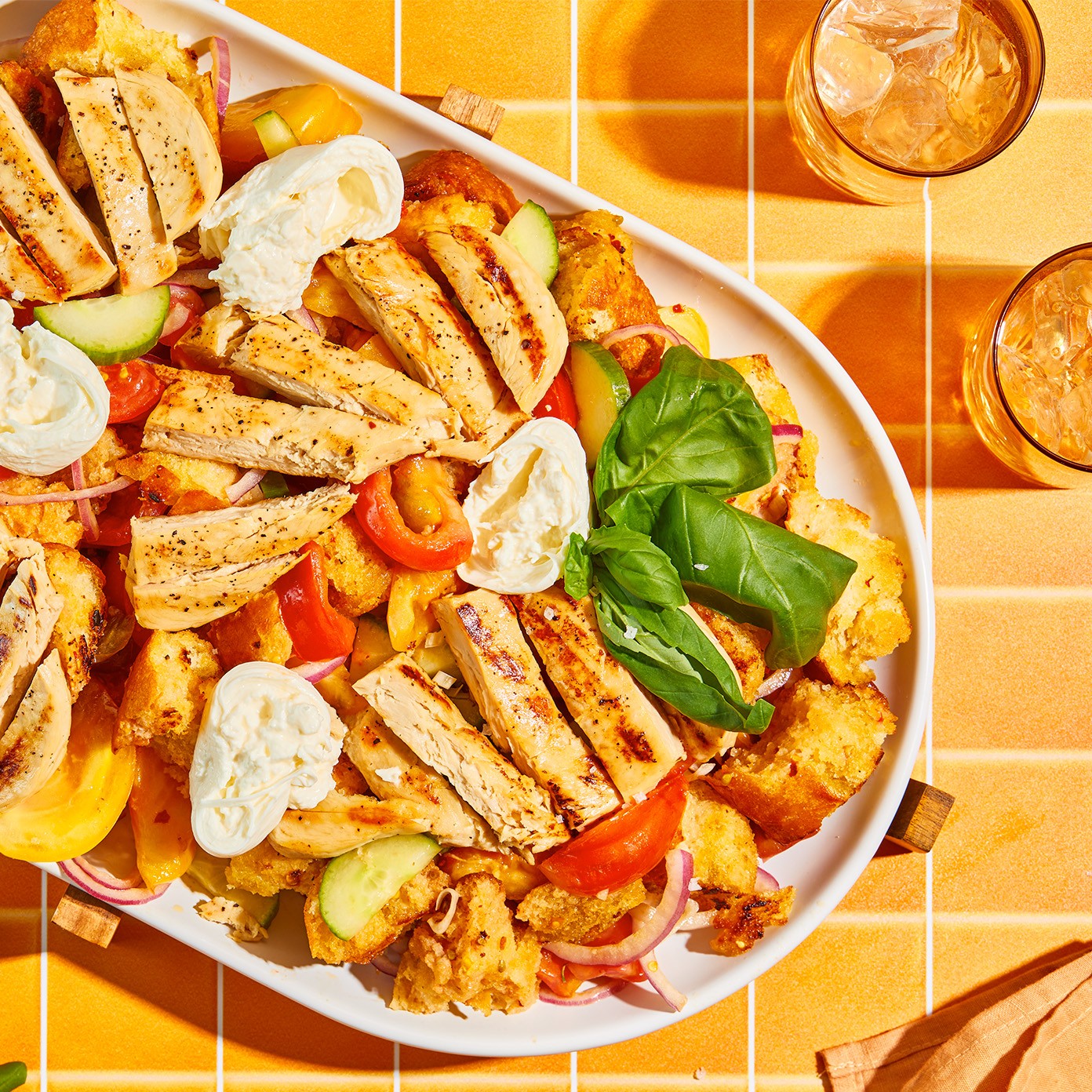 Grilled Classic Cutlet Panzanella
This recipe takes advantage of fresh summer tomatoes and their juices which soak into the bread while providing great flavor.
For the Bread Salad
(makes 6 servings)
One 14 oz sourdough loaf, torn into bite-sized pieces
½ c good olive oil
3 large, ripe summer tomatoes, rough chopped with juices reserved
1 small cucumber cucumber, cut into ½-inch rounds =
½ small red onion, sliced thin
¼ – ½ c prepared champagne vinaigrette (recipe below)
½ c loosely packed basil leaves, torn
2 Burrata rounds
Balsamic glaze, optional
Drizzle the oil over the sourdough pieces and toast on the stovetop or grill using a skillet. Let cool.
To a medium mixing bowl add toasted bread, tomatoes and their juices, red onion, cucumber, and vinaigrette to taste.
Add the basil leaves and burrata right before serving.
Garnish with a drizzle of balsamic glaze reduction, if using.
For the Champagne Vinaigrette
(makes 2 ¼ cups)
½ c champagne vinegar
2 Tbsp honey
1 TBSP Dijon mustard
1 clove garlic, minced
1 tsp Kosher salt
1 tsp crushed red pepper flakes
1 ½ c olive oil
Combine the vinegar, garlic, mustard, honey, salt and pepper flakes into a small bowl. Slowly whisk in the olive oil.
For the Grilled Meati™ Classic Cutlets
4 Meati Classic Cutlets, thawed.
1 TBSP vegetable oil
Kosher salt, to taste
Ground black pepper, to taste
⅓ c prepared champagne vinaigrette
Lemon wedges, optional
Set grill to medium heat and oil the grill grates if necessary.
Pat dry the Meati chicken cutlets and season with salt, pepper, and the champagne vinaigrette. It can be marinated for 30 minutes or up to 2 hours before grilling.
Cook the cutlets for 4 minutes on each side or until it has reached an internal temperature of 165°F.
Squeeze lemon juice on the cutlets for an added layer of flavor.
For Assembly
Serve the bread salad on a large platter with burrata and sliced grilled cutlets on top or serve into individual bowls. Garnish with fresh basil leaves and drizzle with balsamic glaze.
Join the Journey
Be the first to hear about exclusive offers and events.Sign up for updates here and never miss a beat.