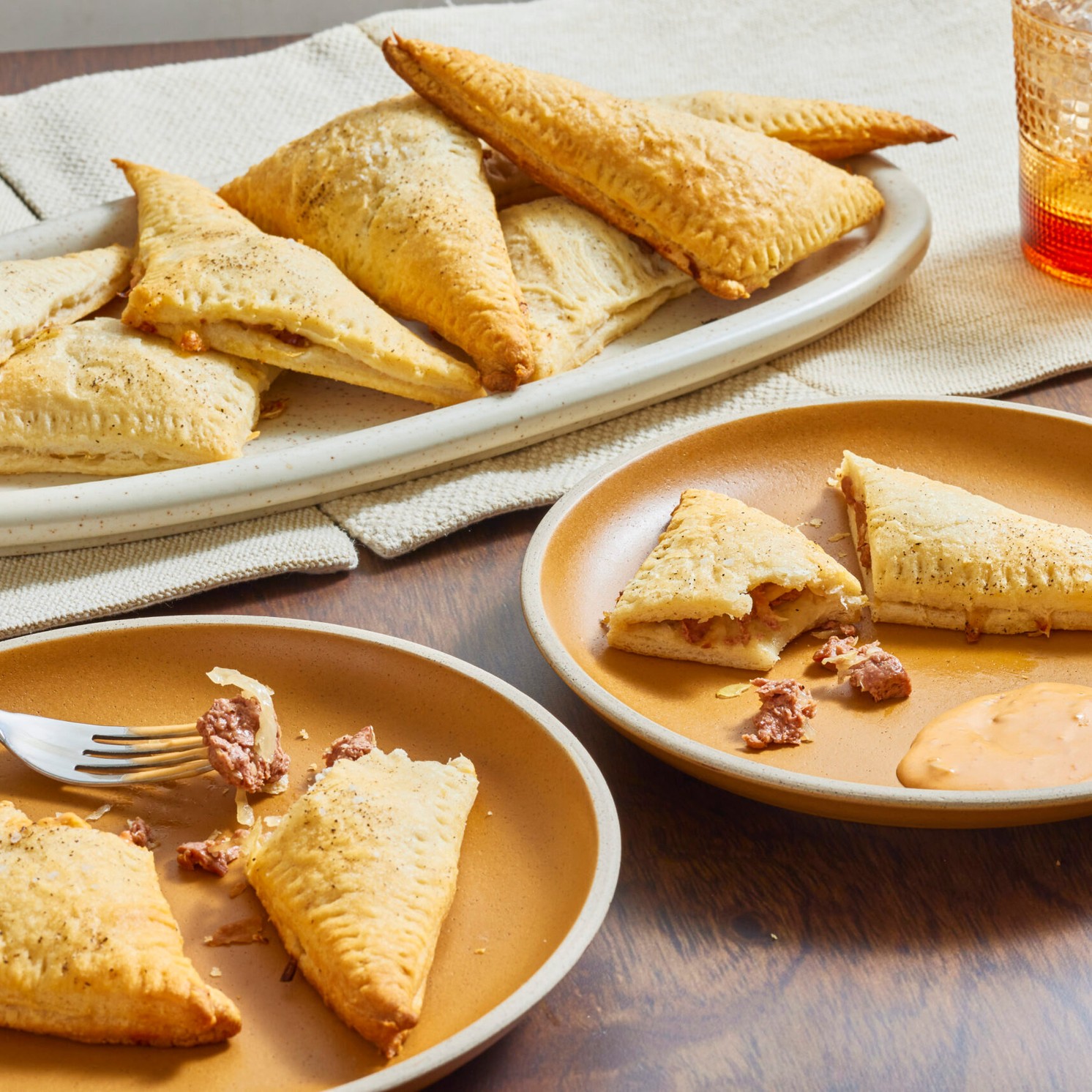 Classic Steak Turnovers
Decadent and rich without the sacrifice. This dish has a flaky outer crust and gooey Meati filling that is balanced by the tang of sauerkraut.
Ingredients 
2 Classic Steaks, thawed
2 TBSP olive oil
1 medium yellow onion, diced
2 cloves garlic, minced
3 tubes refrigerated crescent roll dough
1 cup wildbrine sauerkraut
½ cup Gruyere cheese, shredded
½ TBSP Worcestershire sauce
¼ tsp kosher salt
¼ tsp ground
Directions
1. Preheat oven to 375°F and lightly grease two baking sheets.
2. To a large nonstick pan over medium heat, warm the oil. 
3. Add Classic Steaks and cook on medium heat, flipping often, until an internal temperature of 165°F. Remove from pan and allow to cool before shredding. Using 2 fork, shred and mash the Classic Steak, pulling apart the texture and making it look like pulled beef.
4. Place pan back over medium heat, add onion and sauté until translucent, 5-6 minutes. 
5. Add garlic and cook for 1 more minute. Remove from heat.
6. To the mixing bowl with the steak, add the sauteed onion and garlic, sauerkraut, gruyere cheese, Worcestershire sauce, salt, and pepper. Mix to combine and set aside. 
7. Unpack crescent dough and separate triangles, putting six flat upon each greased cookie sheet. Place roughly 3 tablespoons of Meati Steak filling on each crescent and place another crescent over it crimping all the edges with a fork. Repeat process with remaining crescent rolls and filling. 
8. Place baking sheets in oven and cook until lightly browned, 15-20 minutes. 
9. Remove turnovers from oven and transfer to a cooling rack. Serve warm. 
Join the Journey
Be the first to hear about exclusive offers and events.Sign up for updates here and never miss a beat.