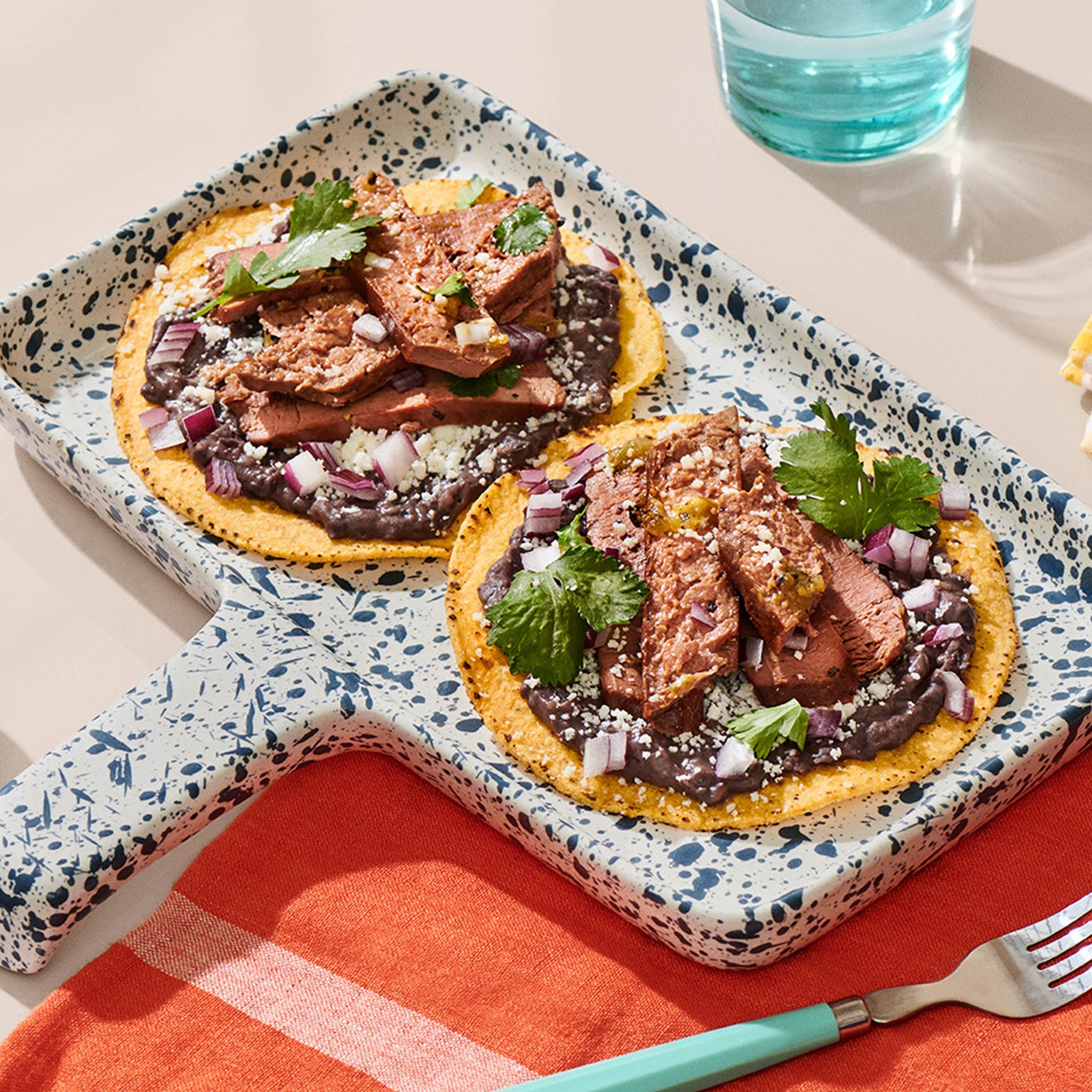 Char Grilled Classic Steak Tostada
Char grilled Meati™ Steak Tostada with chopped red onion, cilantro, black bean puree, crumbled cotija, and fresh lime
For the black bean puree (makes 2 portions)
1 can black beans, drained of water
½ tsp cumin powder
½ tsp chipotle powder
¼ tsp ground black pepper
¾ tsp sea salt
½ tsp onion powder
½ tsp garlic powder
1 tsp fresh lime juice
Place black beans, cumin, chile powder, black pepper, sea salt, onion powder, garlic powder, and lime juice in a robo coupe. Puree until smooth. Place in a container and cover tightly.
For the build
1 each Meati™ Classic Steak
½ red onion, small diced
2 TBSP cilantro, rough chopped
2/3 c black bean puree
2 each tostadas
¼ c queso cotija, crumbled
¼ c spicy salsa verde
½ of a lime, cut into 4 wedges
For grilled Meati Classic Steak
Preheat grill to medium heat
Lightly season each side of the Classic Steak with salt, pepper, and a small amount of oil
Place Classic Steak on the hot grill
Cook cutlet for 9-10 minutes, rotating every 2 minutes, until an internal temperature of 165 degrees
Remove from grill and allow cutlet to rest for 30 seconds prior to serving or cutting
For assembly
Cook the Classic Steak per the instructions above. After resting, slice very thin. No more than 1/8 of an inch thick.
Prepare the black bean puree per the instructions above
Lay the 2 tostadas flat on a plate
Spread ½ of the black bean puree on one tostada, repeat for the second tostada
Fan ½ of the grilled steak across one of the tostadas, repeat for the second tostada
Drizzle ½ of the salsa over one tostada, repeat for the second tostada
Sprinkle diced onion, chopped cilantro, and crumbled cotija over the top of both tostadas. Being generous with the toppings and allow them to tumble over the sides.
Garnish with lime wedges
Enjoy!
Join the Journey
Be the first to hear about exclusive offers and events.Sign up for updates here and never miss a beat.