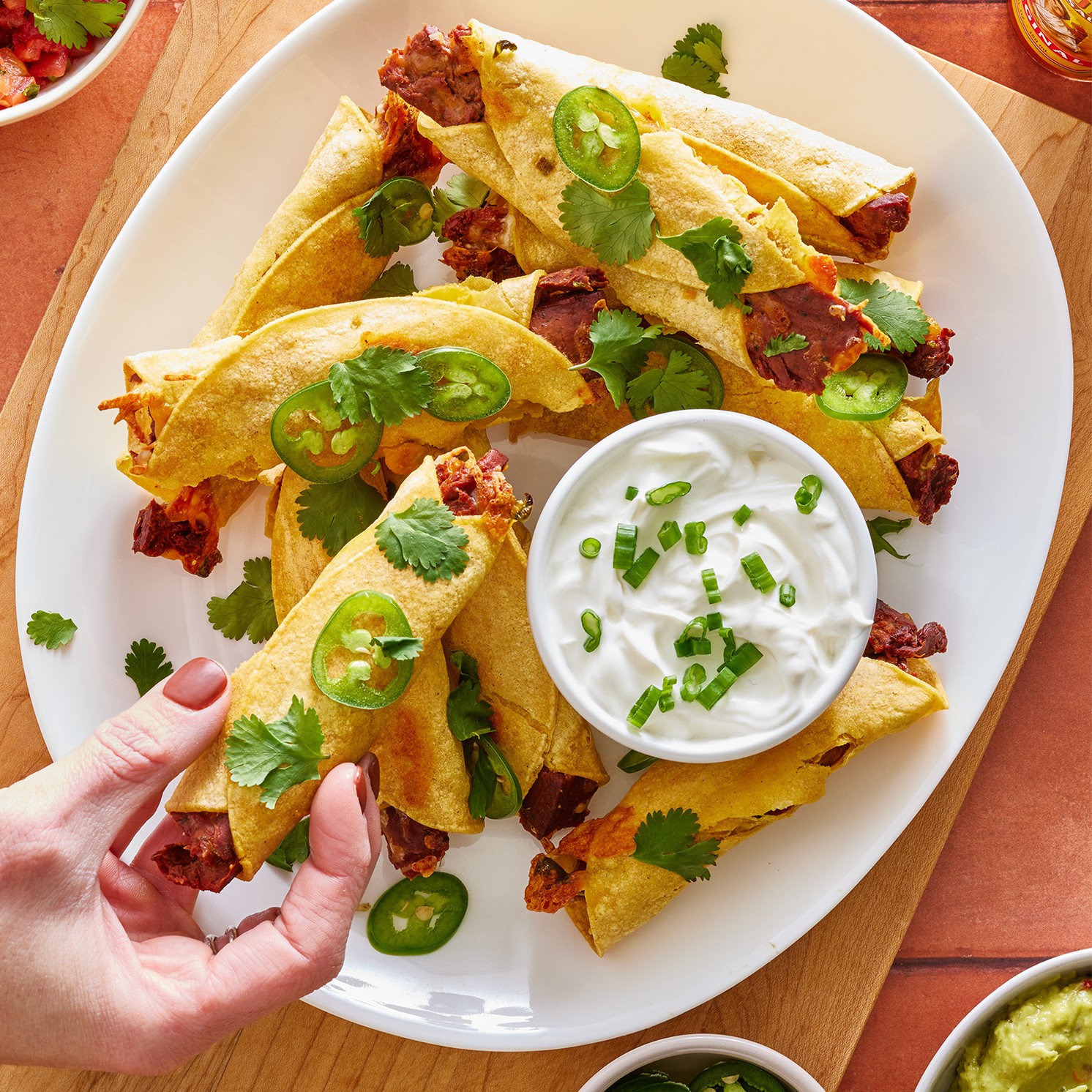 Carne Asada Taquitos
An easy to execute Mexican classic. Perfect as an appetizer for parties!
Ingredients 
2 Tbsp olive oil, plus more for brushing 
4 Carne Asada Steaks, thawed
16-18 Mission super soft yellow corn tortillas 
One 8 oz package Mexican style shredded cheese 
2 small jalapenos deseeded, deveined, & minced 
Toothpicks, optional 
For Serving (optional) 
Sour cream, salsa, guacamole, & cilantro 
Directions
Preheat oven to 425°F. 
To a medium nonstick pan over medium heat, warm the olive oil. 
Add Carne Asada Steaks to pan and flip often, cooking to an internal temperature of 165°F, 7-8 minutes.
Remove Carne Asada from pan and let cool 3-5 minutes before shredding. (Note: you can shred the steak using two forks or lightly chop with a knife). 
To a medium mixing bowl add shredded Carne Asada, cheese, and jalapenos. 
Place pan back on heat. Place a tortilla in the pan and warm 15-30 seconds to allow for more flexibility when rolling. Keep warmed tortillas wrapped in tinfoil. (Alternatively you can wrap tortillas in a damp towel and heat them in 15 second increments). 
Repeat process with remaining tortillas. 
Evenly fill the center of each tortilla with the Carne Asada mixture. Tightly roll, and place a toothpick through center so that it holds shape while baking. 
Place assembled taquitos on a baking sheet lined with parchment paper, and lightly brush each taquito with olive oil. 
Bake until tortillas are crisp, 15-20 minutes. 
Remove from oven and place taquitos on a plate. Finish with desired toppings and serve warm.
Join the Journey
Be the first to hear about exclusive offers and events.Sign up for updates here and never miss a beat.