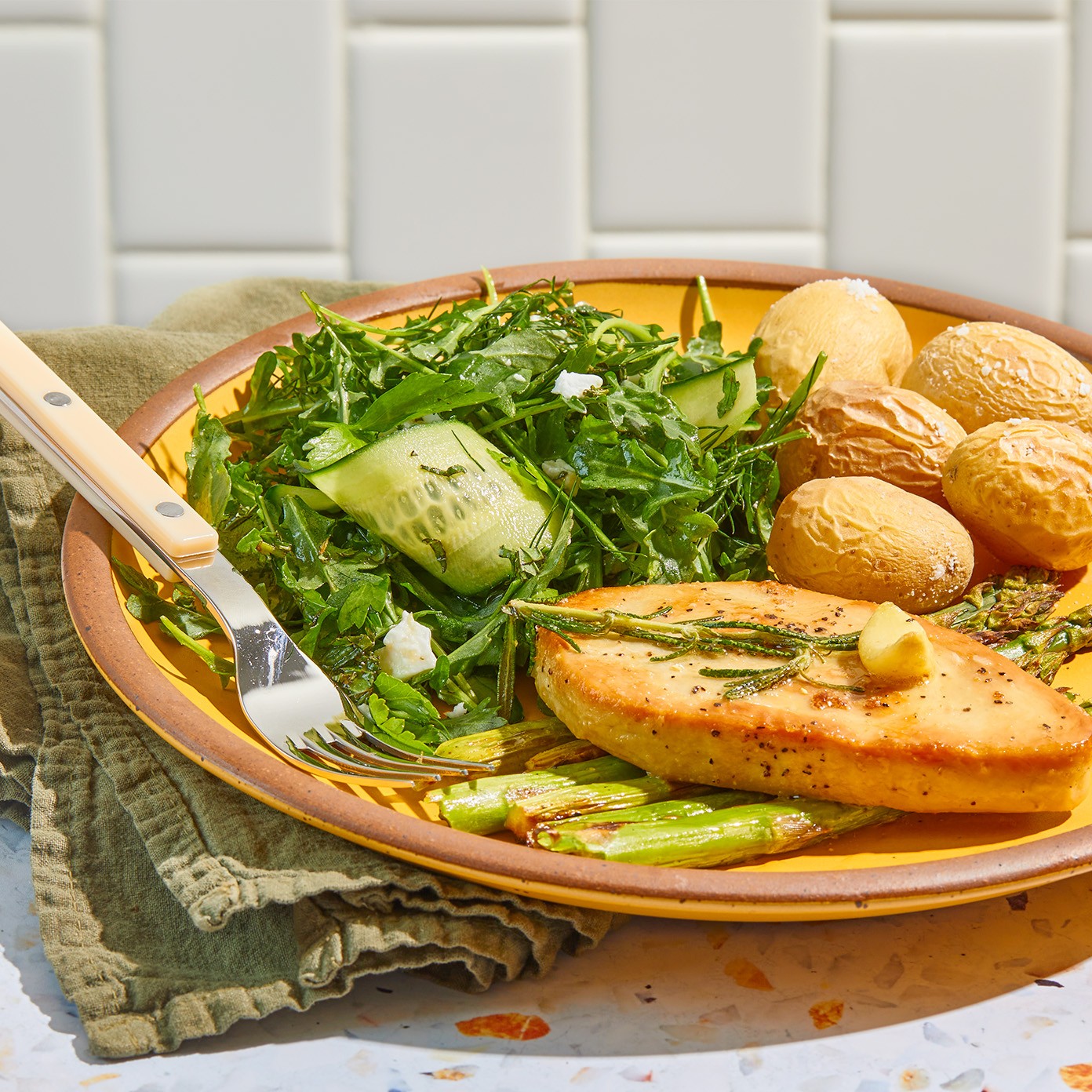 Butter & Herb Classic Cutlet
Basting the classic cutlets with butter allows more flavor to come through.
For the Salt Roasted Potatoes
2 c Kosher salt, divided
1 lb small potato roasters
Rosemary sprigs, garlic cloves & thyme, optional
Preheat oven to 400°F.
Rinse and pat dry the potatoes.
Fill a standard 3.5 quart casserole dish with a 1-inch layer of kosher salt. (Optional: For an added layer of flavor, add fresh herbs and a few cloves of garlic).
Tuck the potatoes into the bed of salt and top with another layer of salt until the potatoes are just barely visible.
Place potatoes in oven and roast, uncovered until fork tender, about 35 minutes.
Remove potatoes from salt and place in a serving dish. Set aside until ready to serve.
For the Herb Salad
2 c loosely packed fresh arugula
½ English cucumber, sliced into long strips using a vegetable peeler
½ c loosely packed fresh mint leaves, roughly chopped
½ c loosely packed basil, roughly torn
¼ c loosely packed parsley, leaves only
¼ c baby dill, fronds only
2 ounces (½ cup) crumbled plant-based feta cheese, for garnish
To a medium mixing bowl add arugula, cucumber strips, herbs and cheese. Toss gently to combine.
For the Vinaigrette (makes 2 cups)
½ c champagne vinegar
1 TBSP Dijon mustard
2 TBSP honey
1 ½ tsp (1 large clove) garlic, minced
1 tsp kosher salt
1 tsp crushed red pepper flakes
1 ½ c extra-virgin olive oil
To a small bowl add vinegar, mustard, honey, garlic, salt and pepper flakes. Slowly whisk in the olive oil.
Pour some of the dressing over the salad. Toss to combine and place in refrigerator until ready to use.
For the Grilled Asparagus
8 ounces asparagus, cleaned and trimmed of tough stems
1 tsp vegetable oil
¼ tsp kosher salt
Warm grill to medium heat. Season the asparagus with oil and salt and grill until just fork tender, about 5 minutes.
For the Meati™ Classic Cutlets
2 Meati Classic Cutlets, thawed.
1 TBSP vegetable oil
Kosher salt, to taste
Ground black pepper, to taste
2 large cloves garlic
2 sprigs fresh rosemary or thyme
⅓ c unsalted butter
Lemon wedges, optional
Add oil to an 8-10-inch skillet over medium-high heat.
Pat dry the Classic Cutlet and season with salt, pepper and a small amount of oil.
When the pan is very hot, add the cutlets and cook on one side for 3 minutes or until well seared.
Flip the cutlets then add the garlic and herbs. Reduce heat to medium-low.
Add butter to the pan. Carefully tip the skillet so the butter pools at the edge of the pan. With a large spoon, continuously baste the cutlets with the butter and aromatics for the next 4 minutes. Take care not to burn the butter by lowering the heat as needed.
Cook cutlets until internal temperature reaches 165°F. Squeeze lemon on the cutlets for an added layer of flavor.
For Serving
Between two plates, divide the potatoes, salad, and grilled asparagus. Place the classic cutlets with the browned butter, garlic and rosemary on top and serve.
Join the Journey
Be the first to hear about exclusive offers and events.Sign up for updates here and never miss a beat.