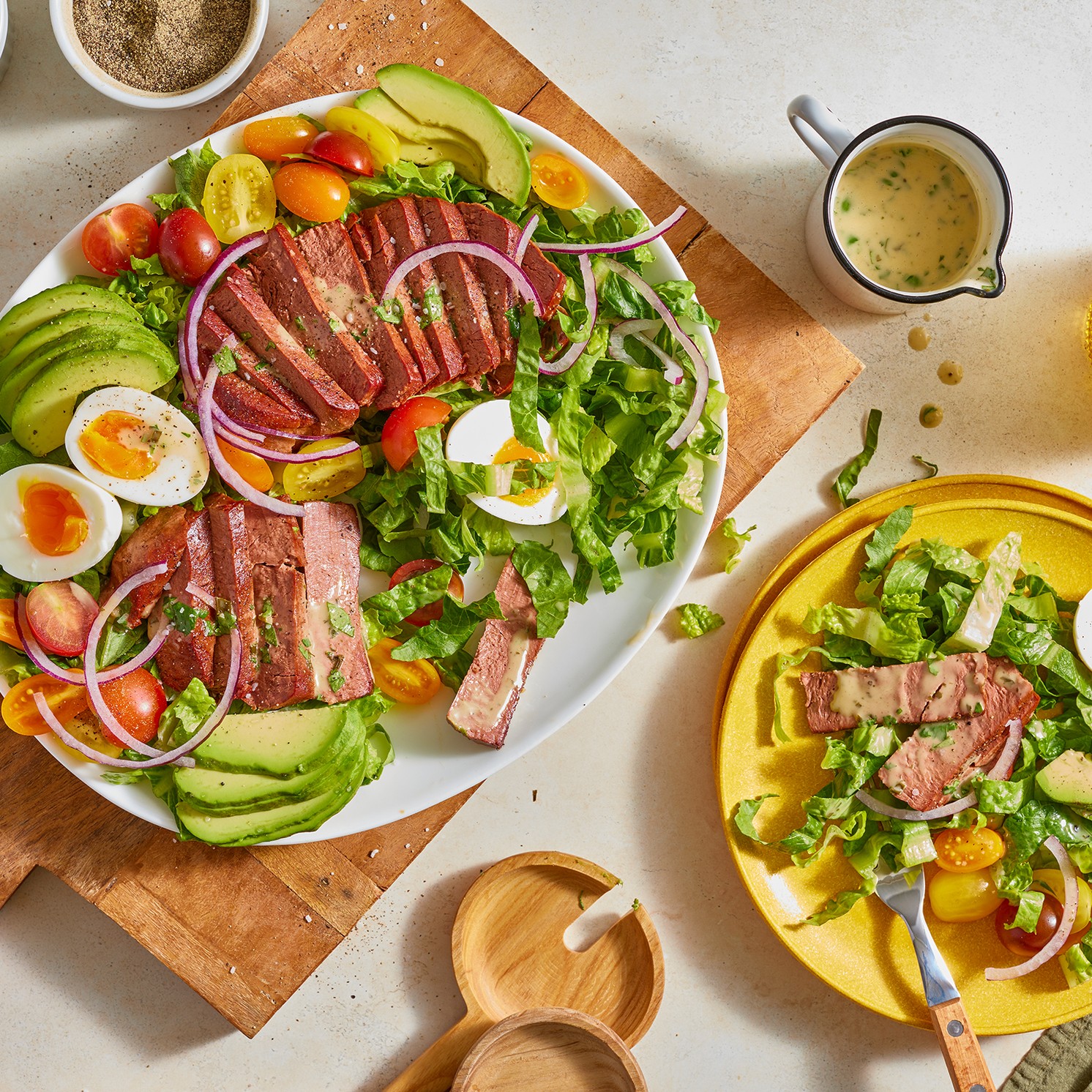 Grilled Classic Steak Cobb Salad
A fresh take on a classic salad. A salad of lettuce topped with pieces of Classic Steak, hard-boiled egg, avocado, cucumber, red onion and tomato. Not your average dinner salad.
Ingredients 
2 ea Meati™ Classic Steaks, thawed
1 ea heads Romaine lettuce, lightly chopped
1 ea red onion, sliced into rings
1 c cherry or grape tomatoes, halved
1 ea English cucumber, sliced into rings
2 ea avocado, skinned and sliced
¼ tsp kosher salt
¼ tsp black pepper to taste
Salad dressing of choice
Directions
Add 2 TBSP oil to a medium-sized cast iron skillet and heat to medium
Lightly salt and pepper each side of thawed Classic Steaks and place on skillet. Cook until internal temp reaches 165F (7 to 8 minutes) flipping frequently.
While Classic Steaks are cooking, bring 1 quart of water to a boil. Once boiling, add 4 eggs and cook for 8 minutes. Drain and place eggs in an ice bath until chilled. Remove the shells and cut each egg into halves. The yolks should be loose to runny.
Pull Classic Steaks off the heat and let rest for 2 minutes. Julienne all cutlets and keep warm.
Rinse and prepare all vegetables and assemble salad placing sliced cucumbers, tomatoes, red onions in loose rows.
Add julienned steak and halved eggs to the plate and serve.
Drizzle with your favorite salad dressing and serve.
Join the Journey
Be the first to hear about exclusive offers and events.Sign up for updates here and never miss a beat.