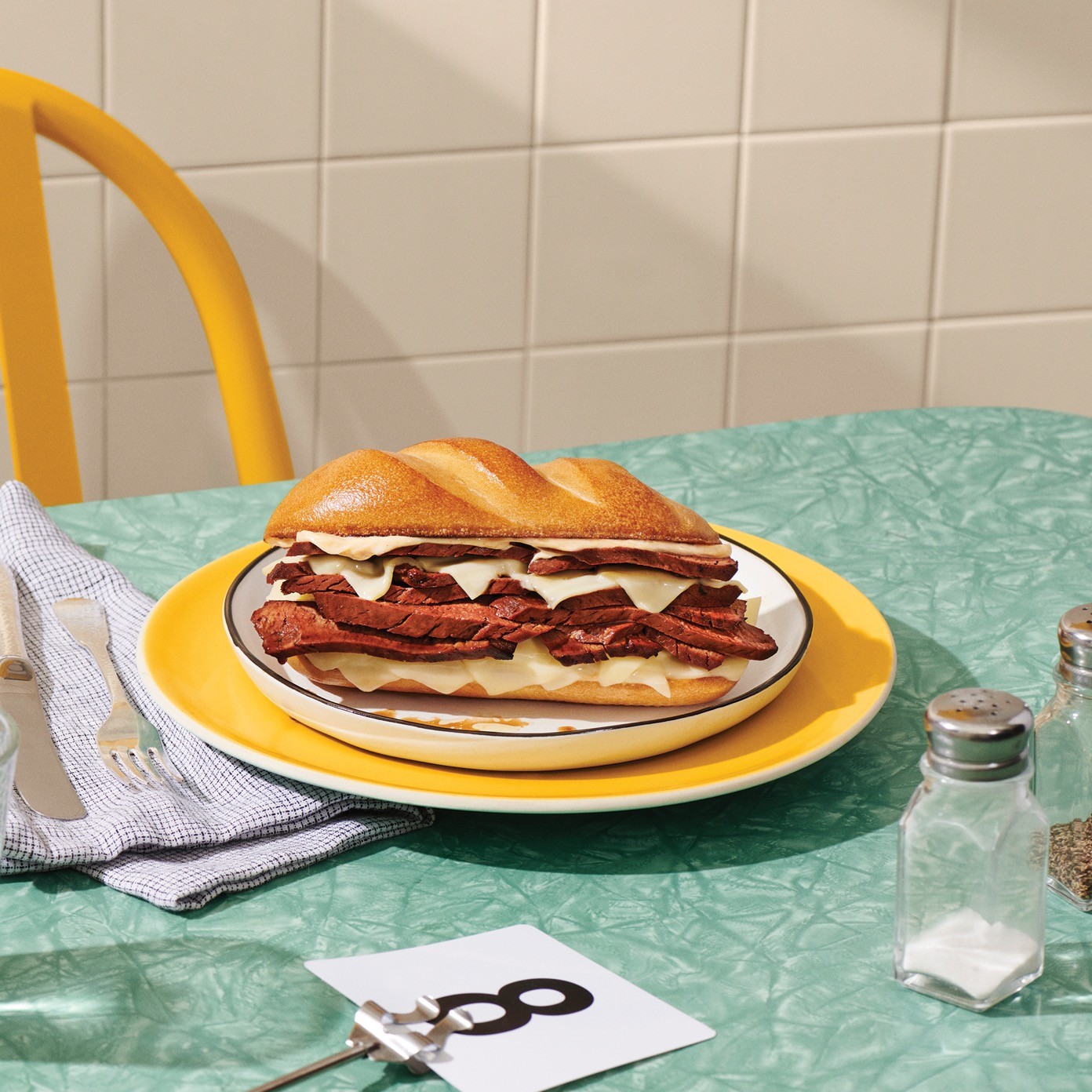 Grilled Classic Steak Sandwich
Grilled Classic Steak sandwich with aged cheddar, pickled red onions, garlic mayonnaise, and arugula
For the pickled red onions (make 1 day ahead of time)
2 large red onions, cut to a thick julienne
1 ½ c red wine vinegar
½ c water
3 tsp sea salt
7 TBSP sugar
1 tsp crushed red pepper
1 tsp black peppercorns
1 tsp fennel seed
½ tsp cumin seed
5 each clove
1 each cinnamon stick
Cut the onions to a thick julienne and place in a small container. Place all spices in a small saute pan and lightly toast. Combine vinegar, water, salt, sugar, and spices in a small saucepan. Bring to a boil and pour over the julienned red onions. Cover tightly and refrigerate overnight.
For the garlic mayonnaise (makes 4 portions)
½ c mayonnaise
¼ tsp dark chile powder
1/8 tsp cumin powder
1 large clove of garlic, finely minced
½ tsp lemon juice
Pinch ground black pepper
Pinch sea salt
Combine all ingredients and mix well. Store cold.
For grilled Meati™ Classic Steak
Preheat grill to medium heat
Lightly season each side of the Classic Steak with salt, pepper, and a small amount of oil
Place Classic Steak on the hot grill
Cook cutlet for 9-10 minutes, rotating every 2 minutes, until an internal temperature of 165 degrees
Remove from grill and allow cutlet to rest for 30 seconds prior to serving or cutting
Needed for the sandwich build
1 each Classi Steak
1 each bolio or hoagie type roll
1 TBSP butter
2 TBSP garlic mayonnaise
3 slices aged sharp white cheddar
¼ c pickled red onions
1 c fresh arugula
For assembly
Cook the Classic Steak per the instructions above. After resting, slice very thin. No more than a 1/8 of an inch thick.
Preheat the oven to 375 degrees.
Preheat a large sauté pan to low heat
Add 1 TBSP of butter to the pan.
Split the bolio bun down the middle lengthwise and add it, flat side down to the pan. Brown slightly, then flip to brown the top slightly.
Remove from the pan. Spread half of the garlic mayonnaise on the bottom, and half on the top.
Fan sliced steak on the bottom portion of the bread
Add slices of cheddar cheese on top of the steak.
Place bottom portion of the sandwich in the preheated oven at 375 degrees.
Allow cheddar to melt and drip from the sides. About 2-3 minutes.
Top with pickled red onions, then arugula, then the top of the bolio bread.
Cut in half on the diagonal
Enjoy!
Join the Journey
Be the first to hear about exclusive offers and events.Sign up for updates here and never miss a beat.