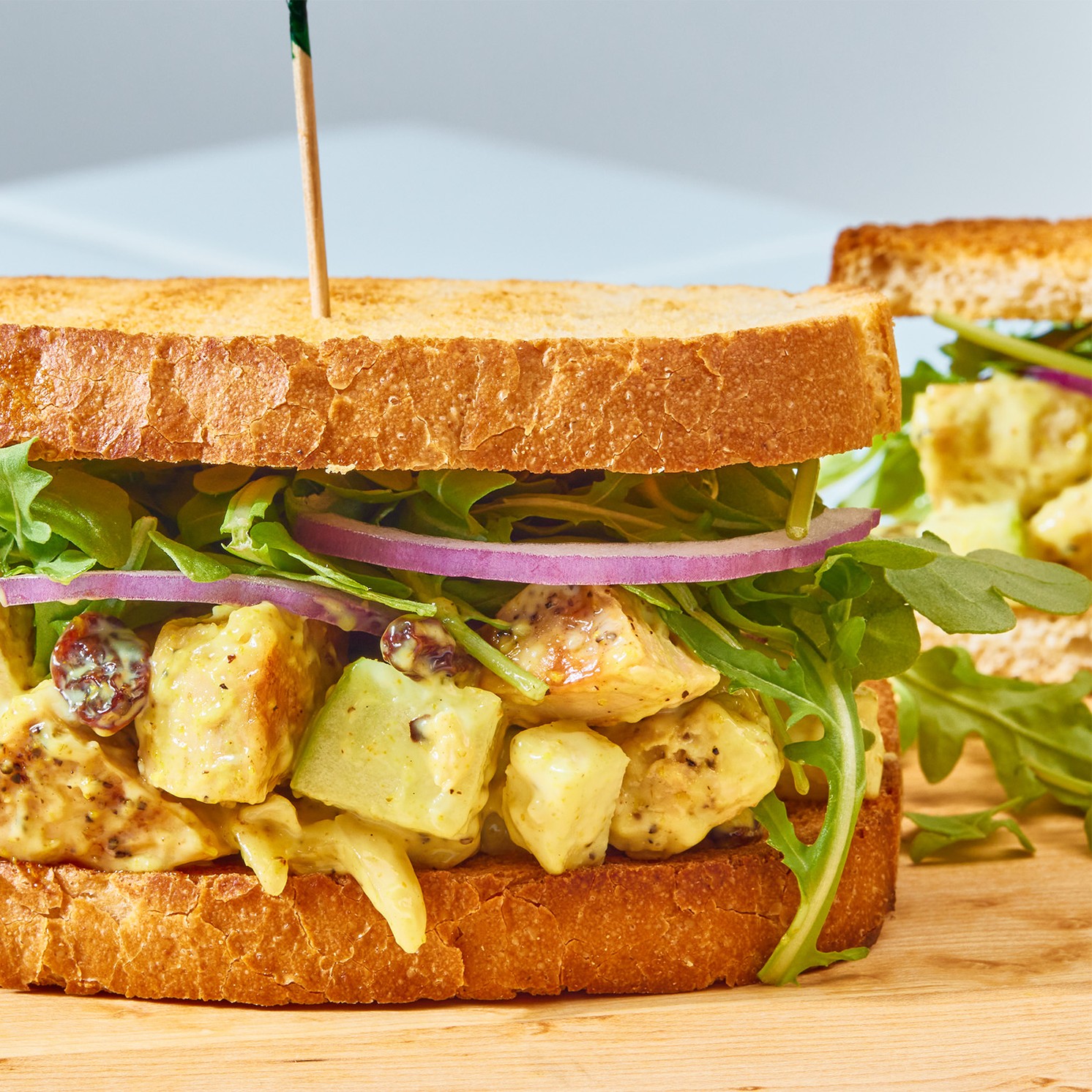 Curried Classic Cutlet Salad Sandwich
Our take on a classic salad.
For the Grilled Meati™ Chicken Cutlet
4 Meati Classic Cutlets, thawed.
Preferred oil, salt, & ground black pepper, to taste
Preheat grill to medium heat. 
Lightly season each side of all 4 Classic Cutlets with salt, pepper, and a small amount of oil. 
Place cutlets on the preheated grill. 
Cook cutlets for 9-10 minutes, rotating every 2 minutes, until they reach an internal temperature of 165°F.  
Remove from grill and allow cutlets to rest for 30 seconds. Cut cutlets into 1-inch pieces and place in a medium mixing bowl. Set aside. 
For the Salad
1 ¼ cups (1 medium) Granny Smith apple, cored & cut into ½-inch dice 
1 c organic mayonnaise
½ c (1 stalk) celery, cut into ½-inch dice 
½ c slivered almonds, toasted  
½ c raisins
2 TBSP lemon juice (about ½ lemon)
2 tsp yellow curry powder  
½ tsp kosher salt  
½ tsp ground black pepper  
Add all ingredients for the salad, to the mixing bowl with the diced Classic Cutlet. Mix until combined. Keep in an airtight container in the refrigerator until use (Note: salad can be stored for up to 2 days in the refrigerator).  
For Assembly 
2 slices of sourdough bread  
1 ½ c "chicken" salad 
3 slices shaved red onion  
1 c arugula  
Place bread in a toaster and toast until golden brown.  
Place the salad on one slice of bread. 
Place slices of red onion on top of the salad, followed by the arugula. 
Top with the other slice of bread. Cut the sandwich in half on the diagonal and serve. 
Join the Journey
Be the first to hear about exclusive offers and events. Sign up for updates here and never miss a beat.