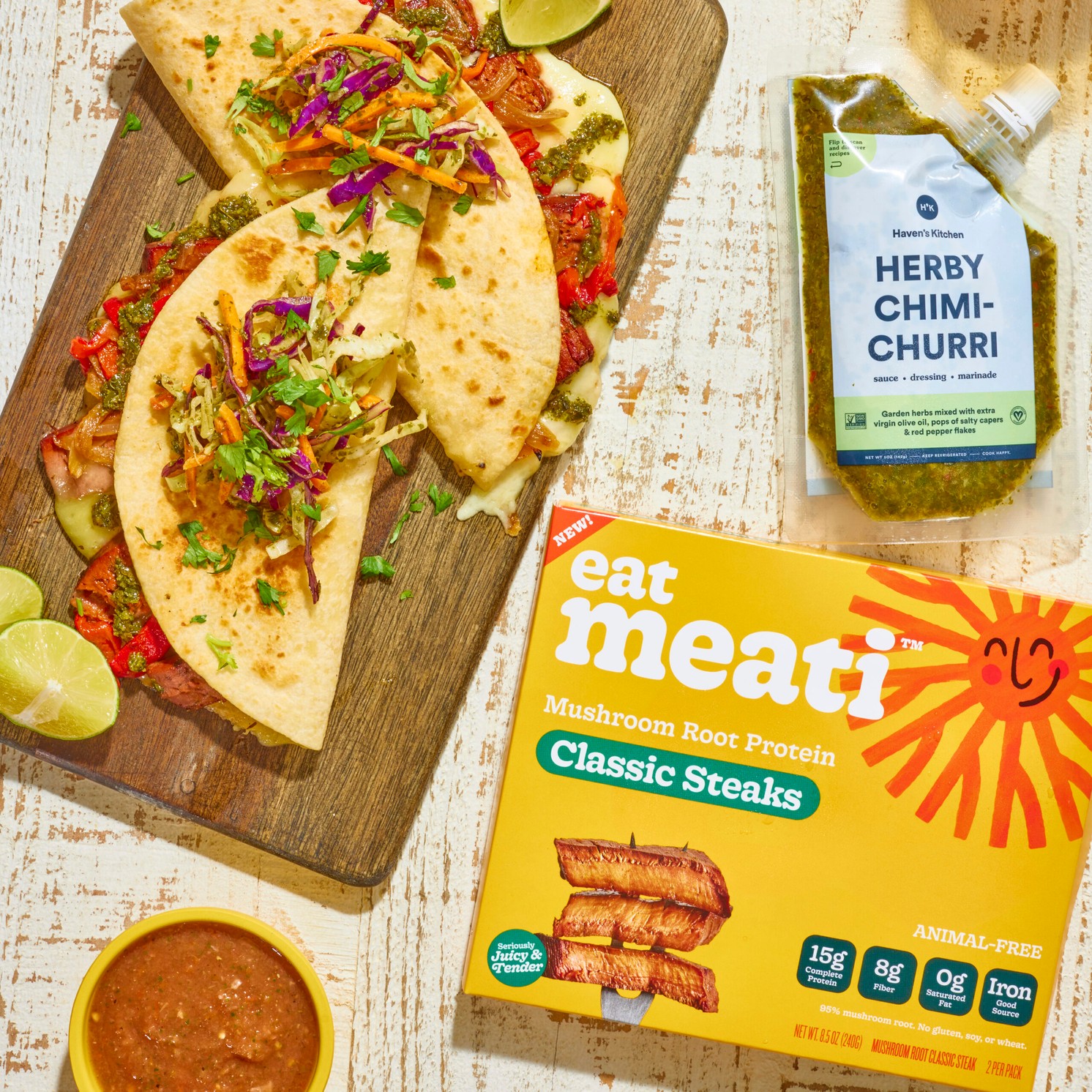 Classic Steak Herby Chimichurri Quesadilla with Caramelized Onions and Chimi Slaw
This simple weeknight meal requires little effort and utilizes pantry staples.
Ingredients 
4 Classic Steaks, thawed
2 Tbsp olive oil
1 Tbsp Kosher salt
½ tsp black pepper
2 Tbsp butter
1 large yellow onion, sliced
Six– 8" flour tortillas
1 jar roasted red peppers
2 cups cheddar cheese, shredded
2 cups Monterey Jack cheese, shredded
1 package coleslaw mix
For Serving:
2 cups guacamole
Sour cream
Cilantro for garnish
Salsa
Lime Wedges
Directions
In a small bowl, season the Classic Steaks with olive oil, salt and pepper. Squeeze half of the contents of the Herby Chimichurri sauce over the steaks and coat evenly throughout. Marinate for 10 minutes.
Make the caramelized onions by adding the butter to the hot pan until melted and frothy. Add the onions and cook on low heat for 10 minutes or until caramelized throughout. Set aside.
Cook the Classic Steaks over medium heat in a non-stick skillet for 4 minutes on each side until it reaches an internal temperature of 165F. Let cool before chopping into small pieces for the quesadilla.
To assemble the quesadilla, add a layer of both cheeses onto one half of the tortilla. Follow with caramelized onions, roasted peppers, chopped Classic Steaks and a good drizzle of Herby Chimichurri sauce. Fold the tortilla over the ingredients. Toast both sides of the quesadilla on a hot skillet until golden brown and the cheese has melted.
Make the slaw topping with more Herby Chimichurri and a pinch of salt.
Serve quesadillas with the chimichurri slaw on top and sides of guacamole, sour cream, salsa and cilantro for garnish.
Join the Journey
Be the first to hear about exclusive offers and events.Sign up for updates here and never miss a beat.