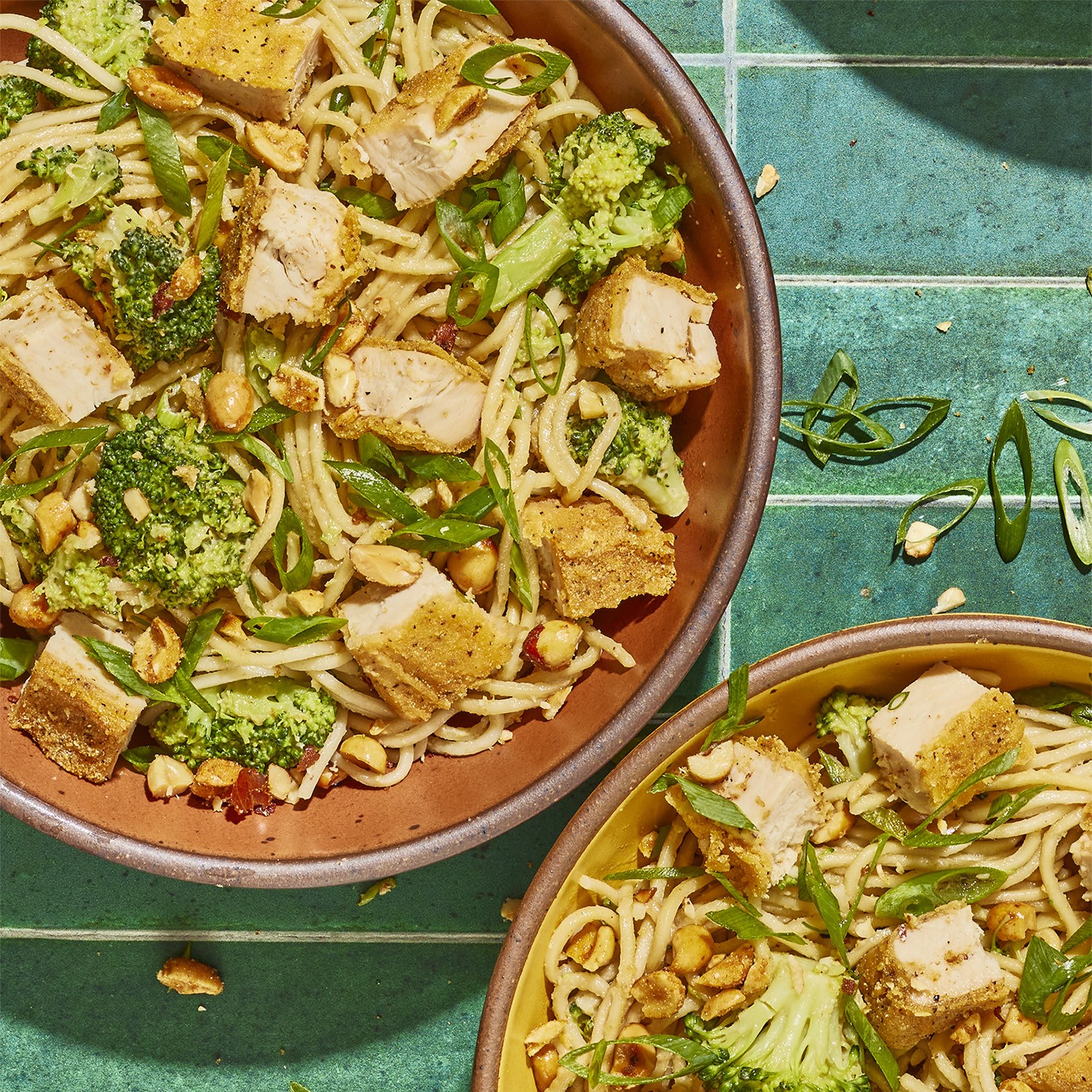 Peanut Noodles with Crispy Cutlets
The perfect DIY takeout-style dish — ginger and garlic-seasoned Crispy Cutlets with fresh veg on a bed of creamy, nutty noodles.
Ingredients
4 Meati Crispy Cutlets, frozen
Salt and white pepper
1 teaspoon granulated garlic
1 teaspoon granulated onion
1 teaspoon ground ginger  
1/3 cup peanut butter
1-2 Tablespoons soy/tamari
2 teaspoon ginger paste, divided
2 garlic cloves, grated or minced, divided
2 scallions, whites and greens finely sliced on an angle, divided
1/4 cup apple juice/water, to thin
1 pack lo mein noodles
1 bunch broccoli, cut into florets
2 teaspoons vegetable oil
1/3 cup honey roasted peanuts or smoked almonds, rough chopped, to garnish
Preheat oven to 375 F.
Directions
Place a large pot of water over high heat, bring to a boil and then salt the water.
Lightly coat the Crispy Cutlets with cooking spray, then season with salt and pepper. Combine garlic, onion, and ginger in a small bowl and then season the Crispy Cutlets evenly on both sides.
Bake Crispy Cutlets on a parchment lined baking sheet, about 15 minutes, until golden brown, crispy and cooked through. Let rest 5 minutes and then cut into cubes or slices.
While the Crispy Cutlets are cooking, in a small microwave safe bowl, add the peanut butter, soy sauce, half of the ginger, half of the garlic, half of the scallion whites and apple juice. Gently stir and then microwave for 30 seconds or until peanut butter starts to melt out. Stir until completely combined and thinned out until it is a saucy consistency. Set aside.
Add the noodles to the boiling water and cook according to the package instructions. Add the broccoli florets the last 1-2 minutes of cooking. Reserve 1/2 cup of the cooking water before you strain the noodles.
Place a large skillet over medium high heat, add oil. Add the remaining ginger, garlic and scallion whites to the pan and cook for a minute. Add the cooked noodles and broccoli to the pan along with the peanut sauce and the cooking water, as needed. Serve in bowls, top with the Crispy Cutlets and garnish with scallion greens and peanuts. 
Join the Journey
Be the first to hear about exclusive offers and events. Sign up for updates here and never miss a beat.