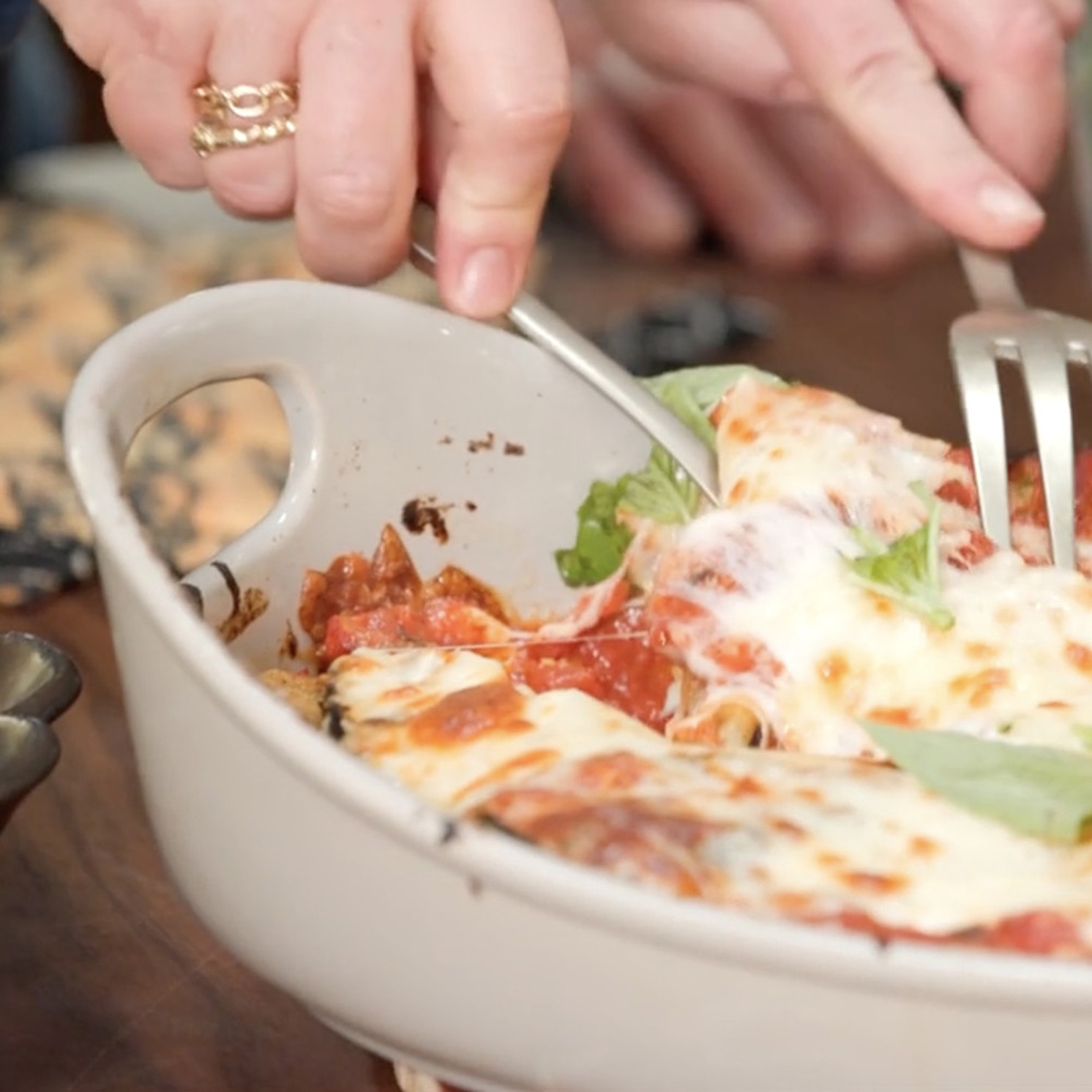 Crispy Cutlet and Eggplant Parm
Get the best of both classic parm dishes — a little eggplant, a little Crispy Cutlet topped with red sauce, melted cheese, and then baked to bubbly perfection.
Eggplant:
1 firm medium eggplant, very thinly sliced, about 1/4 inch thick
Salt
2 Tablespoons dried parsley
1 teaspoon red pepper flakes or ground pepperoncini
1 teaspoon fennel pollen or seed
1 teaspoon oregano
1 teaspoon granulated garlic
1 teaspoon granulated onion
Non aerosol olive oil cooking spray
Heat oven to 425 F and place a rack in the center. 
Salt the eggplant and place on kitchen towels for 15 minutes, pat dry. Combine all of the seasonings in a small bowl and mix. Arrange the eggplant on a parchment lined baking sheet, cover evenly with the seasoning blend and spray with oil. Bake about 12-15 minutes, until brown and crisp.
Simple Red Sauce:
2 Tablespoons EVOO, extra virgin olive oil
1 Tablespoon butter or ghee
1 large clove garlic, crushed
1 (14-oz) can diced or crushed fire roasted tomatoes
2 cups passata (Italian tomato puree)
A handful of basil leaves, torn
A sprinkle of sugar, or a drizzle of light agave or honey
Salt, to taste  
Place a medium saucepan over medium to medium high heat, add 2 turns of pot of EVOO. Add the butter or ghee, garlic and swirl a minute, until fragrant. Add the tomatoes and passata and bring to a bubble. Reduce the heat, and add the basil and sugar and season with salt. Simmer on low heat until ready to assemble. 
For the Crispy Cutlets:
6 Meati Crispy Cutlets, frozen 
½ cup grated Parmigiano-Reggiano cheese
1/3 cup olive oil  
1 ½ cups grated caciocavallo cheese or thinly sliced mozzarella cheese, to serve
½ cup shredded Parmigiano-Reggiano cheese
Fresh basil leaves and/or chopped flat leaf parsley, to finish 
Gently press the parmigiano-reggiano cheese into and onto the Crispy Cutlets.
Heat oil over medium heat in a large nonstick skillet. 
Cook the Parm-crusted Crispy Cutlets 10-12 minutes until golden brown, turning occasionally, to 165 internal temp. Let rest 5 minutes.  
Place half of the sauce in a casserole dish and layer in the Crispy Cutlets and roasted eggplant, top with the remaining sauce and cheeses of choice, place in the oven and bubble and brown. Remove and top with a few extra leaves of basil and/or chopped parsley.   
Join the Journey
Be the first to hear about exclusive offers and events. Sign up for updates here and never miss a beat.