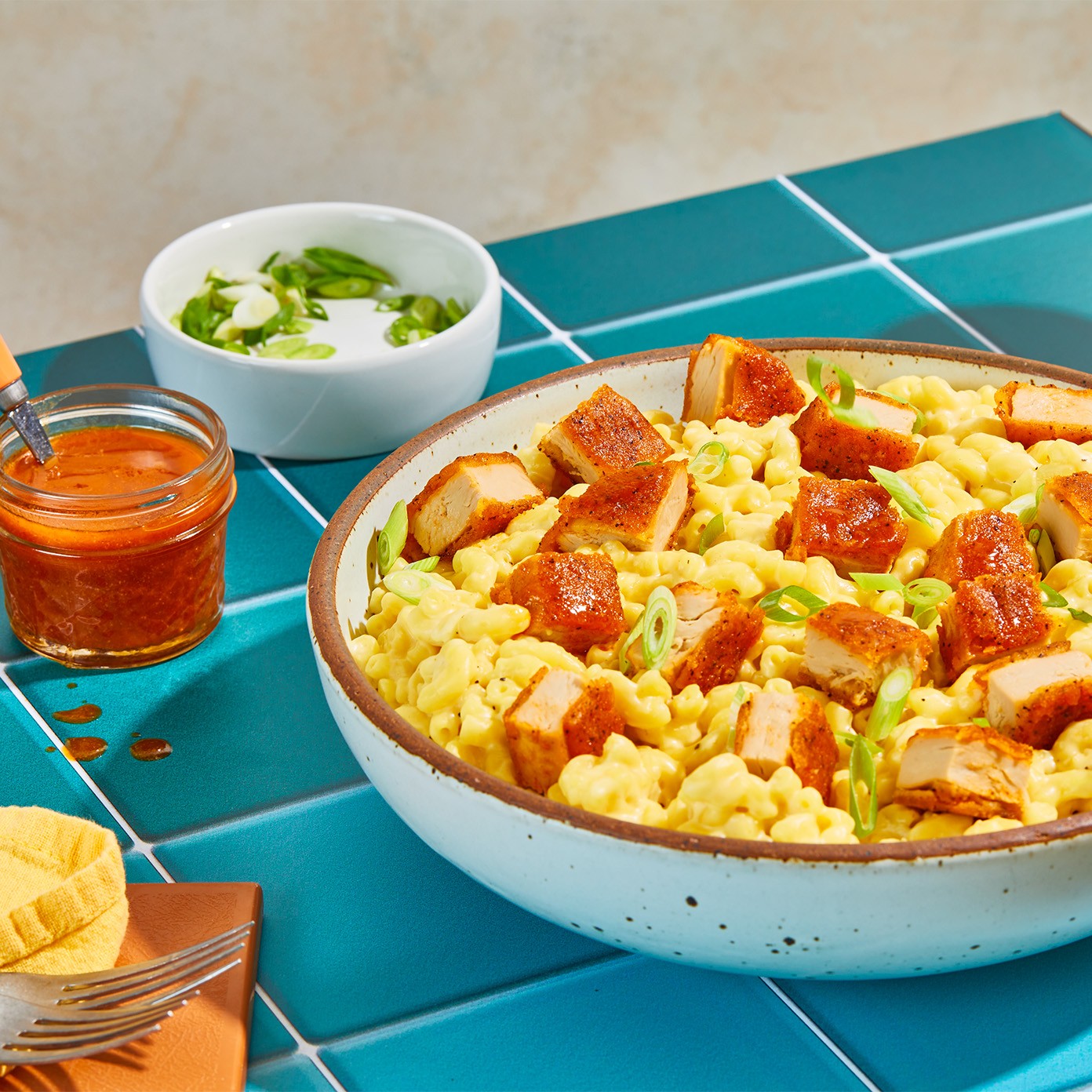 Buffalo Crispy Cutlet Mac n' Cheese
The mac n' cheese recipe is easily adaptable for the Instant Pot or stovetop and can be a baked dish by adding it to a casserole dish and warming it once friends and family arrive.
For the Mac n' Cheese
(makes 6 cups)
1 lb elbow macaroni
1 Tbsp salt
½ tsp garlic powder
¼ tsp onion powder
¼ tsp cayenne pepper
¼ tsp black pepper
12 oz whole milk or 1 can of evaporated milk
6 oz aged cheddar cheese, shredded
4 oz sharp cheddar cheese, shredded
4 oz cream cheese, diced
2 oz parmesan cheese, shredded
Instant Pot method:
Set to pressure cook for 4 minutes and add 4 cups water, macaroni, and salt.
Lock the lid and cook until the timer has finished and the pot has turned off.
Release the pressure valve and open the lid.
Turn to the sauté setting and stir in the spices then the milk, and cheeses.
Stir until creamy and smooth. Add ¼ cup of water to smooth out, if needed.
Stovetop method:
Cook pasta according to package directions.
Add cooked macaroni back to the pot and stir in all of the ingredients on low heat until creamy and smooth.
Add ¼ cup of water to smooth out, if needed. The finished macaroni can go directly into bowls or into a casserole dish for baking.
For the Buffalo Sauce
4 Tbsp unsalted butter
⅔ c Frank's Red Hot buffalo sauce
1 Tbsp honey
2 tsp Worcestershire sauce
1 ½ Tbsp apple cider vinegar
1 ½ tsp garlic powder
In a small pot, over medium heat heat butter until frothy. Stir in the hot sauce, honey, Worcestershire sauce, vinegar and garlic powder and mix until well incorporated. Set aside.
For the Crispy Meati™ Cutlets
4 Meati™ Crispy Cutlets, thawed.
3 Tbsp vegetable oil
Kosher salt, to taste
Prepared buffalo sauce
¼ cup thinly sliced green onions, for garnish
Add oil to an 8-10-inch nonstick skillet over medium heat.
Pat dry the Meati™ crispy cutlets and season each side with a pinch of salt.
Working in batches, pan-fry cutlets for 4 minutes on each side or until it reaches an internal temperature of 165°F.
Take cutlets off heat and let rest for 1 minute then brush or spoon on a generous amount of buffalo sauce, coating them evenly.
For Assembly
Cut the cutlets into cubes and serve over warm mac n' cheese. Garnish with sliced green onions.
Join the Journey
Be the first to hear about exclusive offers and events.Sign up for updates here and never miss a beat.