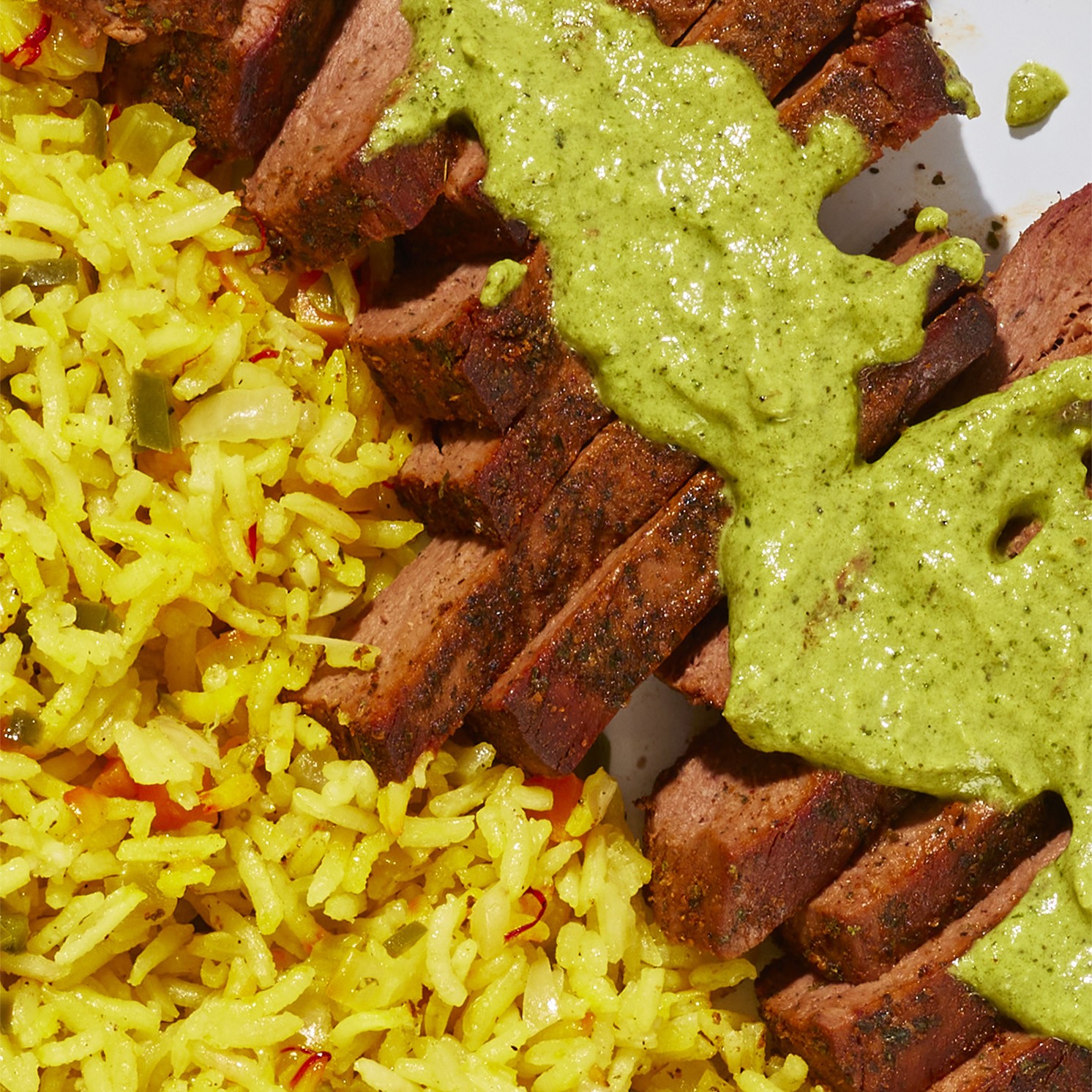 Carne Asada Steaks with Poblano Chimichurri and Sofrito-Saffron Rice
Perfectly charred Carne Asada over zesty saffron rice then topped with an herb-y poblano chimichurri.
Rice:
2 Tablespoons olive oil
½ onion, finely chopped or grated
¼ cup minced celery, from the heart
¼ cup, about ½ carrot, finely chopped
1 each jalapeno and serrano pepper, seeded and finely chopped
Salt and pepper
2 cloves garlic, grated
A fat pinch of saffron threads, about 1 teaspoon  
1 teaspoon lime zest
1 teaspoon orange zest
1 ½ cup vegetable stock
1 cup organic basmati rice, rinsed 1-2 minutes
Heat oil in a sauce pot, 2 turns of the pan, and add the onion, celery, carrot, jalapeno, and serrano pepper, and season with salt and pepper. Let soften a bit, then add the garlic, saffron, lime and orange zest, and the stock. Add the rice, bring to a boil, and simmer on low (covered), about 18 minutes.
Chimichurri and Meati Carne Asada Steaks:
1 large or 2 medium poblano peppers
4 cloves garlic, crushed
½ white onion, peeled and cut into wedges
1 lime
1 Tablespoon sherry vinegar  
A handful of cilantro
1/4 cup EVOO, extra virgin olive oil
Salt, to taste   
4 Meati Carne Asada Steaks, thawed
Non aerosol vegetable or plant oil cooking spray
Preheat the broiler.
Place the poblano pepper, garlic and onions on a foil-lined baking sheet and place under the broiler. Let char on all sides and remove. Cover the baking sheet well or immediately place the pepper in a small bowl and cover for 10-15 minutes to let steam. Remove the pepper, peel and seed.
Place everything in a food processor with the juice of the lime, sherry vinegar, cilantro, EVOO and salt to taste.
Preheat a nonstick skillet over medium to medium-high heat and spray with oil. Cook Carne Asada Steaks until crispy and brown, about 8-10 minutes, turning once. Let stand 5 minutes, slice and top with the chimichurri and serve rice alongside.
Join the Journey
Be the first to hear about exclusive offers and events.Sign up for updates here and never miss a beat.