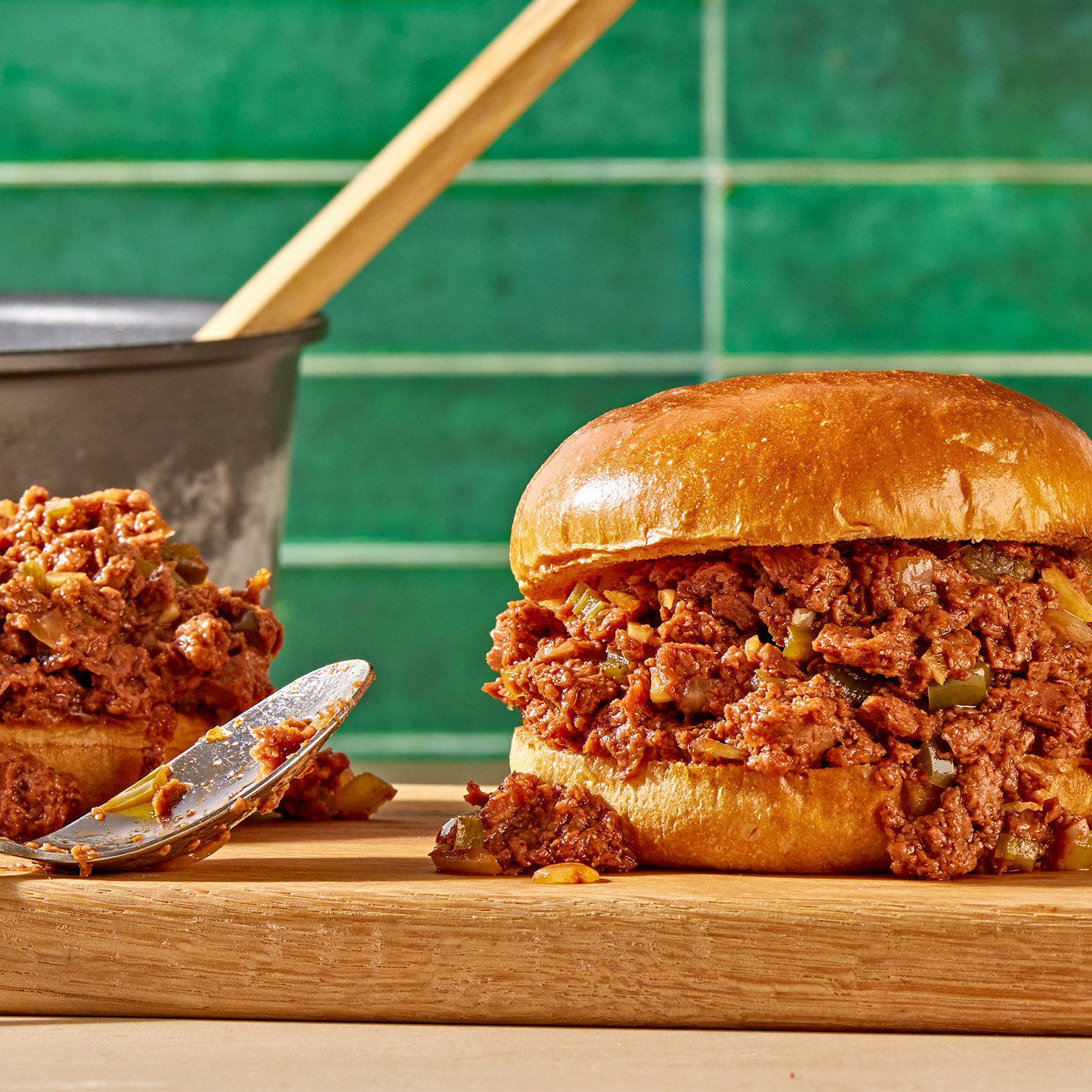 Classic Steak Sloppy Q's
Break out the napkins — the peppery, smoky, saucy sandwich you know and love made with our Classic Steak and some Lillie's Q favorites.
Ingredients 
4 Meati Classic Steak Cutlets, thawed 
¼ c vegetable oil 
⅔ c white onion, finely diced 
⅔ c green bell pepper, seeded & finely diced 
⅔ c celery, finely diced 
3 Tbsp serrano peppers, seeded & diced 
2 heaping Tbsp garlic, minced 
½ c brewed coffee
⅓ c + 1 Tbsp Lillie's Q Carolina
⅓ c + 1 Tbsp Lillie's Q Hot Smoky 
⅓ c + 1 Tbsp Lillie's Q Smoky 
1 rounded Tbsp Lillie's Q Q-Rub 
1 tsp dark chili powder 
1 tsp ground cumin 
½ tsp ground cinnamon 
4 Brioche buns, or your favorite buns, toasted 
Directions
Finely dice the Meati Steak cutlets. Set aside. 
To a large nonstick skillet over medium heat, warm the oil. 
Add the onion, bell pepper, celery, serrano pepper, and garlic. Sweat the vegetables until soft, but no color develops, about 10 minutes. 
Add the Meati Cutlets, coffee, sauces, and spices. Bring to a simmer and cook for 30 minutes or until internal temperature reaches 165°F, stirring regularly to prevent sticking while breaking up the Meati slightly.
Divide Meati Sloppy Q mixture between buns and serve. 
Join the Journey
Be the first to hear about exclusive offers and events.Sign up for updates here and never miss a beat.